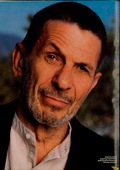 1996 August

By Andrew Duncan  
Nothing is ever as it seems, a platitude which, he explains, is well illustrated both by his career and the apparently callous way he left his first wife, of which more later. 
Doomed to be shackled for ever in the public mind to pointy-eared, ultra-logical Mr Spock, half-human and half-Vulcan science officer on the Starship Enterprise, he is also a film director of wit (Three Men and a Baby), a poet, a sex symbol and a photographer, not to mention the narrator of Ancient Mysteries, a fascinating series exploring old civilizations.
"I tend to look at documentaries more than drama on TV. I suppose there is so much fiction in my work that when I relax I don't want to watch it." He is called Hollywood's "Renaissance Man", which is meant as a compliment. "People get stuck in categories in this town because it's convenient. It's for the same reason a housewife chooses a can of peas in the supermarket — because she's used to it and knows what to expect in the way of quality, flavor and price."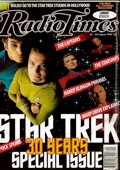 So is this it - at 65-years old, just a can of peas? "I'm a commodity. I've done a certain kind of work and the inclination is to call on me to do it again. I crossed over into comedy from science fiction — although Spock was in some ways a comic character — and made an attempt at directing drama with The Good Mother [starring Liam Neeson and Diane Keaton]. I was very proud of it, but tragic stories don't go down so well with audiences. I've had 30 years of expressing myself and so don't feel unfulfilled. I'm trying to slow down but I'm not ready to toss it all in. I can still be tempted, although it takes more to draw me out to work than it used to. I no longer have financial, emotional or psychological needs to direct. Feature films have become bombastic, aggressive, noisy — bang, bang, bang. I'm saddened — it indicates a coarsening of the audience."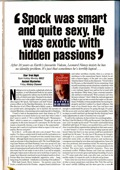 With high boned, Slavic features — his parents carne from Zaslav, a small town in the Ukraine— peppery beard, doleful eyes and rather mirthless chuckle, there is a certain resemblance to the unemotional Spock. Indeed, he admits a bizarre legacy of the part: not a day passes when he doesn't think as the character. "I lived with it for 30 years, so that shouldn't be too surprising. I find myself examining certain situations sometimes with a duality of personality. I'll look at family matters in a very rational, logical way and not be in touch with my emotions. Other times, I may overreact emotionally and have to tell myself, 'Wait a minute. Let's be a bit more rational.' I don't think the rational approach is likely to get me into as much hot water as the emotional. Probably at times people think I'm reacting improperly and don't realize it's a Spock influence. But most of my friends know who I am and have seen enough to understand the process I'm going through. It's possible that as an actor you lose sight of your true personality. I take no steps to avoid it and don't go through the day thinking I must make adjustments in order to function true to myself."
To add to the confusion, he has written two autobiographies - the first, l Am Not Spock, in 1976, and the second, l Am Spock, last year. Can't he make up his mind? "I'm totally comfortable being identified with Spock. It's been a very positive force, and it's very clear to me that all my opportunities spring from that same source —so don't knock it. I never worried about being typecast and I haven't been, but there's no way anyone could have predicted it would last for 30 years." So why has it? He pauses for thought, although it is a question asked many times. "It showed an admirable social order, an ethical structure and meritocracy, courageous searching for new ideas and explanations. Some of it was very profound, and sometimes trivial. No swearing and no sex. Idealist - yes. Unreal - probably. But a consummation to be wished. The actors had a wonderful chemistry. There was occasional conflict: William Shatner and I had our turbulent moments but we evolved a great and lasting friendship. If you're in a TV series week after week, year after year, you have to be terribly stable. It's report for work, do the job and go home.
I met a lady last year from Liverpool who touched the essence of what so many people have said about Star Trek. She said her life wasn't terribly fulfilling and the show gave her a sense that somewhere on this planet, at this time, people were thinking about those ideas and that led her to believe there was an opportunity for her to reach and explore other avenues, which she did. Star Trek profoundly affected a lot of people."      
Indeed. Trekkies became almost a religious movement, as notorious in their enthusiasm as anaorak'd trainspotters. "There's no question some take it to extremes, " he agrees. "On the other hand, if you go to rock concerts. you see people acting and dressing in exotic ways, exploring the envelope of their existence, but the press focuses on that. By and large the Star Trek audience is very middle of the road." Maybe that is why they decided Spock was a sex symbol and women prostrated themselves, yearning for affection from at least one of his two hearts. 'He had an attraction because he was smart and quite sexy. He was unavailable, mysterious, exotic with hidden passions. Sensitive, I went through some awareness of that in the early years and it was very flattering, but I didn't take advantage. It was so unexpected for me to be treated as rock stars are in their 20s. Here I was, at 35, having this adulation, screaming, fawning. fan magazines. It was interesting and at times quite scary, but I was old enough to handle it."
The adoration peaked when he "died" in the movie Star Trek II and there was such angry protest that the Wall Street Journal speculated on the effect it would have on Paramount's profits. "I thought a great death scene would be a good idea. When I agreed to it, I thought Star Trek was dying and I could go out in a blaze of glory. Then I became concerned I'd die and the series would live on . . . and on. I was very depressed but delighted to return in three, four, five and six," he says, smiling.
He directed a couple of the films and, with his friend Isaac Asimov, has developed a comic honk. Primortals. "I'm intrigued and deeply curious about science fiction, as you can imagine. How would we react if we got verifiable information that there was an alien civilization heading this way? I don't think we've been contacted yet, but numerically the possibilities are so vast I hope it will happen during my lifetime."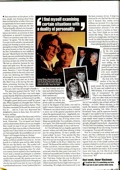 Brought up in Boston, where his father was a barber, he felt an outsider from early on — he was Jewish in a Catholic area and his older brother Melvin was the family star. "He exuded self-confidence and I was second fiddle. I've always felt comfortable in supporting roles. For whatever reason, I never aspired to be a leading man. You'd need a trained psychologist to examine that. It could have been self-pity but I'd hate to ascribe that to myself. My parents were in awe of Melvin, too, because he had such a firm grip on who he was and it was clear he was on the path to professional success. I wasn't jealous [the two are firm friends and live near each other] because he took to engineering and that didn't interest me."         
Acting caught him at the age of eight when he was given a part in a school play, much to the disgust of his father, who said he hadn't come to Armerica for his son to waste time. "Whenever our school went to a show, I wanted to move out of the general population and be where the special people were stagehands, musicians, performers. Acting helped me overcome shyness and was a way of living where everything was predictable You could plan, rehearse, do it again. Very little was left to chance in terms of interaction with people. It was a safe haven."
At 17 he left home for Los Angeles, against his parents' wishes and with them refusing to help pay for acting lessons. "It was a terribly emotional ordeal," he says. "Very painful. But they did what they felt was the best for me. When they first saw me on stage several years later as Tevye in Fiddler on the Roof, I think they were proud." He financed his ambition with a variety of jobs: taxi driver, vacuum cleaner salesman.
"I went 15 years before making a living as an actor and, when the time came, I was ready. I've failed and succeeded and I'm lucky to have done both." He still doesn't rest on the easy laurels of Star Trek fame. Earlier this year he directed a play on Broadway, The Apple doesn't Fall. which closed after the first night following a critical mauling. "It's a high-risk situation and, to say the least, economy driven. A large musical can be very bad but the critics support it because they realise several millions are invested. It's a big tourist attraction with restaurants, hotels and transportation affected if the show closes, so there's a burden on them to say, 'Gee, I don't think we can totally smash this thing.' They're not so supportive of a straight play, but it hasn't put me off. As Adlai Stevenson said, 'It hurts too much to laugh. But I'm too old to cry."     
A keen photographer since the age of 11, he published a book of his pictures accompanied by his own poems. "To my surprise it was successful, in a modest way, and I realised it was the poems that were selling, not the photographs. Am I any good? Let's say I can express thoughts sincerely, with some sensitivity and emotion, and people are affected by them."
His first wife, Sandi, mother of his two children, is not so elated by his poetic nature. He was married to her for 33 years and walked out on her 56th birthday. A bit insensitive for a man of compassion? He sighs. "That's over-dramatised. As Freud said, very often what you're hearing is the truth stood on its head. The fact is I was asked to stay at least until her 56th birthday — so I did." Heroic altruism, in other words. She became a member of LADIES, a self-help group meaning Life After Divorce Is Eventually Sane, and he approves heartily. "I thought it was useful for her to have someone to relate to who understood the situation. Our marriage simply wasn't meant to continue. "Did she share that perception? "No, she didn't. But I did, strongly, although I was in shock – physical shock. The day I left I was shaking, I was not in my body, I was in bad shape. It was very trying. You can call it courageous. You can call it necessity."
Now he is married to an actress and writer, Susan, and they collaborate on the occasional project. When he's not being Spock, he knows who he is, presumably? "I hope so. There's a legend from one of the Greek authors about prisoners chained to a wall in a cave and they see the shadows of people outside. In time they believe the shadows are reality. So if you ask if I know who I am, yes I do. But it's my reality. Someone else might have an entirely different vision of me.'