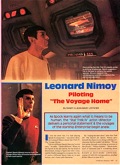 1985
By Randy & Jean-Marc Lofficier
It was the most fun I've had playing Spock in a long time," says actor/director Leonard Nimoy about Star Trek IV: The Voyage Home.
"This is a different Spock than you've ever seen," he adds. "Quite different. When we left Spock in the last movie, he was kind of disoriented, trying to figure out who's who, until he finally managed to recognize Jim. So, it's quite a different Spock than we've seen before—he's funny and charming."
By "wiping the slate clean" after Star Trek III: The Search for Spock, Nimoy gave himself the chance to try things with Spock's character that he couldn't do before. "We see him going through a growing up process in this picture," Nimoy explains. "Spock looks kind of bemused and is wondering about what's happening  -  What am I supposed to do about this?" His memory is back. We find out very quickly that Spock has been training his memory and feeding himself on large quantities of information: facts, figures, data, history and so on. But, on the other hand, his sensitivities and sensibilities his awareness of social attitudes and conduct and how to function in society are still a little bit askew - that made it a lot of fun.'

Spock is in good hands with Nimoy the actor, but one of the issues that faces any director on a Star Trek picture is the pivotal… concern that every Star Trek cast member get his or her fair share of screen time.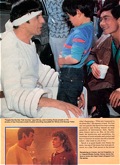 As a member of the ensemble, Nimoy the director is always aware of his colleagues' wishes. "They all make a contribution to the picture, and they're all important to us," he clearly states. "And I certainly wanted them to know as quickly as possible that I feel that way. They're all deserving of opportunities. It is difficult to keep everybody happy all the time—they know that, and I know that. We have tried from picture to picture to see that there was a balance from one film to the next. A person who perhaps had a little bit less to do in one would hopefully have a little bit more next time.
"Our intentions are good, and I think the cast knows that. I try to see that they have a
good time working on the picture, and that they are used well. I do the best I can. I think they're all happy with the experience they had making Star Trek IV."
An example of the shared-spotlight theory is Lieutenant Saavik (Robin Curtis), whose part is substantially less important in Star Trek IV than it was in Star Trek II or III. Nimoy shrugs apologetically, "We see Saavik, but hers is not a major role. This wasn't really a story that called for a function by that character, but we have Saavik in the film so the fans know we haven't just dropped her,"
Balancing Ecology
Star Trek IV' s story centers on a fateful journey through time that the Enterprise crew must undertake. Their mission: to bring back a pair of humpback whales—a species extinct in the team's own future epoch. "Some scenes contain actual footage of real, live humpbacks that we've had shot for us around Maui," Nimoy reports.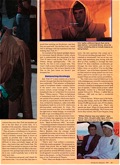 "Then, we had pieces of humpbacks built for us here on the lot by our special effects people, which were used in the tank in conjunction with the Bird of Prey. And, we had four miniature, radio-controlled humpbacks built for us by ILM, which were photographed underwater by them. We covered ourselves so that, if we couldn't get the right kind of whale footage, we would still be-able to get everything down anyway."

Nimoy explains why the potential extinction of whales was targeted as the right kind of problem for the Star Trek crew to confront. "Back in February 1985," he recalls, "I was doing extensive research to determine what this film's motivating factor would be. We had agreed—the studio, myself and Harve Bennett—that the concept would essentially be a time travel story. We wanted to lighten the tone, and we wanted to have a little more fun and adventure than we had in the last few pictures.
"Harve and I had written a treatment, which the studio accepted. The proposal included time travel, but we hadn't decided which period we were coming back to. We gave ourselves several different choices, but we all agreed it would be wonderful to come back to the present—to San Francisco, home base of the Federation of Planets.
"Now, when you decide to do a time travel story, the next question that comes up is, 'Why are we traveling through time?' Is it accidental or intentional? Are we on our way home and something goes wrong with the Bird of Prey, sending us through the time fabric? Or does somebody accidentally go through the time fabric, and we have to follow them, as we did in 'City on the Edge of Forever,' one of the better episodes? Or do we find ourselves being chased into the time fabric, and we're forced to go into time to escape? These are all the various possibilities.
"So I did some research which had to do with contemporary scientific concerns about the future And, of course, one of the big, big scientific concerns is endangered species and loss of species. I came across a book called Biophilia, written by a Harvard biologist named Edward O. Wilson. I called him in February 1985 and we had a wonderful conversation
"This is the key Wilson says in his book, among other things, that by the 1990s we'Il be loosing 10,000 species per year off this planet, at the rate we're going now. That's one species per hour. Many of those species will be unrecorded scientifically. We'll never even know they existed, they'll just be gone, long before the biologists have even had the chance to research them and find out what they are. Then, of course, there are major endangered species that we all know and talk about, like certain whale species.
"There are what Wilson refers to as 'keystone' species. The keystone theory means that, if you build a house of cards, you can take this card out and the house won't fall down, you can take that card out and the house won't fall down, but at a certain point, you get down to the cards which really hold up our planet's ecological structure. We may not even be sure which are the keystone species. But you pull one out and the whole thing starts to crumble.
"So, I became intrigued with the idea that we have a problem erupting in the 23rd century that can only be resolved by using an element from an extinct species, one that was allowed to die or was killed of. The future scientists are at a loss because they cannot synthetically replace this natural thing.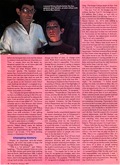 "After I had this conversation with Wilson and other meetings at Harvard, MIT, and UC Santa Cruz with scientists, I was talking about those concerns with a scientist friend. He happens to also be a science-fiction buff, and we were discussing various species being lost, and it came down to whales."
While not considering himself an ecology activist, Nimoy clearly states his feelings about conservation. "I do belong to a number of organizations and I send them money," he reveals. "I've been sending money to Greenpeace for years."
Changing History
Despite its important save-the-whales scenario, an effort was made to keep The Voyage Home from being grim.
"This is a fun picture!" says Nimoy, laughing. "The fun happens when we come to the 20th century and spend time walking here on Earth, San Francisco 1986. I talked with the scientists about time travel. You know, there's the ongoing concern that when you go back in time, you may inadvertently change the flow of time, or change some event. Well, there's another theory that says you can't, that it's impossible. You cannot change history because it's going to happen the way it did happen. If you follow that theory, you can go back into time and buy a gun, load it, put it to somebody's head and pull the trigger – and the gun wouldn't work it that person isn't supposed to die at that moment. You couldn't do it! So, it's a fun game and the movie plays a little with that idea."
Shooting on location in San Francisco was, according to Nimoy, one of the highlights of making the film. It is not often, after all, that the Enterprise crew gets the chance to mingle with real people on the street. "It was great," says Nimoy. "People like us. They know who we are, and they like the Star Trek movies. At times, we had a little problem with crowd control, but for the most part, people were very helpful. Certainly, the San Francisco Police Department saw to it that we got the job done. I loved being there. I loved the whole idea of bringing Star Trek home to today."
Another fondly remembered sequence was the storm simulation hot in Paramount's huge water tank. "I got the biggest kick out of that," recalls Nimoy, still sounding awed by the experience, "because people were coming form all over to watch the scene. It was like old-fashioned Hollywood moviemaking, creating this whole drama using all of these various kinds of wonderful talents of people who know how to do this kind of work."

Star Trek II and Star Trek III were both produced under the aegis of Paramount's television division and were reportedly brought in under relatively low budgets. Star Trek IV, on the other hand, was filmed under the studio's motion picture wing. Nimoy sees no difference in how those factors affected his work. "The simple fact is that on Star Trek III, we agreed on a budget, and I shot the film and brought it in on that budget, and that was that," he explains. "On Star Trek IV, we agreed on a budget and I did the same thing. The budget is much larger on Star Trek IV, but a lot of that has to do with inflation.
"On Star Trek III, the budget was $16 million. On Star Trek IV, the budget is over $23 million. But I think we were able to demonstrate that if we did Star Trek III today, it would cost $22 million because of inflation factors. So, we're only adding a couple million real dollars to the coast of making this film. One could argue that if we were doing this movie under the television division, they might not have let us have those $2 million. But I must say I've been very well treated by Paramount on the making of both pictures, whatever the department involved. They're all very supportive.".
Since this is his second directorial outing with Star Trek, Nimoy feels much more in control of the huge and very complex special SF required. "I was not uncomfortable on Star Trek III, but I was still in a kind of learning process. I had been around effects enough so that I knew what was going on. It wasn't like a new world to me. But this time, I'm a little ahead instead of running astride of it, in terms of anticipating the questions and problems, and maybe pushing the right buttons a little earlier than I did last time."

There were aspects of the film, however, that were uncomfortable for Nimoy. "Maybe one of the biggest frustrations I had was that, on some days, I had to sit in the makeup chair for two hours, in addition to the hours that I was putting in as a director, shooting the picture all day, then looking at film at night," he comments. "I found myself getting very tired, very short on sleep. But, on the other hand, I was constantly aware of what an opportunity this was. It's a wonderful script. We developed it over a long period of time with a great deal of love and talent. Many talented people came together and had a wonderful time making Star Trek IV.
"Acting in and directing the same project are sometimes frustrating. Particularly when you have to be in a scent, and you know that there are things going on behind you that you cannot see. You would like to be able to have an eye in the back of your head, but you just can't do that. I had the support of a very good camera department, and Bill Shatner was helpful in that, when he wasn't in a shot, he was watching. Also, there were the other actors, all of whom I trust. Everyone was helpful. They got me past the tough times."

Nimoy feels that the new film is more personal than Star Trek III. "There's wonderful stuff in this film that doesn't at all depend on effects – the stuff that we play on Earth in 1986. This is not a special effects film. It's very fresh, fun, a personal kind of film. The last one was the kind of a movie that we all got together to do. I was the director, and responsible for what got up on the screen, but there was more of a sense of people coming together, a collaboration. Star Trek IV is much more of a personal statement. This is 'A Leonard Nimoy Film' by title, and I took that responsibility very seriously. I said, 'I want to make my movie.' So, in that sense, I feel a greater sense of growth there. The training wheels have come off."