1984 November 19
By Lucinda Trew, staff writer for The Fayetteville Observer
Both Fotos below: By Bonnie Moss
(Thank you, Bonnie, for sharing this article!)
Wilson - There are variations on the theme, but the usual course of a love story is boy meets girl, boy pursues girl, and after some minor snags in the courtship (just enough to keep things interesting) boy wins girl. Happy ending.

But the story Leonard Nimoy tells has a different twist. In this version Nimoy tells of a relationship between a man and an alien. It's been an 18 year romance for Nimoy, best known for his role of Spock in the television series "Star Trek," and it all started when he put on a pair of pointed ears and arched an eyebrow.

Gesturing freely before his lecture audience at Atlantic Christian College, Nimoy looked not at all like the imperturbable Vulcan. He smiles as he shares happy memories with "Star Trek" fans, and a web of fine wrinkles around his eyes spread - not unbecomingly.
And the laugh. Nimoy has a deep, resonant laugh that catches listeners off-guard. It's disconcerting enough to see the First Officer of the Starship Enterprise, dressed in stylish 20th century attire, - pink and lavender plaid shirt, a charcoal gray jacket and tweedy gray slacks - but to hear Spock laugh!
But, as Nimoy ever so gently reminds loyal Trekkies, he is not Spock. There are mayor differences between the two. And while Spock is his favorite character and his best friend, they are very different. Nimoy, for instance, writes poetry, a pursuit Mr. Spock would undoubtedly discount as an emotional reaction, typically human.

"Star Trek" went on the air in Setember of 1966. At that time, recalls Nimoy, he had no idea of what phenomenon the show would become, or what a dedicated following it would draw. "I still had my phone number listed in the Los Angeles phone book," he says, laughing. "That's how naive I was!"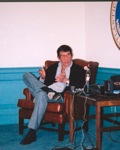 Recalling a press conference before the show's first pilot, Nimoy tells how he tried to sell the show as a high-minded, intelligent, show to reporters. He went into detail about the scientific credibility of the "Star Trek" and the important social, emotional and psychological issues the show would address. "I realized I wasn't making much progress when a reporter asked 'But are you going to wear pointed ears?" and I had to answer 'Well, yes...'"
The famous ears, by the way, presented such a challenge to makeup artists that producer Gene Roddenberry promised Nimoy that if after 13 episodes he still wasn't happy with the ears, he'd write a script in which Spock gets an "ear job".
Fortunately, there was no need for surgery. A solution was found to the ear dilemma, and "Star Trek" took off beyond even the most optimistic of expectations. The cast worked extremely well together, says Nimoy, attributing their rapport to "fortunate chemistry."

"It's like inviting a group of people to your home. You don't know how they'll get along until they all arrive. It may be very tense or it may be a wonderful party."
Once such relationships are established in a series, says Nimoy, the show writers pick up on the interplay between characters and begin writing with that in mind.
Writers weren't the only ones tuned into the magnetism of the show. Fan response was great, and the love affair between Nimoy, Spock, Star Trek and the audience had begun.

The '60s were exciting times to work in, especially for a science fiction program. "We've always had quite a good relationship with NASA, we still do. And we kind of take pride in the fact taht NASA recognizes our having helped create a climate in which they can function better," says Nimoy. "A successful science fiction show does help the NASA operation. And I think in 1969, when Neil Armstrong stepped out on the moon, that event gave us a kind of new credibility."

Nimoy says it's hard to pinpoint a single key to the show's popularity - "People liked the characters of the show, the liked the hopefulness, imagination, and the scientific and philosophical ideas." And they like it all over the world. The show and movies are extremely strong in Germany, China, England, South America and Canada.
The first elements of disenchantment crept into the love affair during the third season. Roddenberry had left the show, and the new writers and producers weren't as close to the story as he had been. "There were a bunch of turkeys in the third season," says Nimoy, about the shows of 1968, and after the third season ended, the show was dropped by NBC.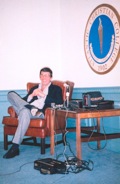 A man of many talents, Nimoy experienced in a number of different creative endeavors since the "Star Trek" series ended. He starred with Yul Brunner in the Western "Catlow", played the role of Tevye in "Fiddler on the Roof," starred in the Old Globe Theater production of "The Man in the Glass Booth." He wrote, produced directed and starred in the one man play "Vincent" for more than 150 live performances and taped it for cable television and video disc. He traveled to Israel to portray Morris Meyerson, Gold Meir's husband in the TV feature "A Woman Called Golda," and to China to work in "The Adventures of Marco Polo."

He has performed with the Boston Pops orchestra as "Henry V", and won flattering reviews for his performance of Sherlock Holmes in "The Interior Motive." His program "In Search OF ..." ran for six successful seasons, and in December Nimoy will star in the NBC's movie "The Sun Also Rises."

Despite such demonstration of versatility, he is still recognized first and foremost as Mr. Spock, son of Sarek the Vulcan and Amanda the Earth scientist. He takes the ear jokes good-naturedly now, but the symbiotic relationship was sometimes difficult to take, says Nimoy.

To give the best performances he found he had to become a pragmatic, unemotional Vulcan for a period of time, and that wasn't always easy. "It's an unnatural condition," explains Nimoy, folding his long hands slowly. "And that means there's a constant adjustment being made. It means I'm denying certain tings about myself; I'm not expressing myself. In a way it's like keeping a secret too long - it becomes painful and begins to gnaw."

Greatly influenced by the teachings of Konstantin Stanislavsky, the Russian director and acting coach who promoted the idea that actors should attempt to live  the lives of the characters they play, Nimoy attributes both success and anxiety to his intense involvement with the character Spock.
The transformation takes place as the makeup is being applied, a process which Nimoy says takes close to two hours. "As I see it going on, I study the character coming into life in the mirror and it begins to internalize. In a strange kind of way, it is very difficult, once that makeup is on, to step out of character, even if I want to. It is as if the character takes over first physically, then emotionally and psychologically."
Despite the struggle, Nimoy say he never suffered an identity crisis because of the role.
But In 1975, Nimoy wrote an autobiography entitled "I Am Not Spock." The title, he concedes now, was a mistake, and many fans, reading the title but not the book, assumed that Nimoy was rejecting Spock and blamed him for the fall of the show.
According to Nimoy, the book's publisher had suggested trite, tacky titles - 'Spock and I,' 'My Freind Spock,' when Nimoy came up with "I Am Not Spock," the heading for one of the book's chapters. The publisher at first vetoed the idea, reasoning that negative titles don't sell. But when Nimoy countered "Oh yeah? What about 'Gone With the Wind?" he couldn't argue.
Fan hostility continued until Nimoy brought Spock back as a sort of peace offering in the first film make of Star Trek. But he wasn't pleased with the result, calling it a film about space and special effects in which the characters were ignored. "It was a sterile look at the scientific future of the world," he says.
It was only on the condition that the characters were more involved in the next go-round that Nimoy agreed to star in the sequel. As it turned out the producers had a good deal of involvement in mind - for Spock especially. "How would you like to have a great death scene?" they asked Nimoy. He gave the idea a good deal of thought, and finally decided that allowing Spock to die might be the best way to bow out gracefully.
But there was a surprise ending to "Star Trek II," which Nimoy says came as a surprise to him as well. There was a ray of hope in the end that suggested that maybe, just maybe, Mr. Spock would return. And to the relief of Trekkies everywhere, he did indeed in "Star Trek III."

In the third installment of the cinematic Star Trek saga, Nimoy directed as well as acted. He won rave revies, and quotes an excerpt from Gene Siskel's critique: "I have the sense that with this movie you have embraced 'Star Trek.'"
Plans are underway now for "Star Trek IV," which Nimoy will direct and star in.

The affair between actor and alien continues, and like all good relationships, they learn from one another. "I'm probably a lot more rational now than I was when I started the role," says Nimoy, "and he's probably got some mannerism, attitudes and postures that I invented or brought to the character."
To demonstrate he raises his hand in the sign of Vulcan greeting, and then Leonard Nimoy, not Spock, leaves the stage to loud applause.
Another happy ending.