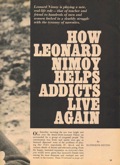 1968

By Katherine Devino for Screen Stars
On Saturday morning the sun rose bright and hot over the beach where Leonard Nimoy sat surrounded by a group of congenial people.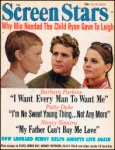 The conversation was lively and spirits were gay as Leonard discussed some of the problems of playing Star Trek's improbable Mr. Spock, and the various details of theater and television acting. From the happy, interested expression on everyone's face, you would never guess that Leonard's friends were among the most desperate and confused men and women in the country. These are the people who comprise an everexpanding organization called the House of Synanon, a group passionately concerned with saving themselves and others from the dreadful consequences of drug and alcohol addiction. Many people, hopeless, helpless, their lives burned out, have turned to Synanon and found understanding, life-restoring faith, and strength to go on.
What then, you may ask, is Leonard Nimoy, one of the happiest, most successful,

and "normal, well-adjusted" men in Hollywood doing at a Synanon reconstruction center? Actually, many of Hollywood's finest actors and actresses perform at the large Houses of Synanon which dot the California coast. They find there receptive and appreciative audiences among the many addicts who are trying to make a new start in life. But Leonard does more than simply put on a show; every Saturday he meets with members of the Santa Monica branch to teach acting classes and directing techniques. And, when you think about it, who could be better suited for instructing people suffering from problems of alienation and emotional turmoil? Leonard has a knack for bridging the gap between the addict and himself with the same uncanny exactitude as Mr. Spock leaps the gap between the planet Vulcan and Earth.
Leonard is the first to explain how much his role in Star Trek has added to his understanding of mankind. For you must remember, Mr. Spock is not altogether human. Vulcans, as the legend goes, are not at all like humans in their behavior; they think clearly at all times, never feel stress or pain, love, or hate—they are logical and emotionless. So from the detached viewpoint of·Mr. Spock, Leonard sees many things in real people that ordinarily he would never notice. "Spock gives me something to say about the human race," he says. "The role gives me a position I enjoy-—that of a guy who is an observer of human behavior. He's fascinating-an alien who knows things other people don't know."
The drug addict, too, knows things that other people don't know, and yet, in his tormented mind nothing is clear or logical; his judgment and emotional reflexes are twisted by the stimulant or depressant to which he is addicted. So when Leonard visits Synanon he brings with him, both an understanding of what it's like to be all alone and a misfit, and a calm reassuring Spock logic which he uses to help the disturbed person find himself.
At Synanon the leader of a group such as Leonard's is called "a king-freak." He leads the discussions, which are referred to as "The Game." "The Game is fun," says one "king-freak." "It's like playing tennis. You play for fun, not to develop your leg muscles. But while you're playing and enjoying yourself, your leg muscles may strengthen as a side-effect."
Leonard teaches his students how to find an expression for their emotions through acting. Each week they take a script, and sight-read straight through. If they all like it they continue rehearsing it, discussing the roles, and criticizing each other's techniques, until the play is ready for a stage run—through. In this way Leonard shows them how to release their pent-up aggressions, frustrations, and desires in a creative and socially acceptable way. "The Game" is getting so popular that all kinds of people are joining the Saturday morning sessions. It's far more fun than "group therapy" with a psychiatrist or psychologist. Leonard gives everyone a chance to "ham it up" as much as they want. Then he points out how their performances can be improved and gives tips on voice projection, body expression, and interpretation. "Something exciting happens, then," he says, "getting a dozen people or so together and letting them not only air their grievances, but mold their emotional monsters into beautiful character roles before an audience."
One of Nimoy's students compared his teacher to the founder of Synanon, Charles Diedrich- himself. "Nimoy is like Chuck. He's got that 'cosmic consciousness'." Other members of the group are anxious to talk about their progress under Leonard's tutelage. Says one man: "I was really 'strung out,' if you know what I mean. So nervous all I could do was pace up and down and dream about getting my hands on some dope. Then I started working with him. He let me play Stanley Kowalski in Tennessee William's, A Streetcar Named Desire. I really let go, forgot everything except that part. And afterward, Nimoy said I'd done a fine job of realizing the character. I felt straight for the first time in months."
The Synanon community regards Nimoy almost as if he were a Mr. Spock-like personage. But Leonard is careful to play down any impressions he might give of other-worldliness. Some of the Synanoners like to think of him as having arrived from another planet, a creature tuned in to a special "wisdom frequency," as one woman put it. But Leonard is much more concerned with down-to-earth matters such as teaching the Synanoners the craft of acting, helping them to help themselves through constructive skills. He knows how vital are self-confidence and a sense of security in making a happy, successful life.
Because it was only Leonard's amazing inner strength which saved him from taking the low road to self-destruction and oblivion. No life is more grueling than that of a struggling, unknown actor. For twelve long years Nimoy, his wife, and eventually, his children lived from day to day, never knowing where their next dollar was coming from. "On Saturday nights," Leonard reminisces in his deep, hurry baritone, "we were in a position where we were so short of cash that dinner consisted of my going out to a Chinese restaurant and picking up a dinner-to-go for one and splitting it up among the four of us, the two children, my wife and me." Leonard attributes his strength to his wife Sandi's faith in him. "If some of these people here had people who would encourage them, give them a little boost in the ego, when the going gets rough, they probably would never have had the craving to escape from it all, escape from themselves too, by way of drugs and alcohol . . . One should never have to give up his dreams. Once you have to give them up, there's not much to live for."
In those early, difficult days Sandi Nimoy may have been aggravating sometimes. There were times when giving up the acting dream would have been not a tragedy, but a blessing. Only Sandi, holding steadfast to their dream, knew that if Leonard turned to a "respectable" steady job elsewhere, he would never be truly happy or satisfied with himself. So she never let him forget that his mission in life was to be an actor. Nor that he left his Boston home over his parents' 0pposition—even though it tortured his conscience to hurt them—because he was obsessed with the idea of going to Hollywood and making his lot as an actor.
"In hip language," says Nimoy, "which I'm beginning to catch on to here at Synanon, to 'do your thing'—in other words, follow your own dreams—is the most important thing. So many of these people were never able to 'do their thing' for one reason or another, either lack of education, training, money, sometimes because of racial or religious pressures. Many didn't have the faith and courage with.in themselves."
"You see," Leonard went on earnestly, "'to do your thing' is sort of a religion. For me, acting is a very serious profession, a religion, a way of life. And not following that way of life can be very hard on a man.
A plumber is most himself when he is out plumbing. A carpenter 'carpens' and a bricklayer lays bricks. I felt it wasn't right to say I was an actor unless I was acting. And there were few times when I was. You know, you go around saying you're an actor, and then somebody asks, 'Well where are you acting now'?' Then I'd have to admit·—nowhere. And then I'd feel that I'm just saying I'm an actor, but I can't support my family at it. That can be a big emotional drag.
"The ego—thing is really so important to a man. I guess I'm really hung-up on it. But here at Synanon there is such a need for 'ego—repair shops.' I'm lucky enough to have had Sandi. So I'm trying to pass on what I know, my strength and my faith in myself, to others. Every one should love himself—be an egotist in that sense."
Looking back on his childhood Leonard sees himself growing up, the first-generation American, son of immigrant Russian-Jewish parents, who struggled in hopes of putting him and his younger brother through college and preparing them for a professional life. It seems very real, that past. It's a classic case—the American Hollywood success story. But it doesn't happen very often and Leonard realizes how lucky he is to have survived in the face of almost insurmountable hardships and struggle. The grass was never greener in the Nimoy backyard—and for the first time Leonard can share it with others.