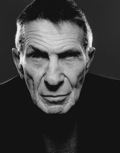 2003
By Naomi Pfefferman, Arts & Entertainment Editor
When Leonard Nimoy was creating the Mr. Spock character for Star Trek in 1966, he remembered a thrilling moment from his childhood Orthodox synagogue. 
It was Yom Kippur, and the Kohanim, representatives of the priestly tribe, swayed on the bimah, their long tallitot draped over their heads, their fingers spread in a V-shape.
LN: These men didn't say the blessing, they shouted it. They chanted and wailed, and everyone had their eyes covered, and my father said to me, 'Don't Look!' And of course, being 8 years old, I peeked, and I saw them doing this with their hands, and it was very chilling, passionate, ecstatic, fervent, theatrical.

Twenty-seven years later, Nimoy remembered the V-sign while inventing a greeting for Spock, whom he saw as a kind of Wandering Jew: half-human, half-alien, at home neither on Earth nor on Vulcan.
"That's how the blessing that mesmerized me in shul became the gesture for 'Live Long and Prosper,'" he said, spreading both hands into perfect V's.
This month, he hopes to create some memorable moments at his current shul, Temple Israel of Hollywood, when his Nimoy Concert Series kicks off its second season Dec. 14. He will narrate "The Chanukah Story," a series of holiday texts set to Chassidic, Israeli and Sephardic music, sung by the Western Wind Vocal Ensemble. The concert is the first in a 2003-2004 season that will include appearances by the Los Angeles Jewish Symphony chamber players and the all-woman klezmer band, Mikveh.
LN: The goal is to present a broad range of world-class Jewish music performed by world-class talent.
"The series is Leonard's gift to the community," said Temple Israel's Rabbi John Rosove. "He is a passionate Jewish artist and humanitarian."
At his Spanish-style home in Bel Air on a recent afternoon, Nimoy sat in an airy den, surrounded by Judaica and Star Trek memorabilia. A Kabbalah book rested on a director's chair from the film, Star Trek III: The Search for Spock; pointy Vulcan ears shared a bookshelf with a photo from Nimoy's TV movie on Golda Meir.

The son of a Ukrainian-born barber, Nimoy grew up speaking Yiddish in a one-bedroom apartment shared by six relatives in Boston's West End, a Jewish enclave in the predominantly Catholic city. Klezmer music, performed by an uncle and four cousins, provided the backdrop at social events.
After Nimoy left home at 18 to study acting at the Pasadena Playhouse, his knowledge of the mamaloshen helped him land roles with visiting Yiddish theater troupes. One highlight was meeting legendary star Maurice Schwartz.
LN: I had an appointment to audition for him at a theater on La Cienega, and as I was waiting for him to acknowledge me I heard his wife say, in Yiddish, 'He looks like the gentile in 'It's Hard to be a Jew,' Nimoy recalled with gusto. She didn't know I spoke the language, and I thought, 'This is going to be a snap.'
The young actor promptly landed the role and bleached his hair platinum blond for the play's 16-week run.
When asked how the ultralogical Spock would have viewed the melodramatic Yiddish theater, Nimoy heartily laughed.
LN: I think he would have had the same problem with it that my parents, who were from the shtetl, had with Star Trek. They just didn't get it, didn't understand it, although they were delighted that it made me a success.

Yet the fictional Spock felt anything but alien to Nimoy after he landed the science fiction TV series in 1966. He identified with the character's outsider status amid the human crew of the Starship Enterprise.
LN: As a Jew from Catholic Boston, I understood what it was like to feel alienated, apart from the mainstream. There were a number of values in Star Trek that I felt very comfortable with as a Jew. The futuristic society is a meritocracy that values education, social justice and tikkun olam, repairing the world. That's exactly what we were out there doing on the Starship Enterprise: trying to heal the universe.

Playing the outsider Spock made Nimoy the ultimate insider as Star Trek went into syndication in the late 1960s, creating legions of Trekkies and entering the pop culture lexicon. But the public's fascination with the series initially proved taxing for the performer.
LN: During the 11 years that there was no Star Trek production, I wrote poetry, had a couple of books published, and constantly tried to work at my acting craft in other projects. I had a one-man show, Vincent about Vincent van Gogh, but wherever I went, no matter what I did, people were interested in me only because of Star Trek, Star Trek, Star Trek. The questions were always, 'How do you feel about the series, how did it happen and whose idea was the pointed ears?'
The questions became hostile after the publication of Nimoy's 1975 memoir, I Am Not Spock, when, he said, fans erroneously assumed: There was no Star Trek production because I hated the series and would not play Spock.
The rumors dissipated after he starred in 1979's Star Trek: The Motion Picture, the first of a dozen Trek movie sequels; Nimoy went on to direct two of the films, to star in six of them, and to write a less defiantly titled 1995 memoir, I Am Spock. The popularity of the franchise gave him the clout to embark upon treasured, Jewish-themed projects, such as the TV movies A Woman Called Golda and the Holocaust-denial drama Never Forget.
Because of the Holocaust, Nimoy consistently refused invitations to speak at Star Trek conventions in Germany — until a fateful conversation with Rosove about five years ago.
"I challenged Leonard because he was really hesitant to go," the rabbi told The Journal. "I said, 'You can help transform their view of what Jews are." So he went and he was overwhelmed by the experience."
LN: There was such intense emotion emanating from that audience (Nimoy recalled of the Bonn convention) The subtext was, 'Thank you for presenting yourself as a Jew here in front of us. Thank you for dealing with us as a new generation.'

Several years later, a discussion with Rosove led Nimoy to begin another unexpected journey: creating his first major art project. It began when he asked the rabbi why his father had warned against peeking at the Kohanim: LN: He told me that their benediction beckons the Shekhina, the feminine presence of God, into the sanctuary, and you dare not look because it could be fatal.

The conversation inspired his controversial 2002 photography book, Shekhina an exploration of God's feminine side that includes nude images of women in tefillin.
These days, Nimoy has given up acting and directing to focus on photography, philanthropy and Jewish activities; he serves on an advisory board of the National Foundation for Jewish Culture, funds a recording project for the National Yiddish Book Center and sponsors the Temple Israel concerts, among other endeavors.
LN: Star Trek has made it possible for me to make choices, and Jewish projects are what I choose to do. I feel authentic doing them. They make me feel at home.

"The Chanukah Story" concert took place Dec. 14, 2003, 3 p.m. at Temple Israel of Hollywood, 7300 Hollywood Blvd.