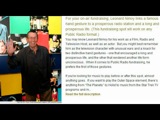 200?
Hello, I am Leonard Nimoy. 

Perhaps you remember me from my role on the original "Mission: Impossible" or maybe you know my work on another television program where I was known to use two distinguished hand-gestures. 
One that encourage a long and prosperous life and the other rendered another life form unconscious. Naturally, I prefer the first of those gestures.
You can make a similar life affirming gesture by supporting that program that you enjoy on your public radio station.