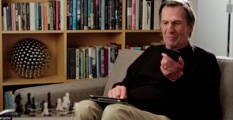 2013 May 
Leonard Nimoy and Zachary Quinto play 3-D-3-level-chess against each other - each at his home via iPad. Zachary Quinto calls Leonard: "Check!" Leonard takes the call, smiles, makes his move and answers: "Ckeck and mated, my young friend." 
(Thanks, Grace, for pointing this out first!)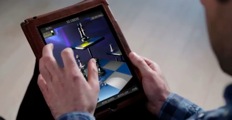 Zachary Quinto puts his board aside and asks: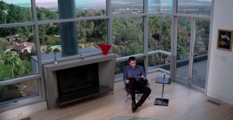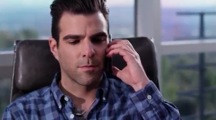 "How about another challange: You wonna play a round of golf in the club and get some lunch? Whoever gets to the club last pays lunch."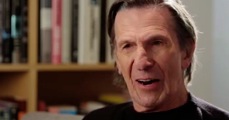 "Stand by and have your wallet empty by a tractor beam."


ZQ: "Anything is possible but probably not that." 
He heads for his Audi without any hurry and easily puts his golf bag into the trunk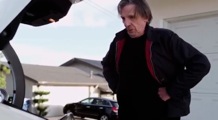 while Leonard's doesn't fit in. 
"F..." (peep)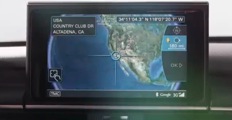 Like a space-ship leaves a dock the Enterprise-like colored Audi S7 emerges smoothly out of the spacious garage while movie theme music is played. Zachary presses a button and the screen of the GPS appears like a device in a star ship.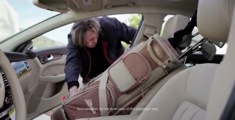 By now the golf bag is stored at the co-driver's seat in Leonard's car.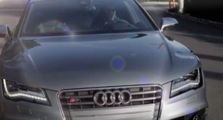 Underlined by glorious movie theme music Zachary drives his elegant Audi 
while Leonard sings "Bilbo Baggins": 
"In the middle of the earth in the land of the Shire lives a brave little hobbit whom we all admire. With his long wooden pipe
fuzzy, woolly toes, he lives in a hobbit-hole and everybody knows him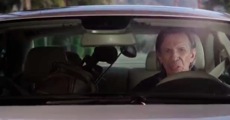 .
Bilbo! Bilbo Baggins!
He's only three feet tall
Bilbo! Bilbo Baggins
The bravest little hobbit of them all. 
Yeah!! "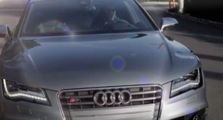 Again the movie music accompanies Zachary's driving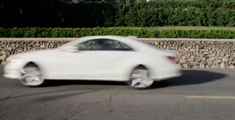 while Leonard shouts: "Go, Bilbo!"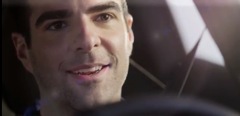 "Hi, Leonard!", Zachary calls him.
"Go!" 
"Hey, where are you?", Zachary asks. 

"Use your sensors!"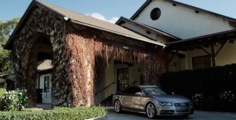 "No need, I'm already here."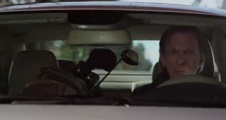 "You are already there? I might be stuck in a black whole."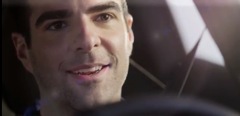 "I could practice my swing if you need to pull over and take a nap."
In a low voice Leonard says: "Smart ass."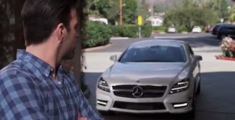 and arrives at the club.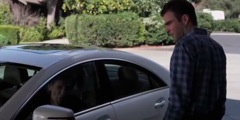 Zachary approaches the car and is worried: Leonard coughs and seems extremely weak.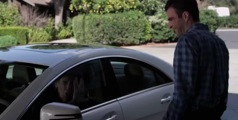 Hardly copying to raise his hand Leonard stumbles in a hoarse voice: "I have been ... and always shall be ... your friend.", while reaching out to the glass of the car window forming the Vulcan Salute.
"Really?", Zachary asks laughing. 
He opens the door.
Leonard: "I head."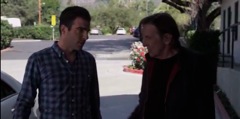 Zachary: "Nice try. You wish." 
"No, no, no. I head." 
"No, no, not for a second. Obviously you're vanquished."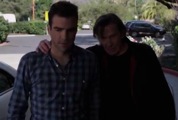 "Technically we're not inside yet.", Leonard says and puts his arm at Zachary's shoulder -- his fingers touching Zachary's neck.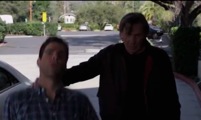 Zachary goes down.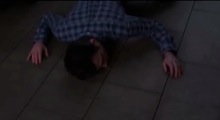 While Zachary is still lying on the ground Leonard  walks through the door saying: "See you inside."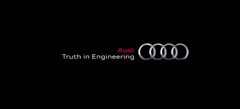 The ad is inserted.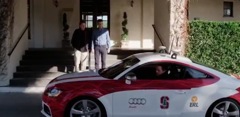 When they come out waiting for their cars another Audi arrives. This time it is an Audi TTS.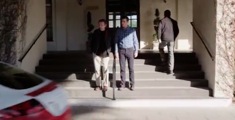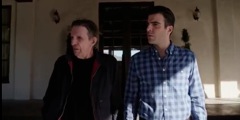 The car stops, the driver gets out and the empty car goes on. Both watch in amazement and say "Fascinating!" at the same time.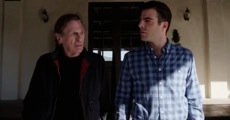 Both wonder - they had not intended to say that. 
Link to an article with background - information, the video and Leonard's Bilbo Baggins song from the 1970ies