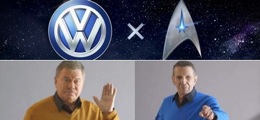 2014 September 23
Thanks to Grace for pointing out this  Link
Shatner and Nimoy are teaming up again! Volkswagen Germany is teasing a new Star Trek-themed campaign that features both Leonard Nimoy and William Shatner.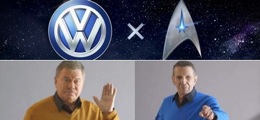 VW (Volkswagen) Germany Facebook posted this Star Trek - themed image with the message: "We greet our fans on Earth - and also the planet Vulcan"   #vwfuture
Then another image was posted: "The answer from Vulcan didn't take long. Welcome to the VW future.
And then VW Germany posted a 30 second video featuring the people working on the set shooting the VW e-mobility commercial while they are trying to do the Vulcan salute. The clip plays Star Trek music and shows glimpses of William Shatner and Leonard Nimoy (wearing v-neck sweaters matching their original command gold and science blue Star Trek uniforms). The question is asked: "What do these people want to tell us?"
The video hints there will be more on October 3rd.
TrekMovie is told that the planned "vwfuture" campaign is currently limited to Germany, but could expand to the rest of Europe and the US.
Fans may remember that back in 2008 Leonard Nimoy did a comercial for VW USA for their campaign promoting the new Beetle. Have a look at the link. 
Last year Nimoy teamed up with the new Spock Zacnhary Quinto for a very popular viral web ad for Audi (a subsidiary of the Volkswagen Group).