1986 (?)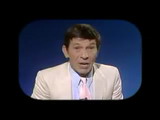 Leonard Nimoy: Chabad is doing their job in helping others to adjust when the going is rough to overcome, when all seems bleak to sustain because there are those out there who care. It would be presumptuous to make the priestly sign out of character.
http://www.youtube.com/watch?gl=IT&hl=it&v=ySU8vqCVX9Y

However, since we are on the brink of the new year, it would be proper for me to wish you and yours a happy and healthy New Year, Jew and non- Jew.
Thank you for supporting this most worthy organization and - I can't resist - (Leonard raises his hand, the fingers forming the Shin):
Live long and prosper!