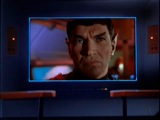 1966 December 13
Writer: Paul Schneider
Director: Vincent McEveety
Music by: Alexander Courage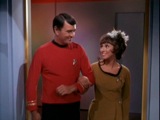 Captain Kirk: William Shatner
Science Officer, First Officer, Cmdr. Spock: Leonard Nimoy
Dr. Leonard "Bones" Mc Coy: DeForest Kelly
Lt. Sulu: George Takei
Lieutenant Commander Montgomery Scott: James Doohan
Lieutenant Uhura: Nichelle Nichols

Romulan Commander: Mark Lenard
Decius: Lawrence Montaige
Centurion: John Warburton
Lt. Andrew Stiles: Paul Comi Specialist 2/C Angela Martine: Barbara Baldavin
Specialist Robert Tomlinson: Stephen Mines
Commander Hansen: Gary Walberg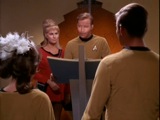 Stardate 1709.1
Angela Martine and Robert Tomlinson are getting married on board of the Enterprise.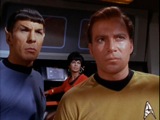 The ceremony is interrupted by a call from an outpost close to the Romulan border.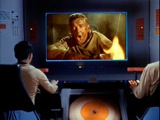 They are under attack by Romulans. When the Enterprise reaches the outpost, they cannot attack the Romulan ship because it is invisible.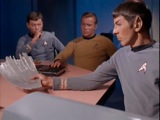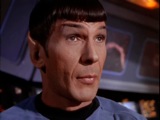 Hardly anything is known about the Romulans so far, but they manage to make contact to the ship. It is the first visual contact with Romulans ever.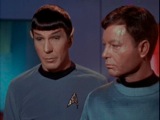 To everybody's astonishment the Romulans look similar to Vulcans.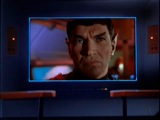 The captain of the Romulan ship threatens the Enterprise.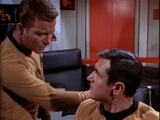 Lt. Stiles openly expresses dislike towards Mr. Spock. Kirk prevents him to suggest Spock would cooperate with the enemy, but his thoughts remain obvious to everybody.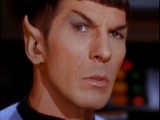 He even calls his superior officer "the Vulcan" without showing any respect. Spock tells the Captain and the other senior officers about Vulcan history and the probable Vulcan origin of the Romulans.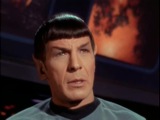 They had split up with the Vulcans when the Vulcans had turned to logic rather than fighting. The Romulans had left Vulcan in ancient times.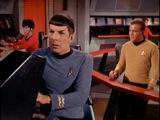 He warns the captain about the threat that the descendant of those ancient barbaric Vulcans pose and suggests to attack them.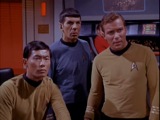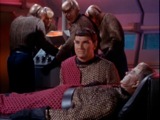 The captain of the Romulan ship mourns the death of a crew mate.
Kirk and the captain of the Romulan ship see parallels how their ships are run and how both of them behave – without prejudice.
Mutual respect and similar tactics are obvious, too.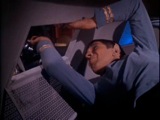 In pursue, the Enterprise needs to switch off everything and be absolutely silent. The enemy ship is in the same situation.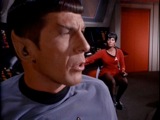 Spock works on a repair and touches a button when getting up from below his working desk where the repairs were made.
This causes a sound and the Enterprise is detected by the enemy ship.
Now Stiles is sure that Mr. Spock is a traitor.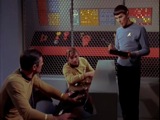 Assigned to weapons control, along with Tomlinson, Stiles rudely refuses Spock's offer to assist, but he overlooks the danger of a burning panel.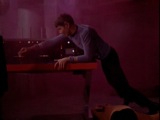 When Tomlinson notices the fire, it is too late - the young man dies because of the venomous exhalations and only Spock's timely intervention, risking his own life, saves Stile's life; Spock also manages to release the weapon which had been blocked.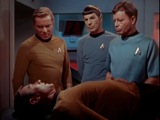 Now Stiles realizes his prejudice.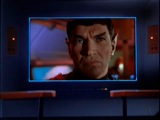 But they manage to hit the Romulan ship hard and the captain of the Romulan ship decides on self- destruction instead of having all of his crew taken prisoner. Before destruction both commanders greet each other with respect and mutually agree that they might have been friends – in another world.