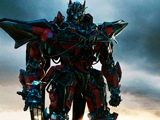 2011 June 23
Leonard Nimoy as Sentinel Prime, the main antagonist of the film, Optimus Prime's predecessor as the leader of the Autobots who transforms into a red and black Rosenbauer Panther Fire Truck. He was also a mentor to Optimus.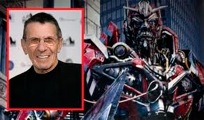 Link (watch scenes with Sentinel Prime)
(Thanks to Sophia for the link)
Transformers: Dark of the Moon is a 2011 American science fiction action film based on the Transformers toy line. First released on June 23, 2011, it is the third installment of the live-action Transformers film series. Like its predecessors, Transformers and Transformers: Revenge of the Fallen, Transformers: Dark of the Moon is directed by Michael Bay and produced by Steven Spielberg. The film's story is set three years after the events of the second film, with the Autobots, during their collaboration with the NEST (Networked Elements: Supporters and Transformers) military force, discovering a hidden alien technology in possession of humans, which had been found by Apollo 11 on the Moon 42 years prior. However, the Decepticons unveil a plan to use the technology to enslave humanity in order to bring back Cybertron, the home planet of the Transformers.