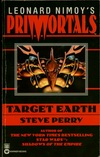 The stories in the comic books are based on the novel "Primortals".
A challenging idea: How would any contact with extra - terrestrian life forms (in this case also life forms having their origin on earth) effect human attitudes towards life? How would people react? How would any form of contact be possible at all, and how might politics and lifestyle be effected?
Over 65 million years ago an alien race saved thousands of lifeforms from earth before the planet was hit by a tragedy. 
These life forms have developed there, on the alien's planet. They call themselves the "Majae" and their leader is "Primaster".