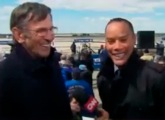 2012 April 27
Scroll down for the 45 sec. interview
CNN reporter Jason Carroll tells Leonard Nimoy: I hope the inspiration continues, I know you continue to inspire people. ...
Leonard Nimoy: It is a pleasure talking to you
...   Carol Costello from CNN: I just want to say that I admire you and in the new Star Trek film you had a prominent role, Leonard Nimoy, and I enjoyed it very much. You're fantastic!
...   Jason Carroll towards Leonard Nimoy: Will you be in another Star Trek movie?
Leonard Nimoy: We are talking, we are talking, .....
Interviewer: Talking, Carol, (everybody is laughing) , Hopefully!!