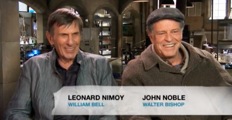 2012 May 08
By Roco for SERIABLE 2012 May 08
Leonard Nimoy: The two "B"s
John Noble: "Two old Bs" (both laughing )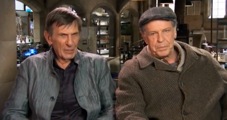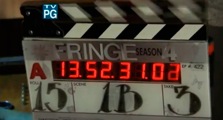 LN: This is great fun, I am looking forward to it. I enjoyed myself earlier on and the relationship is shifting - as it should. (laughing) We are doing drama, you know? Its fun for me I hope its fun for John.
JB: Oh it is. We've done some terrific scenes together because as he just said,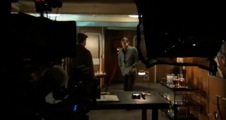 the relationships shifted to a situation that Bell has taken control completely. And I think ...
LN: As he should.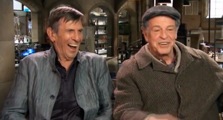 JN (laughing): I think he is insane, completely at this point, you know?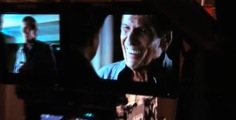 And so the challenge for me is trying to fight back and I realize I can't beat this, I can't beat him, he's insane. He's holding all the cards. That's the first thing  that's happened, but its been fantastic.
And also we had a wonderful time working together. ...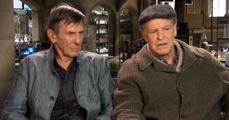 LN: The last time we worked together the relationship was challenging, unresolved, the Bell character was unresolved. We didn't quite know whether we can trust him or what his intentions really were. Gradually I think the audience would like to believe he could be trusted and would be helpful.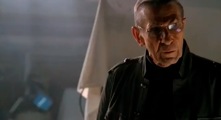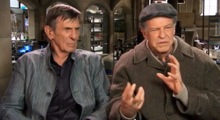 JN: I can still visualize the scene of me going down that side the lab and then there was this real anger and friction in the scene because we hadn't resolved any of that issues that had separated us.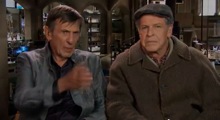 LN: This sounds quite different. Quite different.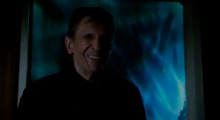 We come to understand pretty early on that Bell was on a journey of his own and becoming more and more obsessed of what he's about.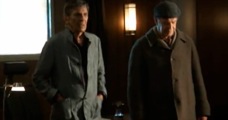 JN: The interesting thing is that even here we don't completely resolve the Bell issue. We get very close.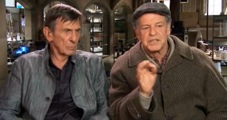 Again I think we don't completely resolve the Bell issue. We get very close. Again its mirrors I don't know yet. I mean I know what we represent in this episode, but I still don't know what the story of Bell is.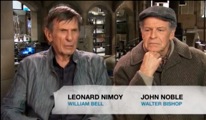 LN: I don't like to think of Bell as a villain. Maybe he's a trouble maker (laughing)
JN: Or a visionary.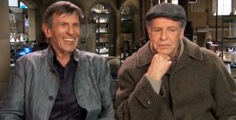 LN: Or a visionary. Yes, I like that: 'Visionary' is good. Its just intelligence (laughing)
JN: He's a visionary because this utopian vision that he has is being shared by many great thinkers in the past, not only by noble men, but certainly great thinkers have had this vision. Sadly it always has been shared by maniacs and crazy people. We never play bad people. We play people with intent, I mean if I was in Bell's shoes, I completely understand why he was doing what he was doing given the circumstances.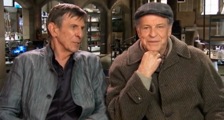 LN: I think its pretty clear to each of us what the chore of the scene is and what the scene needs. And if - in rehearsal- we're nit finding it, we work at finding it, but I think we've been very successful at quickly understanding in what the scene calls for.
JB: Yes, we seem to be on the same page when we hit the rehearsal floor. One of us has got a certain way what it would be the other one had thought I'd go, what would work, it has been a real good understanding. In fact, we've done very little rehearsal, haven't we?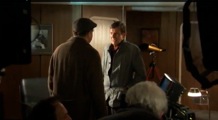 LN: Yes, exactly. We know what our job is to do, and what one receives is there to take. We don't set out to play iconic characters or an iconic relationship, we're set out to play the scene.
JN: I couldn't agree more. From my point of view - and I don't won't embarrass you- I've known this man's work for a very long time and I've come to know that its deep, so, for me to get a chance to work with him is a gift, so, that adds to my thrill about it. But they are two powerful men and it makes a great drama.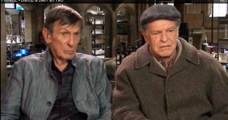 LN: I'm here because I find the show greatly imaginative, smart, wonderful production values and really surprising production values for what I see in television in large. And wonderful actors. A juicy role to play. And I enjoyed being with these people, I enjoyed being on this set, its a treat.