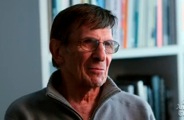 Interviewer: Geoff Boucher for Los Angeles Times, HERO COMPLEX: THE SHOW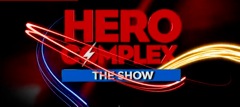 Part 1
Geoff Boucher introduces Leonard Nimoy as an icon of Federation Space.
Geoff Boucher: You know, I've got a question for you I always wanted to ask you, actually. You as a director have had success and as an actor you've had great success. What's best? The best day directing or the best day acting?
Leoonard Nimoy: You know, it depends on the project. I can have a great day either one. I have had great days either one. And I've had terrible days either one.
If you are doing a project that's not working, its hellish, its like chalk on a blackboard, its tough getting through the day.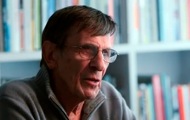 And if its going well, you're flying - whether it is acting or directing, either one.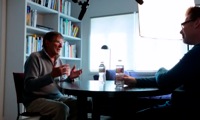 Directing is physically harder for me. The hours are long and there is night-work. After work you look at the film and you deal with the editing and do cameo casting or maybe do some re-writes, the actor walks away and gets some rest, you know?
GB: And all the pressure, too, you know?
LN: A lot of pressure on the director. But when it was going well, I loved this. I had some great fun on 'Three Men and a Baby', a couple of the Star Trek movies I had great times, but I had a lot more experience acting and some of it has been wonderful and some hasn't. It depends on the circumstances, it depends on the project.
GB: 'Star Trek IV' was the highest was the highest crossing I think of the 'Star Trek' films.
LN: At that point.
GB: At that point ...
LN: ... and along came JJ. Abrams. (laughing)
GB: But you were in that one, too, so its okay.
But that must have been particularly satisfying for you to see this film connect, resonate, and then so, kind of positive of spirit.
LN: Yuh, it was very satisfying because when I finished making 'Star Trek III' I got a call before the movie opened from Jeff Katzenberg, who was head of production of Paramount at the time, and he said: 'We want you to make another one.'
And I said: 'You know, this one I just finished, you had a pretty tight saw-chain on me. Control me what I was doing and making me answer for everything and explain everything that I was doing and justify everything.'
And he said -I never forget, he was wonderful- he said: 'The training wheels are off, we want you to make your Star Trek movie.'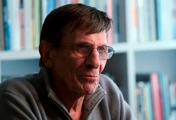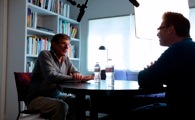 And that's what ending up being 'Star Trek IV' and that's why I feel really good about it.
 
GB: Its interesting to see the way that 'Star Trek' ...the way it connects is sometimes more about the relationship between the captain, the characters and how they represent the sense of a family than the actual plot in a lot of ways.
LN: That's true. The chemistry between the cast was very useful and very successful, wonderful casting, good people, and we all understood our function as a member of a team, and some very good stories were told within that circle of people.
On the other hand there were very good stories being told about the circumstances outside, about sociological problems, about scientific problems, about racial problems. We got to deal with some interesting stuff. And I think that's why the show holds up.
I'm getting e-mails now from people who are saying: 'My kids have just discovered Star Trek and they are watching the original series and loving it.' It is very exciting. 
GB: That's very exciting. And you've discovered Twitter I hear.
Leonard is laughing.
GB: I follow you, you don't follow me.
LN: I'm aware of you. I'm going to follow you when I'm aware of you, Geoff.
My granddaughter, one of my six grandchildren, came to me one day and said: You should have a Twitter account. We should offer some of the things that people want from you, make them available on the internet. And she opened a website called www.shopLL&P.com. LL&P is 'Live long and prosper'.
And then she said: You have to open a Twitter account and tell people about your shop, so we did that. We have a lot of fun. She's good, good girl.
GB: So, that's great. That must be also satisfying for you to have family connection and done things for you.
LN: My life have become much, much more about family. I used to -how I describe it now- I used to mayor in career and minor in family. And now I've turned it around. I'm much more mayoring in family and minoring in career. I do the occasional pop-up thing to help a friend, but mostly I'm dealing with my family.
GB: One of the things you have dealt with for many, many years obviously is use a camera, to express yourself in capturing images. Your career as a photographer as you did a number of books and exhibits with great success, how do you think it has changed the way you act or influenced you as an actor- if it did?
LN: I don't think so, I think the opposite. I think the photography work was influenced by my acting and directing. Particularly the last project that I did which was called 'Secret Selves'.
I really approached it from a point of view of a director dealing with human psychology, human mind. As a director, they were actors. And it was very satisfying for that reason, it was about something that I read on the internet about Aristophanes, the Greek poet, philosopher, who posited a very, very fanciful idea about the Greek explanation for human angst, human anxiety.
He said that we were once double people, humans were once double people, with two heads, four arms and four legs attached back to back, double. And they became arrogant and powerful and the gods sent Zeus to solve the problem and he took a big sword and split them in two and sent them on separate paths. And Aristophanes said: 'Ever since then humans have been trying to find the lost part of themselves to make themselves feel whole again, to re-integrate. And until they do, they feel that's something missing in their lives, something is making them uncomfortable.
And I thought: 'What a wonderful way to approach a performance in a way, a character.' So, as a director and actor I was able to get inside that idea and photograph a lot of people as their secret self. That was heavily influenced by my acting and directing experience.
GB: And then, what you did for that, if I remember right, it was two days of marathon, two marathon sessions where people came.
LN: I photographed almost 100 people. Every ten or fifteen minutes the next strange person would walk in and I'd say: 'Who're you?' They were great, the people were wonderful.
GB: I like the photograph, I mean I like a lot of them, but the one, there's two I recall, one is a sailor who had a superman cape?
LN: Yes, he was in the coast guard and he had a superman cape that was made by his grandmother when he was born. He was now around thirty if I remember correctly and he had the cape in his locker on his ship all the years he was in the coast guard.
GB: I wonder what's more disturbing, that story or the fact that I identify with it.
Leonard laughs out loud.
GB: And then the other, the fellow that ..., he seemed almost like a wood-elf or something. 
LN: Yes, he was kind of our poster board for the show. He was a wonderful guy, a portrait painter, an artist. And he painted portraits of people who had been in war. So, it was all about conflict and struggle. He painted their portraits and listened to their stories and told their stories along with the portraits. And his secret self, his secret fantasy was to live outside of conflict, away from the world, as an avatar from the earth, away from the world. And he came totally covered from head to toe in mud and leaves and wearing only a loin cloth that was mud colored. He just looked like something risen from the earth - wonderful!
GB: Of all the pictures you took in your career there is one that is interesting because it closed of a certain part for you at least as far as subjects go. Yul Brynner. You took a picture of him on the movie set.
LN: I did, yuh. We were shooting a picture in Spain called 'Catlow', a Western. I was playing a heavy and he was the hero. And I had my cameras with me on location and one day, on an off day -I was not shooting, I was not in a scene being shot- I came to the set with my camera and I thought: 'This is all about shooting candid shots on the set.'
And I put my camera to my eye and I shot a frame that was in the middle of the picture. It was a whole company preparing a shot.
And I sensed immediately that the actors suddenly stepped into character. They were aware that the camera is pointing at them, the actors were responding to my camera. and I thought: 'If I was them I would do the same thing. You can't help it, its hard to focus on the work if a camera here is shooting .. anyway, you get the point. I never did it again. I thought it was intrusive, I thought I was intruding in their thought-process. I never did it again. The only picture I ever took on a set! 
By the way: He did it a lot, Yul Brynner. He published dozens and dozens of images he shot on sets. He was okay with it. Take a picture, there, there, there,.... (Laughing) I couldn't do it.
GB: Another photograph that I find fascinating is a photograph of you and Jimmy Hendrix. You met Jimmy Hendrix in Cleveland.
LN: Yuh. GB: That's a very interesting thought. Were you aware of it?
LN: It was early, late sixties I think? [....] He died shortly after I know that. I asked because I tried to get a fix on the time. I think I saw him in the late sixties. I had done some recording in my illustrious singing career (smiling) 
GB: We're coming back to that.
Leonard laughs out loud. GB: This surely you know. The Hobbit is coming out this year, so, we need a re-release, we need a re-mix. (Leonard laughs about the thought): That's right. (laughing)
I was out doing some promotion for an album that had just been released. And I was in Cleveland, I had worked the day and now they said: 'We're having a dinner for you this evening, a lot of people from the local record business will be there and do some business. At a local restaurant in a private room. In the course of the evening somebody came to me and said: 'Jimmy Hendrix is in the next room, he heard you are here, he would like to come and say 'Hello'.' I thought about it for a nanosecond, you know? I said: 'Bring him in.'
GB: 'Bring him up.'
LN: 'Bring him up.', exactly. He came in, he was charming, he was very nice and we had a picture taken together, he and a lot of people who rushed to get in the picture. I'm not even sure who the rest of the people were, but Jimmy I remember for sure. He was a great artist, a great, great artist, and a tragic end, tragic end, he died much too soon, much too young.
GB: Its interesting to see how his music had a sense of cosmic. Obviously there was the blues influence, aspect of his body work, and I think there was this cosmic stuff, to see how that went together, what was in the air of the sixties, literally, and what was in this culture. And 'Star Trek' had some of that as well. I mean you're the fashion of it and also the sort of sensibility of it. When you first became aware of 'Star Trek' - it was a possibility, a prospect...
LN: Of going to work on the show you mean?
GB: Yeah. First on a piece of paper as an idea. What was your first thought about it? Did you get it right away? 
LN: No, there were certain aspects that I got right away and some I didn't at all. I had no idea what the 'cosmic' impact might be, but I did know that I had good material to work with, what was given to me was a character who was half-Vulcan, half human and had an internal struggle. For an actor is a great stuff to work with.
This is not a charade, this is not a two-dimensional character, this is a multi-dimensional character where there is a lot of opportunity to explore the internal life of this character. You are not working by saying lines, you're experiencing something. And that was extremely attractive to me I thought: 'This could be very, very interesting.' The rest I had to discover. I was not totally comfortable with the idea of pointed ears, for example. I thought: 'If this doesn't work, I'm a joke - I'm a joke. I'm a punch line.'
And I didn't want to be a punch line. I took my acting seriously.
So, we went through the struggle of getting ears right. It took some time. We had a number of failures that didn't work - before shooting, fortunately. They just kept coming up with the wrong kind .. that's a long story which I'm sure you're aware of.
GB: You've got them right.
LN: Just in time to shoot the first pilot, and then it started happening, then I started discovering what some of the writing was gonna be about and what some of the social impact was gonna be about. People started responding intensely to the show and to this character. 'Oh, there is something really interesting that could develop out of this.'
I always had the belief that the show would last a long time because it as about the future. That could not be outdated very quickly, it would last a long time. That I did have a sense of.
Part 2
GB: AS far as -now when you look back- feature film, television and the stage as well... The stage for instance is a very, very different exercise than working on a film set or television series. Which stage experience do you look back on now with great fondness?
LN: After I finished with the three seasons of 'Star Trek' and the two seasons of 'Mission: Impossible' I began to explore the stage - I have started on stage when I was eight years old- so, I was really anxious to get back to it and find out where I was with that whole kind of work.
GB: You started in Boston?
LN: I started in Boston, yeah. And -that's the point- I did a production of 'Fiddler on the Roof' where I played Tevye and we played Boston. It was my first time back on stage Boston since I had left in 1949. This was in 1971. So, my family could come and see me on stage and I could enjoy being at home and being on stage again in a thrilling production, we had a wonderful production. We played north of the city, we played down at the cape and we had a great, great time. And after I did several years, a lot of stage work.
GB: 'Sherlock Holmes'
LN: Yeah, 'Sherlock Holmes',
and I did my one-man-show called 'Vincent' with which I toured the country, I
did a number of plays, I did 'The Man in the Glass Booth', I did 'Fourposter', I did 'Caligula'. I forget the plays, I mean I had a wonderful time, a wonderful time. And I was on stage on Broadway, my second time in 'Equus' when I got a call from -again- Jeff Katzenberg called me and introduced himself, he said: 'I've done the work for Paramount Pictures and I'd like to talk to you about acting in the next 'Star Trek' movie'. 
GB: Could you connect a bright line between the release of 'Star Wars' and the course of success there and that phone call?
LN: I was doing 'Equus' on Broadway in 1977 when I began hearing about this extraordinary success called 'Star Wars'.
And on an afternoon off when I was not working I went down to Time Square and walked into a theater which was packed. Cheering, cheering, screaming people watching this science fiction movie,
and I thought: 'I think I will be getting a call from Paramount pretty soon'.
Sure enough within a few days they called and said: 'We'd like to talk about making a 'Star Trek' movie.' They saw the success of 'Star Wars' and sort of thought: 'Well, we have one of those, let's do it.'
GB: 'Sherlock Holmes' or 'mission: Impossible' or certainly Spock - there's always been a cerebral aura about many of your signature characters, your signature performances.
LN: That's true.
GB: Is that something that you ever felt restless with? I mean actors don't like to do particular types of things.
LN: You know, you're sort of touching in the issues of typecasting and when I did Spock people would say to me concerned about: 'What this character is gonna do to your career?"
My feeling about typecasting is that it is a double edged thing. On the one hand it can limit the roles that you are offered, on the other hand it helps producers and directors to understand how to use you.
It gives them a sense of how you might be useful to them. I have never been out of work since 'Star Trek' went on the air, so it worked well for me. There's one mayor exception: The role that I was offered in a project called 'A Woman Called Golda'. That was a TV movie about Golda Meir and I was asked to play her husband, who was not a cerebral character at all. He was a very decent guy, but kind of got to make his way through life and she was the aggressor and she moved on in her career and literally left him behind. And I thought: 'This is outside my comfort-zone. Not in my comfort-zone.' And I kept rejecting it, rejecting it, rejecting it. The producer, Harve Bennett, -to his credit- came after me time and time again and I said: 'I don't get it, I don't know it, I don't know how to do that.'
And then he said: 'That's too bad because you'd be playing opposite Ingrid Bergman.' I said: 'Oh, really!' (laughing) 'I might be able to figure this out.'
 
We've just posted the second episode of "Hero Complex: The Show" on the Nerdist Channel on You Tube and it's an exciting one for us:  Leonard Nimoy is the guest.
We visited the sci-fi icon's Bel Air home a few weeks ago to talk about "Star Trek," his evolution as a filmmaker and photographer and his philosophies on family and career. We also talked about a very special photograph — the one that shows him meeting Jimi Hendrix not long before rock's greatest guitar hero died in 1970 at age 27.
"Hero Complex: The Show" premiered two weeks ago with our visit to the offices of Ridley Scott and picks up again May 23 with the conclusion of our Nimoy visit. (And just to make sure you check back, chew on this thought: In Part 2, he gives us a William Shatner impression.) But here's that first installment:
"Hero Complex: The Show" features the great work of  video journalists Jeff Amlotte and Myung J. Chun, and as host my goal is to bring you insightful conversations with the biggest names and brightest thinkers in sci-fi, fantasy, horror, comics and gaming and deliver it to you in a way that always respects your intelligence. Let us know how we're doing, and please, don't hold back. We want to improve every episode and the feedback helps. I've been writing for the L.A. Times since 1991 but the on-camera world is a new (and frightening) frontier but it's also exciting because I'm pretty passionate about pop culture and love talking about it.
If you liked watching the show, check out some of the "Star Trek" coverage below; I'm really proud of the Benedict Cumberbatch story that we published earlier today, for instance. And if you're going to be in Southern California between May 18-21, take a look at the lineup for our Hero Complex Film Festival , we'd love to see you there. (We had Nimoy as a guest our first year, back in 2010; you can check out the video from that and notcie he hasn't changed a bit while I'm looking like a crewman from episode No. 41)
– Geoff Boucher