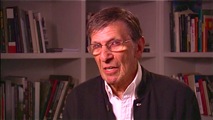 posted 2012 May 25
Facebook asked the CBS Action Facebook fans for questions for Leonard Nimoy so they could put them to this legendary actor.
The questions and answers are posted by Facebook on a daily basis. The videos were taken before 2012 May 15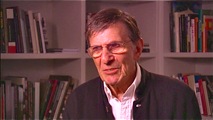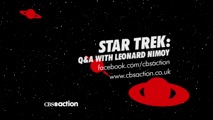 Michael Edwards: Have you kept a pair of ears as a momento?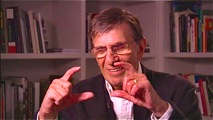 Leonard Nimoy: I have. Its still on my desk in a little case, the pair of ears that I wore on the last day of filming on the television series. And intentionally I said to myself: This may never happen again. I may never be putting on ears again, it may be over now again in the third season. I kept that pair of ears in a case near my desk.
°°°°°°°°°°°°°°°°°°°°°°°°°°°°°°°°°°°°°°°°°°°°°°°°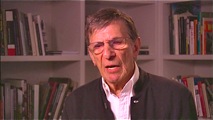 posted 2012 May 24
Denise M. Tagney: Where is the strangest place on this planet that you have been recognized as Spock?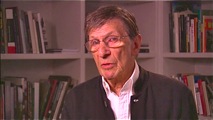 Leonard Nimoy: The strangest place where I have ever been recognized as Mr. Spock would have to be Beijing, China. In the early 80s I have been there working on a job acting in a television mini series about Marco Polo, the explorer and there was an article about Star Trek in the Chinese daily English newspaper in Beijing, and there was a picture of me and people recognized me on the street.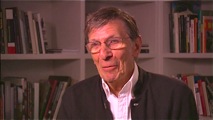 Now, that is really awesome. Star Trek has never been on the air there, but they recognized me from the photograph in the newspaper. And I was amazed by the long reach of Star Trek.
°°°°°°°°°°°°°°°°°°°°°°°°°°°°°°°°°°°°°°°°°°°°°°°°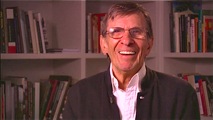 posted 2012 May 23
Gary Metallicaforlife Porter:
What's Spock's first name?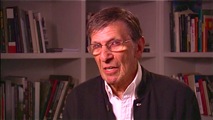 Leonard Nimoy (laughing): We had a lovely episode with Jill Ireland. It was called 'This Side of Paradise', this is where Spock's emotions were released and he expressed his love for a very beautiful lady, played by an actress named Jill Ireland, a wonderful, lovely actress.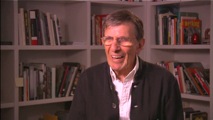 And in the end of the episode she said - as we are parting- she said: 'I don't even know your first name'
and Spock said to her: 'You wouldn't even be able to pronounce it.' And that was the end of that. (laughing)
°°°°°°°°°°°°°°°°°°°°°°°°°°°°°°°°°°°°°°°°°°°°°°°°
posted 2012 May 22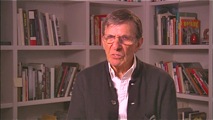 Facebook: Why do you feel that Star Trek's appeal has endured so long and how does it continue to attract viewers?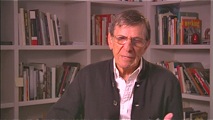 Leonard Nimoy: I have been asked so many times, if we knew - when we were making the show - that it would last so long and the way it has. I have to admit a bit of a sense of precognition here. I had a sense when we were making the show ( I don't mean that I am ... )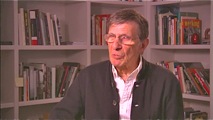 did have a sense when we were making the original series that it could last a long time into the future because shows were set in the future to begin with, and a lot of the ideas were ideas that would endure and still be interesting and valid ideas long in the future and much of the science that we were presenting, science fiction at the time, could considerably become science fact in the future. All of those together with the fact that the chemistry in the cast was really very successful I thought. And put all that together I thought the show would have a good chance of enduring a long time.
°°°°°°°°°°°°°°°°°°°°°°°°°°°°°°°°°°°°°°°°°°°°°°°°
posted 2012 May 21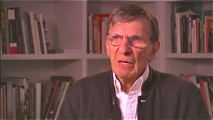 Adrian: Whorlow: What would you have done if Star Trek never happened?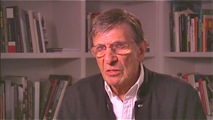 Leonard Nimoy: What would I have done if Star Trek never happened?
My hope was that I would make a living as an actor. And I was. I was making a living as an actor before Star Trek came along, it was touch and go, it was spotty, but I did manage to support a family. I would have been perfectly happy being with a regional repertoire company somewhere in the Unites States, doing classics, doing contemporary plays, I loved working on stage, always I did.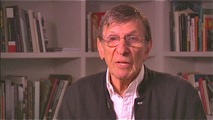 And after Star Trek shut down in the late sixties for about ten years or so, I did a lot of stage work all around the United States, including film and television movies in other countries, but I did a lot of stage work. I would have been very happy doing that for the rest of my life. I think I could have made a living as an actor.
°°°°°°°°°°°°°°°°°°°°°°°°°°°°°°°°°°°°°°°°°°°°°°°°
posted May 18
Facebook: Which episode form the Original Series is your favorite? Which was the most fun to film?
Leonard Nimoy: My favorite episode was something which I also dealt with in my book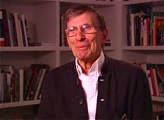 I Am Not Spock and again later subsequently in a book I wrote I Am Spock.

I thought I better clean this up.

I talk a bout a wonderful story by Harlan Ellison called 'City on the Edge of Forever' which was a love story for the captain and a lady in the 1930's that we went by. A very beautifully written script. A tragic ending but a beautifully written script. And 'Devil in the Dark' which I thought was a very important episode for us. Dealing with the idea that we are afraid about what we don't know. And if we get to know maybe the fear goes away and we learn about the adversary or the potential opponent or the thing that's frightening us, maybe the fear would disappear.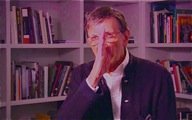 'Let this be your last battleground' I think was the title of the show where the face of the character was split, black on one side and white on the other.  And the other person the opposite. Black on the opposite side and so forth and that was the adversary point: Black on different sides. Very interesting episode.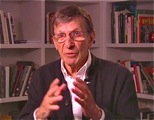 For Spock one of the mayor character episode was 'Amok Time' where Spock had to go back to his home planet to fulfill a marriage betrothal that had been arranged for him when he was a child and we see the Vulcan culture for the first time, other Vulcans for the very first time ever in Star Trek.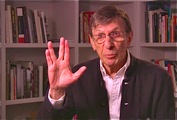 And the 'Live long and prosper', this gesture as introduced for the first time, those words and this gesture, introduced for the very first time in Star Trek and this became symbolic in Star Trek for the Vulcans and the Spock character. I get this on the street wherever I go every day, somebody gives me the Vulcan salute. Those are some of the episodes that come to mind. 
°°°°°°°°°°°°°°°°°°°°°°°°°°°°°°°°°°°°°°°°°°°°°°°°
posted May 17
Sue Marston: Do you feel that Star Trek has developed as Gene Roddenberry would have liked?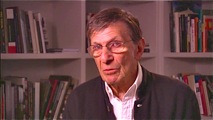 Leonard Nimoy: Its charming to wonder what Gene Roddenberry today would say about Star Trek. I think above all he would be delighted at it's long jeopardy.

I think: No question about that. He would probably ask some probing questions about 'Why aren't you dealing with this?' or 'Why aren't you dealing with that?' in a positive way, trying to give some input and trying to broaden ideas that have been presented in Star Trek because he was sensitive about the ideas which was wonderful. I think overall he would be excited to think that it was still going strong and even being introduced to new audiences. 
°°°°°°°°°°°°°°°°°°°°°°°°°°°°°°°°°°°°°°°°°°°°°°°°
posted May 16
Facebook asked: Working on the Original Series, was it just another job?
Leonard Nimoy: I love this question, wonderful question. I have been jobbing in films and television for 15 years since the Spock character came along.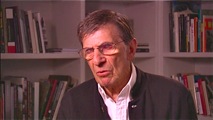 And when you are jobbing, particularly in television, you're a guest on the show. You're not even the "guest-star" of the show. You come in for a five or six or seven or even eight days of the week and you're gone.





There's a family that stays. And it is as though you are coming in and visit in that 'home' for a few days with that family, and then you're done.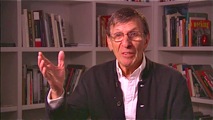 And if your name is on your dressing door, it is removed, it is another name which is put on your dressing room door. When you decide on doing a series, as it was for Star Trek, suddenly you become part of this family. It is an amazing difference, amazing difference. You know that your name on the door is gonna be there for weeks if not months and maybe even years.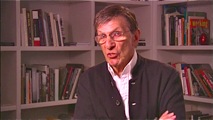 You know that you have your parking place on the lot. And you know that your brothers and sisters are the fellow actors. If your father figures are the directors and the producers and so forth, you are a member of the family. It is an entirely different experience. And you have a steady income, you can support your family and not worry when you're done with this line job: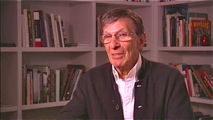 When will I work again? So it changed my life tremendously in any way, psychologically, financially, it changed my life totally. Ever since Star Trek went on the air in 1966 I have never, never had to be concerned about where would I find my next job, I have always had a job waiting for me.
°°°°°°°°°°°°°°°°°°°°°°°°°°°°°°°°°°°°°°°°°°°°°°°°
posted May 15


Dean Ward: Why did you take the role of Spock?
Leonard Nimoy: I took the role of Spock because I thought of two things:
One, it was a very challenging role, very exciting possibilities for the role, and second, possibly most important, it was job security. It would look like it would run for weeks if not months or years. And prior to Star Trek I never had a job that lasted longer than two weeks. And I had a wife and two children, a family to support, so, I thought for the first time I may have some job security here. And I discovered I was into something just really awesome.