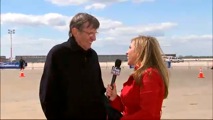 Link     2012 April 27
By chance the interviewer meets Leonard Nimoy as the producer of Fox News, Jonathan Wachtel, walks him over to the Fox News crew.
Interviewer: Hello! Life television. Welcome, Leonard Nimoy, ladies and gentlemen, right here at JFK. What an exciting day this is!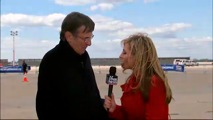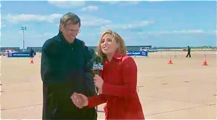 Leonard Nimoy: It is!
Interviewer: And everybody wants to know: Tell us about your participation, why are you here? Who asked you to be here?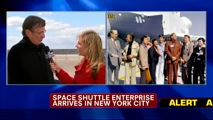 Leonard Nimoy: This is a reunion for me because we, the Star Trek cast, were at the role out when the Enterprise first came out of it's hanger in 1976. I haven't seen the ship since then. 
Interviewer: Oh, really?
Leonard Nimoy: We were visiting. The ship was originally named 'Constitution.'
Interviewer: Right.
Leonard Nimoy: And Star Trek fans started a letter-writing campaign to General Ford. General Ford was president at the time. He got enough letters that he was convinced that the ship should be called 'Enterprise' - named after the star ship 'Enterprise' as in 'Star Trek.'
Well, we were invited to be there as it rolled out, and the air force band played the 'Star Trek' theme as it came out of the hanger - it was great!
Interviewer: Was a band here today? I don't know what they are going to play. Leonard Nimoy: No.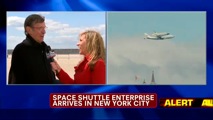 Interviewer: Do you keep in touch with your former cast members, are you tweeting with people, let them know that you were here?
Leonard Nimoy: We've lost two people, Jimmy Doohan and DeForest Kelley, Scotty and Dr. McCoy are gone, but the rest of us are friends, sure.
Interviewer: How exciting to have you life on Fox News channel right now, Leonard Nimoy, here at JFK as we await the historic entrance by the 'Enterprise'
Leonard Nimoy: That is great.