2013 December 20
ARTST TLK™ Ep. 12 Pt 4 | Reserve Channel
A new take on the talk show format hosted by award winning producer, artist, designer, and businessman Pharrell Williams. 
(Thanks to Bobbie fo sharing the link - scroll down for the link )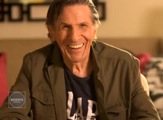 Pharrell Williams introduces Leonard Nimoy and welcomes him: Leonard Nimoy is an Emmy award nominated actor who played the iconic Mr. Spock in the original 'Star Trek' series. TV-Guide named Spock one of the greatest TV characters of the of all times. He is also an accomplished director, poet, memoarist and photographer. Mr. Nimoy, welcome to "Artist Talk".
Leonard Nimoy: Thank you. Good for having me, I appreciate it. 
Pharrell Williams: And I try very hard not to fan out. 
Leonard laughs: Okay.
Pharrell Williams: .. and to stick to the questions.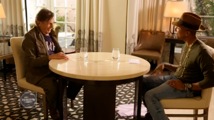 Pharrell Williams: So let's get into it. Your father did not want you to be an actor. He suggested that you play the accordion. Why did you choose not to?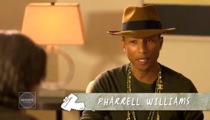 Leonard Nimoy (laughing): He was a sweet guy, he could not understand that someone could make a living as an actor. He came from "the old country", what they called "the old country", from Russia in a small village. And for him actors were the people who came to town in a troup and they would do the performance in the middle of the town, everybody would be around in the night, and then they would cast a hat to collect some money, they woould steal a loaf of bread, would make love to the neighbor's wife and would leave the next morning. That's what actors did. So when I told him I wanted to be an actor, he said I should learn to play the accordion. I never followed his advice. 
Pharrell Williams: So how did you feel when you were first presented the role for Spock? What was your first reaction?
Leonard Nimoy: I had mixed feelings about it. 
Pharrell Williams: Especially as an Aries, a fellow Aries.
Leonard Nimoy: Same territory. 
Pharrell Williams: That's right. 
Leonard Nimoy: I had mixed feelings about it. I was excited about some staedy work, I hadn't had a lot of steady work at the time, I was a free-lance actor.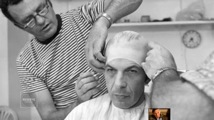 On the other hand I was concerned about what the make-up was gonna look like. 
Pharrell Williams: The ears. 
Leonard Nimoy: The ears specifically. When I met Gene Roddenberry he told me a very interesting story about this character. He attracted me to the character. The idea that the character was gonna be half human half alien. And I thought there would be a very challenging and interesting way to develop the character. A character with a very interesting internal life that I could relate to, I had feelings about.
Pharrell Williams: Was it a challenge to play such a stoic character juxtapose such a character like William Shatner's captain Kirk? 
Leonard Nimoy: It was and it took me a while to figure out how to do it. Because my training as an actor was to use my emotions. This was a character whose emotions were locked up. Intentionally he had emotions. At first when we started shooting I wasn't ready to do that. I hadn't quite figured it out.  
Pharrell Williams: Versus an actor that emotes, which is genius.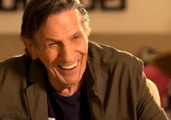 Leonard Nimoy: Exactly. (laughs) a character which was not emotional, did not emote. That fact that Shatner was all verged, was broad, theatrical, made it more easy for me to lay back and comment on what was happening rather act what was happening. So it took a while but I found a way.  
Pharrell Williams: The Vulcan salue -- just my favorite -- was influenced by your experience in teh Orthodox synagogue. Did you consider Spock to be biblical in any kind of way?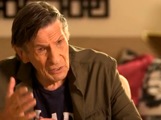 Leonard Nimoy: I wasn't thinking in religious terms, no. But I was looking for some magic. We were doing an episode where we were going to see Spock visiting his home planet. And it was the first time we were going to see his planet, and the first time we were going to see other Vulcans. So its important stuff. I was looking for ways to add something to the Vulcan story.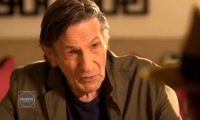 Pharrell Williams: You personally?
Leonard Nimoy: Yuh.
Pharrell Williams: Okay.
Leonard Nimoy: As the actor. And I said to the director: I think it would be interesting to find some special way that Vulcans do when they great each other. And he said: What do you mean?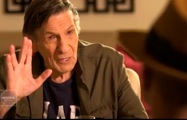 And I said: You know humans shake hands, military peopel salute each other, Asian people bow to each other .. and he said: What do you want to do? And I said: Well, how about that? (Showing the Vulcan salute). He had no idea what it was and where it came from. And he said: Okay. I first saw it done in a synagogue. I must have been 9 or 10 years old sitting with my father and there comes a moment when several men get up in front of the congregation on the stage and they chant a prayer. The prayer a little later translates to me: May the Lord protect you and keep you, may the Lord pass his countenence to shine upon you and grant you peace. Its in the New Testament as well as in the Old Testament. They said it in Hebrew, I had no idea what they were saying. They were doing this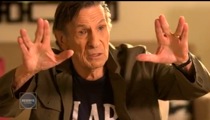 (Showing the blessing woith both hands). They said it to the congregation with both hands, got their heads covered with their prayer shawls and out from under the prayer shawls were sticking their hands doing this. I thought that's pretty magical.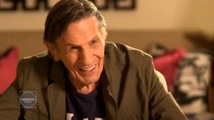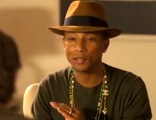 Pharrell Williams: I tell what's really magical. That's what you saw when you were 9 or 10 years old and somehow through the ether and through the actions of all of us what's human, somehow on the television screen and I have seen that as a child, and it had such a lasting impression on my memory and anybody who knows anything about my music knows that it is absolutely like that -- and it comes from you.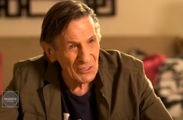 Leonard Nimoy: Something about that caught the imagination.
Pharrell Williams: Onehundred percent. Do you think that all actors and actresses have some sort of creative control once they have been doing it for a while?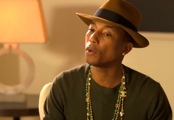 Leonard Nimoy: Well there is up to one point you have to do it on the page. You are dependent on the structure of the script, the dialogue, some of the writers are very valuable. And if you don't have the script to work with it is pretty tough work with a blank page and do a performance.  
Pharrell Williams: Sure.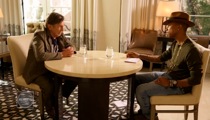 Leonard Nimoy: Given a map you certainly have to try to develop moments for yourself to find nuggets of gold to do something creative and add something of your own. You don't just show up and stand and say a line. You look for a way to annimate what to give in  and bring something and to it. 
Pharrell Williams: What was the process?What did you do to figure out that Spock would ultimately become the incredible timeless influential character that he has become?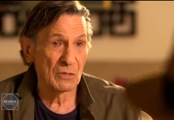 Leonard Nimoy: The first thing I had to learn to do as I mentioned was to find a way to be reflective rather than active.  And to find a way to comment if possible non-verbaly. To be quiet, to stand still, listen and really understand what's going on and finally find a way make comment and thefirst thing was a raised eyebrow I found very effective. People understood what the character is doing and thinking. We didn't need a lot of dialoge to make that comment. And one of the other things was that I think that Spock and the Vulcans should be very hand- orientated people. If they did things with their hands that should be unusual and fresh.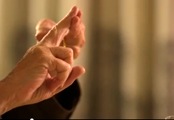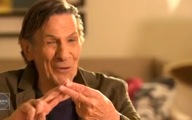 So one day when we had Spock's parents on the ship, they came to me and asked: Have you got something on the way they walk together? Instead of holding hands I had them touching their fingers as they walked, you know? It created something little special. So you're looking for ways to design the life of this person. 
Pharrell Williams: And you were a little concerned with the ears at first.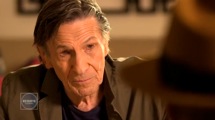 Leonard Nimoy: I was because I took my work pretty seriously when I went to work on the show and I thought: If this doesn't work it could very well be a joke. I had a very good friend who was a good actor that I admired. He said: This is the choice you have. You can it with a make-up that so disguises you so much that, when the make-up is gone, nobody will know you ever did that or you can do it in such a way that you are exposed and pray that it works. So I decided, if I did this heavy make-up and it worked, I wouldn't be happy because peopel would not know that I had done the work. It would be somebody behind a make-up you never see again. 
Pharrell Williams: That's right. 
Leonard Nimoy: So I decided to go for the straight choice. 
Pharrell Williams: The universe often rewards us for those things. 
Leonard Nimoy: You know, that's right. If it scares you, its coming from a place that might have a creative button. 
Pharrell Williams: That's right. So you spent 2 years in the army. 
Leonard Nimoy: Right. 
Pharrell Williams: Do you think that influenced your approach to the show which of was like an alegory like 'war and peace'?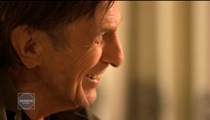 Leonard Nimoy: That's an interesting question. My time in the army was very ..., it was between wars, it was after Korea, before Vietnam, my feelings about war and agression were developed when I was a kid. I grew up during second World War. So I was very exposed to what that was all about. We lost relatives and I had friends and families who lost and from the time I was 10 to the time I was 14 we were in a real, real bad situation. So I had thought about war before I was in the army. In the army I had a lot of infantry training but eventually they tok me in special service, I was producing army talent shows. So I had some experience directing and staging these shows, a pretty good job. 
Pharrell Williams: Yuh, that's where you got your preparation. So, Star Trek IV, The Voyage Home, that was one of the films you actually directed. What do you think the message was in that film?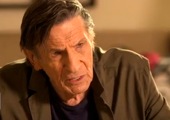 Leonard Nimoy: I was reading a book called "Biophilia" by a Harward biologist named Wilson. He talked in that book about keystone species being lost. He was saying that thousands of species are being lost every year on our planet. Many of them had not even been recognized, they just are gone. We didn't even kow they had existed. At that time I was looking for a story idea for 'Star Trek IV'. And I was intrigued with that idea that may a species being lost on our earth could cause a characteristic event to take place, that something really terrible could happen if we loose a keystone species. So that's how I got to the whale story. 
Pharrell Williams: After 'Star Trek' you fell in love with photography. 
Leonard Nimoy: Well before that actually. 
Pharrell Williams: What drew you to photography? As an art form. 
Leonard Nimoy: Well I started with that as a kid when I was about 10, 11 years old. And a friend in the neighborhod showed me how to develop a role of film and make a print. That you can do that for yourself was a magical thing for me. So it was more the process to me, the subject matter wasn't terribly important at the time. 
Pharrell Williams: You have some good subject matter. 
Leonard Nimoy: Eventually I found my way through using the process to do some more creative work and in 1971 after I had finished 'Star Trek' and 'Mission: Impossible' I went to U.C.L.A. and began studying photography seriously and I had a very good teacher named Robert Heinicken and he led me to understand how to look for thematic ideas in photography. 
Pharrell Williams: Was that enough for you to leave acting? 
Leonard Nimoy: The true answer is "no". 
Pharrell Williams: Did you think about it?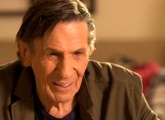 Leonard Nimoy: I did, yeah. I thought for a while that I might switch careers, I had enough of acting for a while. But I discovered that it would be a great was to psend some time to express some ideas, but it would still need to do some work as an actor.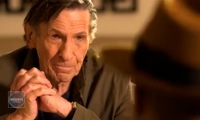 Pharrell Williams: There are some controversies about Shekhina. How did you come up with the idea to combine god and the feminine form? 
Leonard Nimoy: I guess 'controvery' is apropriate. The images are sentual and in some cases sexual, and when you mix that with religion, you gonna get some reaction. I wasn't trying to create controversy. I was looking for a way to express this aspect for the feminie persona, the feminine life, the feminine ... it actually goes back to this (showing the blessing). I just told that when these guys were doing that at the synagogue, I was told not to look. And you're not supposed to look because during that blessing that's going on, the Shekhina -- the feminine aspect of god -- supposedly comes into the synagogue to bless the congregation.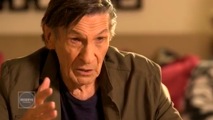 You don't want to see her because the light -- she's a diety -- and that light could be very damadging or even fatal to a human being. I thought: Wouldn't it be interesting to find some way to photograph her, to capture her, to see what she looks like? 
To find out what that being looks like. 

Pharrell Williams: Wow! 


Leonard Nimoy: And that's why I started out with the camera looking for the Shekhina. 
Pharrell Williams: Maybe it just came out the wrong time. I think if you were going to do that today,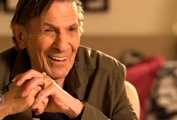 Leonard Nimoy: You mean I should I start all over? 
Pharrell Williams: I thinnk it would be a great project to do. ... The photography project "The Full Body". PLease, let's talk about that.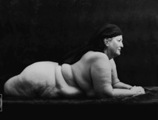 Leonard Nimoy: A lady came to me and said: I'm a model. I'm a different body type than what you've been working with. Would you be interested in working with me? She was a very large lady, a very dear lady, very intelligent, large, large body. I didn't quite know how to deal with that because that's not what I have been working with. I told my wife Susan what I just told you. And she said: You ought to try it. And these again was one of these situations were you do something which scares you. 
Pharrell Williams: Right.
Leonard Nimoy: So I decided to go for it and make an effort. We shot some pictures and it turned out to be very interesting. It was almost like model- sculpture. And whereever I showed those pictures with her along with the other work, those pictures got the attention. So I thought there is something going on there, you know, culture about this kind of body. And I went to look for other women who had that kind of body structure. I found a group in San Francisco who are actually a burlesque group.


They actually call themselves "The Fat Bottom Review", they are a wonderful bunch of women who had a great joy in life and who were exciting in their figures and in their bodies when I photographed them and that's how the book "The Full Body Project " came about. 
 
Pharrell Williams: Do you think that people give you the gravitas as a photographer that you deserve versus Mr. Nimoy, the actor? 


Leonard Nimoy: That's a mix issue. In some areas yes, in some areas its not been known. I am very pleased that there are a number of pieces of my work in museums now and in a lot of people's collections. In some cases there is no question that people are interested in my work because who I am based on 'Star Trek' and the acting I have done. But there is enough recognition for my work that makes me feel satisfied about it. 
Pharrell Williams: Well I know I am gonna become a collector. 
Leonard Nimoy: All right. 
Pharrell Williams: So  -- your memoires. "I Am Not Spock" and "I Am Spock".
Leonard Nimoy laughs. 
Pharrell Williams: They are about your relationship with that persona Has your mind changed through the years? 
Leonard Nimoy: You know "I Am Not Spock" was a mistake in the title. When that book was published a lot of people assumed -- and I can understand that, too --- that the title said that I was rejecting the character in 'Star Trek' which wasn't the case at all, it was just a mistake. I try to explain that to you. I was writing a book about my 'Star Trek' experience at the time. And when I talked about my experience about the differences about myself and the character.


I was raised in a Jewish family, Spock certainly was not. I was raised in Boston, Spock was not. I had a brother who was four and a half years older than me. My father was a barber, Spock's father was an ambassador. There are differences. And I was trying to explain how an actor goes about crossing those differences. How things come together, how this character came to life. And when there came times to title the book I suggested the title "I Am Not Spock". And the publisher said to me: This is not a good idea because it is a negative title and that people might get the wrong idea. But I thought I was being clever and I thought it is provocative. So we put the book under that title and that was a mistake.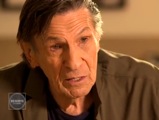 I said in the book: 'Of all the characters in television if I were given a choice of any character ever portrayed in television

I would choose Spock because of the opportunities that that character presented and what this character represented in the way of racial issues, social issues, cultural issues, intellectual issues, emotional issues, I really admire the character and I would have chosen the character. But people got the wrong impression. 
Pharrell Williams: From the title. 
Leonard Nimoy: Yeah, from the title. 
Pharrell Williams: Connotation is everything and impression.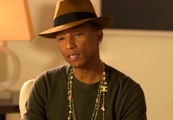 Pharrell Williams: You were given a Public Outreach Award in 2010 from the Space Foundation. What kind of feedback have you gotten from scientists that you have inspired? 
Leonard Nimoy:  One of the greatest satisfactions of being involved with 'Sar Trek' in the Spock character is the feedback I get from a lot of people who said: I went into the sciences because of you and Spock and 'Star Trek' because it was intriguing for young people, it has opened up minds for young people and that's very rewarding, that's the biggest fedback.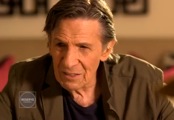 Pharrell Williams: So did you have an interest in science before 'Star Trek'?
Leonard Nimoy: You know, I'll tell you a secret: I failed chemistry when I was at school. 
Pharrell Williams: We're so alike. 
Leonard Nimoy: I failed chemistry. 
Pharrell Williams: Yuh. I was no good a science and I actually did not care about science until after I got out of high school and that's why I started to care about, because I wanted to learn the things that I found to be interesting.
Leonard Nimoy: What created your interest in science finally? 
Pharrell Williams: I'm a huge fan of Carl Sagan. I sought contact and that's when I discovered him and his work.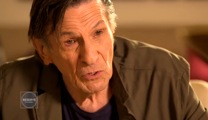 Leonard Nimoy: Sure, he's a great teacher. 
Pharrell Williams: Hoooo!
Leonard Nimoy: Sagan reaches into the heart of myteries and gives you a chance to be inside of it and surrounded by it. Its wonderful.
Pharrell Williams: Its unbelievable. To me I parallel you to. 
Leonard Nimoy: I'm very flattered. 

Pharrell Williams: So the new Spock was Zachary Quintzo. Did you give him any advice? 
Leonard Nimoy: He is a very intelligent well trained actor. He didn't need advice. What he actually found useful was to be around for conversation about the work in general, about what makes the human being or the character tick. I think he's done a wonderful job, he's a really, really great actor, I admire his work. And its wonderful. I try to express what it means to know that we started teh character nearly 50 years ago and it still works, an very good actor has carried on that performance. I like the character, its a big deal in my life. 

Pharrell Williams: What does the future hold for you?
Leonard Nimoy: Well, the Spock character you can imagine, opened up my life -- personally and creatively, gave me  agreat opportunity to do the work I choose to do, not what I had to do for a living. I had choices for the first time in my life. And still, to this day, I consider it a great opportunity to live a creative life, to live a life which has to do with finding ideas, creating ideas and expressing ideas and hopefully making a contribution to the human condition. That may sound pompous, but its real to me, very real to me. When I chose to be anactor, that was not because I wanted to be famous, but because to make a contribution. I thought I have something to offer, something which might be useful, to get it out there. And I came across eventually a piece of writing which expresses the artiostic expression I think brilliantly.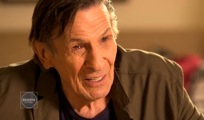 Edward Booth, the actor, 
heard the solemn whisper of the god of all arts:
I shall give you hunger and pain and sleepless nights,
also beauty and satisfaction known to few and glimpses of the heavenly life.
None of these shall you have continually,
and if they are coming or going, you shall not be foretold.
and that -- to me -- sums up the life of a creative person, what a creative life is. Its painful, its exhilirating, its dificult. 
Pharrell Williams: And artist is going to go through good and bad, because that's where they get their material from. 
Leonard Nimoy: That's right. 
Pharrell Williams: So, we're both blessed and doomed. 
Leonard Nimoy: And you never knwo what's coming next. So, when you ask me, what's in the future, all I can do is hope (laughs) for the next opportunity which comes along to express myself. 
Pharrell Williams: I'm such a huge fan - I had no idea. Thank you very much.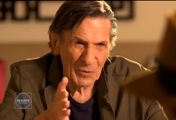 Leonard Nimoy: My great pleasure. I admire your work, too. It would be wrong leaving  without saying that.  You have a great accomplishing career. You're going strong. 
Pharrell Williams: I'm trying so. Thank you so much. 
Leonard Nimoy: Good for you. 
Pharrell Williams: Thank you!