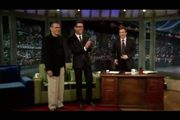 2009 June

with Leonard Nimoy and Zachary Quinto
Starting today you will see my first two guest playing the iconic Mr. Spock in the afternoon movie Star Trek. Please, welcome the new Mr. Spock, Zachary Quinto, and the classic Spock, the man: Leonard Nimoy.
(The band is playing "Two Spocks" while they enter. Zachary Quinto points to the band in appreciation and applauds.)

ZQ: I'd like to say to the system that Leonard was supposed to sit here (closer to the interviewer) and he wouldn't and he was supposed to come out first and he wouldn't. He's a rebel.
LN: The kids go first.
ZQ: All right.JF: Is this the first time you are in a show together, right?
LN: That's right.
JF: Working in the film, did you get along?
LN: No. (laughing)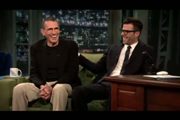 (Everybody laughing)
No, we get along, we get along.
JF: Leonard, did you ever think that you'll never put the Spock ears back on again and go for it?
LN: It has been 18 years since the last time I did it. I was out in the desert wandering around looking for a home. and I finally came back home.
JF: This is great! The movie for now is so good and you (addressing Z. Quinto) were just great. It is such a fun, good movie and...
ZQ: One part when...
JF: And then the other part when...
ZQ: That's the crazy part. (Everybody laughing)
JF: I mean you got the energy to mention that you always loved to play Spock?
ZQ: It's weird, I found out that they were going to do the movie just as my character was being introduced on Heroes and then it sort of evolved. It was bizarre. It is one of those things you look on back in disbelief.JF: That it actually happened?
ZQ: I sort of casually mentioned it.
JF: The first time you guys met you were in an elevator, right?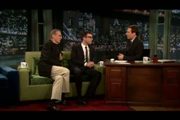 LN: We went to the ComicCon, being introduced for the first time, to an audience for the first time. I stepped into an elevator and there he was. I siad: "Do you have any idea what you are getting yourself into?" What did you say? Did you say: "No"?
ZQ: You didn't give me a chance to respond, you just left. (All laughing)
JF: That's so cool. I love it. Any other things you always wanted to do ?
ZQ: Saturday life.
JF: I could do a phone call. (applause)
ZQ: This has been an incredible experience. I will go back down to the show for the fourth season.
From the audience: Ooooh!
JF: That's your brother.
Leonard, when you did this movie, was it weird to play Spock?
LN: Weird? Sort of. No, I liked it. I was comfortable. It felt like I knew what I was doing, been there before, and everybody was bowing as i walked on the stage. That was really nice.
JF: That was in the contract. (Everybody laughing)
LN: We had a great time. We had a wonderful director and a great script.
JF: Even people that were no fans of Star Trek will go and see. They just figure out to go into this movie because they of course know Spock and they don't know all the details. Not just Trekkies, as for anyone to do this thing (raising the hand a bit)... it is such a good movie... and...LN: Can we help you out a bit? Raise your hand.
JF: (Raises the hand with middle and ring finger apart.)
LN: Get the thumb out, Jimmy, it's very important.
JF: Do you do it with one hand or with two?
LN: With one hand, if you take two hands, it is just an overkill.
JF: Do you do it by mistake, like: "How do you do, honey?" (Talking and splitting the fingers while talking)
LN: A steak, rare! (doing the same with raised hand in Vulcan greeting position)
JF: You might want to do the peace sign and do that by mistake?
(to ZQ:) Are you used to do this?
LN: I want to do Saturday Night. (Laughter and applause)
JF: I must watch out for this weekend.
I can't show a scene because everything is so secret about this movie. But I can show a picture of you. This is so rare! (Showing a photograph of Prime Spock)
(Applause and appreciation from the audience)
LN: I look like a pile of rumbled laundry.
JF: Leonard, you look great. Pile of rumbled laundry! (laughing)...
(to ZQ) I can show a scene with you. (a scene from ST XI is shown)
Leonard, did you have a chance to see the others? Bones and...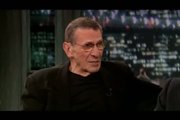 LN: I tell you what's interesting. These are all very talented people they are all trained actors, they know how to do their job. They made great choices. Chris Pine who plays Kirk has been praised for not trying to imitate Bill (pausing as William Shatner did in portraying Kirk) Shatner. On the other hand Carl Urban who plays McCoy, had been praised for he dead a portrayal of the actual McCoy as De Forest used to do it. But they are both right in what they do.
JF: A praise from Spock!
LN: And Zachary is scary. It is a great performance, it is so cool.
ZQ: I had the pleasure of meeting Angelina Jolie at a party. And she said: "I have always been in love with the real Mr. Spock."
JF: I will make anther phone call.
ZQ: I like to see him (referring to Leonard) as the original Mr. Spock, we can talk again after you have seen the movie. I think she'll be there this weekend.
LN (turning towards the camera): Brad, Brad, look out.
 BREAK

JF: We are back with Leonard Nimoy and Zachary Quinto from the amazing new Star Trek movie. No matter how advanced the special effects get. In order to qualify as a proper Star Trek story you have to be able to take a hit at the bridge of the Enterprise.
Now, Leonard, you have directed two of the past Star Trek movies. Can you show us the best way to prepare for impact?
LN: If the thing hits, you gonna try to get hold of something. You grab over your desk, I grab here and we all have to go in one direction.
Do you think we can do that?JF: (laughing)
LN: Now, this is serious Star Trek acting, come on! So, if the thing hits, we go left, hold to the count of three and back to center, o.k.?
(... the end is missing, unfortunately)