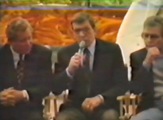 1992 February 28                       
  Scroll down for a video
The crew of Star Trek / TOS commemorates the debut of the television show Star Trek at a Press conference at the Smithsonian Air and Space museum.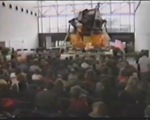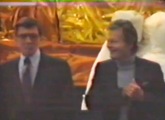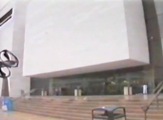 After welcoming words an introduction by Majel Barrett is given about the series and the crew share their thoughts about the event:  
Leonard Nimoy:
I consider ourselves very lucky people.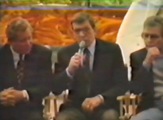 I've been employed for a long period of time in something of merit, in something of value, something we can be proud of, something we don't have to excuse ourselves of... We have been given a great opportunity to present ideas in an exciting and entertaining fashion, to prove thought, to provoke discussion, ... it all has been very positive for me.
This exhibition addresses the social, political, and cultural issues and themes raised in the series. A mini-theater in the exhibition presents a 25-minute video documentary that features interviews with principals from the original series.
Location: Flight and the Arts, Gallery 211