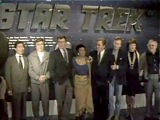 2001
http://www.youtube.com/watch?v=WKZsbBDKZNE
A comparison between the two fantasy worlds in space with interviews of actors, producers, directors and writers.
The history of both is summarized, characters and plots introduced and actors interviewed.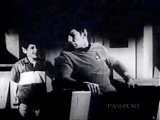 Included is a special clip: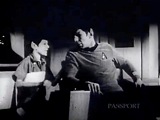 The crew had arranged for Leonard Nimoy's son Adam to get a Vulcan make-up, make-up people put ears on him, too.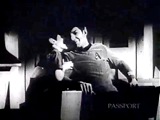 During t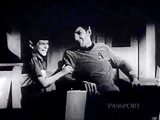 he shooting of a scene, Adam comes in -- to the  total surprise of Leonard (read: I Am Spock) and says: "'I love you, daddy."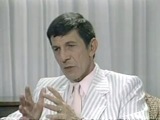 Part of an interview with Leonard Nimoy (interviewer: John Stanley) - about 'Star Trek II' in comparison with 'Star Trek I':
I think its more in the main stream of the best of 'Star Trek'. The first 'Star Trek' movie was a departure. It was a special kind of study of an idea, less of an adventure, less use of the characters, of the individuals in the show itself and more of the ship on a deep space voyage looking for the answer of an interesting philosophical question. This movie is I think much more successful in capturing  the essence of what most 'Star Trek' followers enjoy in 'Star Trek'.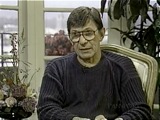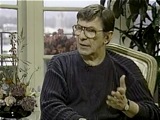 Part of another interview/ Leonard Nimoy commenting on starring in and directing Star Trek III: I did it -when I did it- because I really was looking for a new challenge.
And, I don't know if you recall, but in the end of 'Star Trek II' Spock had died.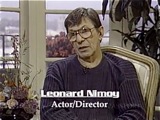 And now they wanted to make another 'Star Trek' movie. They thought: 'Oh, we'd love to have Mr. Spock back again.' So, they called me. I had said 'good-bye' there, I had thought its over, its done. And I was wrong of course. And when they called I thought: 'What do they want to do here? I think we've done this, we've done the Spock character. Yeah, it would be interesting to bring him back and see what its like to start all over again, kind of fresh with this character.
I like getting the laughs, I like entertaining and being funny,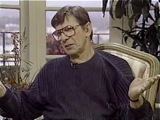 but I never got a chance doing it in TV or in the movies until really 'Star Trek IV', it was the first time. We made a conscious decision, we said: 'Let's lighten up here. We've been dealing with death and destruction and dying and all these funerals and stuff, you know?' Time to lighten up and have a good time. So, we made a conscious effort to do it and it started to evolve into that and now, suddenly, I would say 50 - 75 % of the script I'm off for the comedies.
°°°°°°°°°°°
clip description on you-tube:
For years, Star Wars fans have squared off against Star Trek fans over which space fantasy is the better choice. As a result, both franchises have been embroiled in a continuing battle for merchandise sales, publicity and box-office receipts. The science-fiction genre has never seen anything like it and, as these fictional universes continue to expand, the competition seems to be never ending. Star Wars vs. Star Trek: The Rivalry Continues compares the space opera worlds of George Lucas and Gene Roddenberry for a one-of-a-kind intergalactic documentary. It traces the origin and development of Star Trek from conception to the spin-offs and film series. It also takes an in-depth look at Star Wars from its sci-fi influences in the past to its continuing box-office clout. Interviews with such stars as William Shatner, George Lucas, Leonard Nimoy, Anthony Daniels, Billy Dee Williams, Carrie Fisher, James Doohan and many more help to explain the amazing phenomenon.