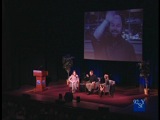 2005 November 16 
see also: Stars of David
92nd Street Y New York:  Stars of David - Prominent Jews talk about being Jewish

Hosted by: Abigail Pogrebin
With: Leonard Nimoy, Kyra Sedgwick and Jason Alexander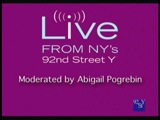 The audience is welcomed to another edition of  "Y" in the "92nd Street Y". This program features Jason Alexander, Leonard Nimoy and Kyra Sedgwick talking about their Jewish identity, talking with author Abigail Progrebin. This event was recorded on November, 16. 2005 in front of a life audience at New York's 92nd Street Y.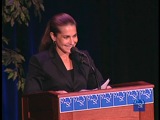 Sharon Goldman, the program director for the Bronfman center of Jewish life, welcomes the life audience and other Jewish communities broadcasting the event. She also informs about a Q&A session after the talk. She introduces the author of the book Stars of David - Prominent Jews talk about being Jewish: Abigail Progrebin.
Abigail Progrebin shares a personal story about a dream she had (Her grandmother had asked her in a dream whether she was nervous. When she admitted it because 900 people would be coming to the show and her grandmother said: No need to be nervous, they are not coming because of you.) and introduces the guest, sharing she does not take their time lightly. They already had contributed their stories for the book, now they are here at the Y as guests again. Jason Alexander could not get there, he participates via a screen.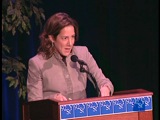 Abigail Progrebin: I feel like this is my Bar Mizwah. Thank you all for coming out on such a yucky night. Before I introduce everyone I just want to star with a dream I had last night. I usually don't talk about my dreams, I hate if people tell you their dreams, who cares about someone's subconscious, but I did have a kind of quintessential dream for today I think where my wonderful Jewish grandmother came to me in my sleep. She was always extremely supportive but also unsparingly honest. And she said: 'So, you are nervous about tomorrow?' And I said: 'Are you kidding. I mean this is a big audience. Theer's 900 people coming.' And she says: ' Uch, they're not coming for you.' (Laughing from the audience). 
(About the guests): I cannot thank them enough. This is truly out of the kindness of their hearts combined with a little Jewish guilt, probably a lot of it from me. They already had done me an enormous favor by being part of this book. And then to drag them back to the Y which is always for me the Mekka of places to appear. Really, its a Mizwah to me. I just want them to know how grateful I am, I don't take their time lightly. Unfortunately Jason couldn't actually get here, so, he's going to be a voice from Sinai tonight on this screen ....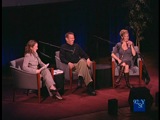 AP: I'll start with Leonard Nimoy (great applause from the audience). It is sort of silly to introduce these people because they are so famous, but I am going to do my job. … Abigail Progrebin mentions Boston, the film work A Woman Called Golda and Mel Mermelstein in Never Forget, playing a Holocaust survivor, he is an accomplished directing work, poetry, … "He's an incredibly accomplished photographer" "Shekhina" is also on sale after the talk.  …  "He studies Thora with my parents, so that's my personal connection."
She also introduces the other two guests.  …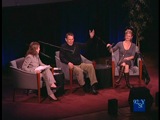 Jason is seen on the big screen above them. "Smart move, Jason", Leonard says.
"I always wanted to look over your shoulder, Leonard.", Jason says.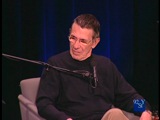 AP: I do wonna start with Star Trek, let's get it out of the way. Obviously …
LN: Why do you say "out of the way?", what do you mean? Get rid of it?
AP: No. I don't think the average Trekkie fan realizes that the starship Enterprise was skippered by two Jews.
(LN is laughing)

AP: So, did you and William Shatner ever , I mean you must have acknowledged that you guys come from the same tradition.
LN: Sure, we are very conscious of that, sure.
AP: Did you talk about it, did you exchange stories?
LN: You see the problem is that Bill was not playing a Jewish character, I was. (Laughter from the audience)
AP: Would you explain?
LN (laughing): So, we parted company on that subject.
AP: What did you, I mean, tell us about the Vulcan greeting. I don't know if any of you know about this. (shouts of recognition from the audience)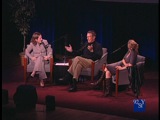 LN: Oh, please! (laughing) Okay. I'll give you the short version. We were doing an episode in which my character, Spock, was on his way home to his home planet of Vulcan to fulfill a marriage betrothal. And we were playing  the scene when we arrive there and Spock was met by a lady who is the matriarch of the Vulcan planet and I felt that we should have some kind of a special greeting. I was looking for some way of building the vocabulary, building the history, the culture of the Vulcan people. And I said to the director: we should introduce some special kind of greeting that the Vulcans do. Humans shake hands or they salute each other or they wave to each other, Asian people bow to each other… and he said: So, what do Vulcans do? And I said: what about this [obviously showing the Vulcan greeting]. And he said: Fine.
He had no idea what it was, but it came out of an experience I had when I was a kid. I was eight or nine years old and in schul, in synagogue, with my family, the orthodox standing with my father and my brother and my grandfather and the women were upstairs in the upper balcony in the orthodox service and the gentlemen known as the Khohanim, the members of the priestly tribe of the Hebrews got up to bless the congregation. And we were all standing and my father said to me: Don't look! And the congregation got their eyes covered and their heads covered with their tallits, their prayer shawls. But I was eight or nine years old and I was very curious and I peeked. And I saw these gentlemen who were very … it is hard to describe. I could be getting up and doing it which I won't. They were ecstatic, they were loud, they were theatrical. Passionate, passionate! And they were shouting this prayer in Hebrew (shouting): Yevarechechah YeYA veyishmerechah…. And there were five or six of them, they were not really singers, they were shouters. I was fascinated when I saw them doing that I had no idea what it meant, but I became intrigued enough to practice it and I introduced it into Star Trek as a Vulcan greeting. I later learned that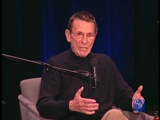 this is the shape of the letter shin which is the first letter in the word "Shaddai" which is a name for the Almighty, so the sense is that they use the symbol of the name for the Almighty to bless the congregation. I much later, I only learned that about three years ago while talking to our family rabbi, that the reason you don't look is that the legend is that during that blessing the Shekhina, the feminine aspect of God, comes into the sanctuary to bless the congregation and you dare not see her because the light from that deity could be very damaging, even fatal. So, that's why you protect yourself by covering your eyes. And I introduced it into Star Trek and it took hold. People were intrigued; most people don't know where it came from. … So, people wave to me on the street like that. Bus drivers and cops and cab drivers…

The other guests are asked questions.
Kyra Sedgwick
and Jason Alexander
…..............

AP: Tell me about your household and the Yiddish and the grandparents.
LN: Well, there were six of us, my grandparents, my parents, my brother and I in which was essentially a two bedroom apartment. My father was a barber who worked in a shop just about a three minute walk from our apartment building. There was an uncle who occasionally got into trouble and used to come to sleep on a coach. My grandparents and parents all came from Russia shortly after the turn of the century. My grandparents did not need to learn to speak English because all people they did business with spoke Yiddish. We were in a neighborhood where there were Yiddish shopkeepers of all kinds and my grandfather worked downtown Boston in a leather factory. In fact he was cutting leather goods and he worked with Jewish people. The language was Yiddish. The secret language in the home was Russian. If they talked about something they didn't want my brother and I to understand, they could speak some Russian. But we had to learn Yiddish in order to communicate with my grandparents particularly.
AP: And you kept it up?
LN: Yuh, I love the language and it was the first work I had when I went to Los Angeles, I went out there to study acting and I had met some people who had contact with Yiddish theater actors and some came to Los Angeles occasionally to do a weekend of work and to find a young actor who could say a line of dialog and could say it in Yiddish. It was helpful to them. So, I got the job, I could work for a weekend or a couple of weeks for $35 and was happy to get it. Not only because of the money but I was profoundly interested in the language. The field they were doing and the people who were doing it. They were wonderful people. Interesting theatrical characters.
AP: And you subscribe,… tell me what you do to keep it up, trying to keep Yiddish alive.
LN: Well, I am somewhat involved with the National Yiddish Books and various organizations. My wife and me have funded some of their recordings.
AP: Could you have a conversation? If someone asked you?
LN: I could have a conversation. My vocabulary is limited, but I could have a conversation.

AP: interviewing the other guests ….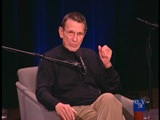 AP: Leonard, you talk about an experience you had [referring to the book] when you used to go to a magic store and buy tricks. And I'd like you to tell that story also in the context of the fearfulness that you said that sort of pervaded your household, your parents. A kind of awareness, giving you the sense that you always had to watch out as a Jewish family.
LN: My family, my parents, … particularly very ghettoized. They were terribly fearful people. All decisions were colored by that fear. … I don't think I remember them saying to us: Keep a low profile. But that message was pretty clear. … They had had terrible experiences in Europe as Jews. They had gone through pogroms. My mother did describe having to hide on the floor boards in her home when the Kazakhs came through. My father had a brother who was killed. He was a violin … killed in the streets of Nanitzki (?) during a pogrom. So they had real reason to be fearful. And they brought their fear to the United States in spite of all they were told and given to understand about freedom and opportunity and equality and so forth, they were still very fearful people.
I grew up in Boston, it was a very Catholic city …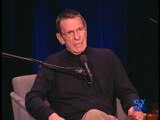 (Talking about the United States in 1992, 1993. When he was ten or eleven years old, he learned that a Catholic would never be elected as president. At that time he as a child thought the whole country was catholic – living in a catholic neighborhood.)
We were surrounded by Catholic churches. There was very a strong sense of Christ and Christ-killers. And that was us.  … As I told you in the book: "Jewbastard" was one word in my neighborhood. That's one thing you learned to live with.
(Now sharing his experience about very poorly produced anti-Semitic papers he was given as a child.  ; s: summary of the book). I just destroyed it, but I carried that with me for a long time.

(Other guests are interviewed.)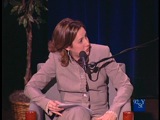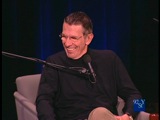 AP: Leonard, you talked about your parents, not just their economical frugality, but their frugality with praise. And you saw that as kind of Jewish. You said their kind of attitude was: Let others praise you, I don't have to praise you, I am your mother. I love you. To me you are always wonderful … and I love the story you told about the Jewish mother and the son who comes home from the army..
LN: Wait it is the same story you told us in your introduction today, what your grandmother told you. …
AP: Why do you think it is Jewish?
LN: I'm not sure that it is. … (Leonard shares about his experience with his parents when he played in Awake And Sing. [s: Thanks to Leonard Nimoy – actor – stage] which made him decide on becoming an actor.)
If I could do this for the rest of my life I would be blessed, really blessed! This kind of work!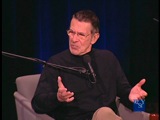 …  (Leonard shares how his parents did not encourage him to become an actor. After the play they had not discussed it with him, but shown their appreciation by offering him cake and tea. And he experienced the same after Kid Monk Baroni. They saw the picture, but did not give him a feedback. After he had inquired his mother wrote back that they have cried. She had not been sure whether they had been crying about what happened to the character or whatever it was because they had seen their son on the screen.)
I was very touched by that. I thought, okay, that's great. … They did not want to encourage me to be an actor. They were fearful that it was going to be a terrible insecure life. …. Why telling this kid to go ahead for something which is going to be difficult for you? …
AP: And you said it was not all Star Trek. They didn't get…
LN: No, not at all.
AP: Tevye, when you played
LN: No, they came home to my father to get a Spock's hair cut at the barber shop. No, they had no idea what it is all about.  
AP: When you played Tevye…
LN: When I played Tevye in Boston in Fiddler on the Roof they came to see me and there were a couple of thousand people, a packed house having a grand time, that they understood.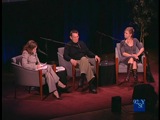 Jason Alexander offers: Leonard, if you'd like to experience the other side, I can send you my mother tonight.  (Everybody's laughing)
LN: Okay! Thank you.

Jason Alexander talks about a film called Brooklyn Bridge.
AP reads a question which refers to the most successful movies about Jews: They are mostly about dead Jews and not Jews that laugh, ...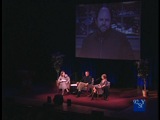 LN: Do you think, Jason, that Brooklyn Bridge died because he was Jewish?
Jason Alexander: … the difference between quality and subject matter... it was a show of high quality. I remember critically they were responding to it as if it was a show of high quality. The numbers weren't there, the people who were Jews in the forties and fifties when the show was set.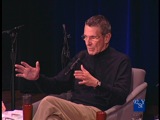 LN: I don't know. It is entirely possible that this is the case that audiences were put up in a cliché, that's entirely possible. To me the it is, it doesn't work until somebody does it, and then it works. ……

Questions from the audience:
…

Q: To Leonard about the anti-Semitic film The Passion of the Christ
LN: I didn't see the film but I will commend on the surrounding activity. There was a tremendous amount of concern about this movie that was coming. And what it was going to be about and how it would inflame people's feelings.
…
Even people who hadn't seen it would be trying to stop the screening. I'm not commending on that, but the fact is that the film got a tremendous amount of support from the church groups. … I personally as a Jew have not felt the impact in my community, in my life. Maybe people had.
The aftermath was all about numbers. That millions and millions of Dollars that Mel Gibson made making this movie.
And as far as the format of anti-Semitism was concerned we heard very little if anything after the release. That happened and then it was all over.
……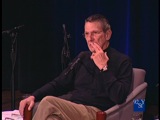 Q: About the spouses and if they are not Jewish, how do you raise your children?

AP: Leonard.
LN: My wife is Jewish and my children are born of a Jewish mother. Without any personal prodding on my part, I have children who live a Jewish life.
… the other guests are interviewed….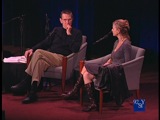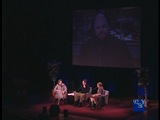 AP:  … asking about Jewish values …
Jason Alexander begins … talking about a dedication and respect, education and responsibility which are held so dearly by Jews.
LN: I agree totally with whatever Jason said. I would call him Rabbi Alexander from here on. (laughing) I think that's beautifully, and I am serious, beautifully expressed. I actually still recall that when I did Awake And Sing and when I did decide to be an actor, one of the driving factors was the idea, the hope, the believe, that you could improve people's lives through that kind of work, that you could bring an opportunity for theater or film so that people could see themselves, to learn about themselves to enlarge themselves in their lives through the work that we were doing.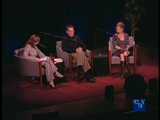 …
When you feel you are making an impact on people's lives. And sometimes you have somebody to tell you: You helped me through a bad time when I was a teenager; I learned something about his, something you did. That's terribly important to me, terribly important.
And my wife and I worked very hard at being givers in the community. Helping to create situations where people can benefit from the things that we do and the things that we did. These things I hold very dear.
 …
as  Jason said, these are not only Jewish concepts, but they have been very well expressed in Judaism, I agree with that.
… ..... ......  ......
AP asks whether being Jewish also could be hindering an actor for being casted for certain roles.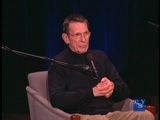 LN talks about Fiddler On The Roof. The director had had a pleasant surprise to learn that Leonard actually was Jewish. Thinking about Mel Mermelstein and playing the husband of Golda Meir, he remembers these as one of his favorite experiences.
Now Leonard shares his experience with the fans in Germany applauding without stopping to say they appreciate Leonard's coming to Germany and that they are a new generation, valuing Leonard's sharing about his Jewish background.
In Clifford Odet's Awake and Sing Leonard Nimoy had found the same dynamics he felt in his family at home and chose to become an actor. And Leonard remembers: "Speaking Yiddish in front of an audience was a great thrill for me."

After talking about various stories Leonard ends with a personal experience at a Star Trek convention in Bonn in May 1999: "I have underestimated the awareness of this audience correctly. " he says. He had informed the audience who know him as Mr. Spock that he is Jewish and found out that films like Never Forget had been known already. After sharing the background of the Vulcan greeting and the whole story of Mel Mermelstein and Morris Meyerson.
Leonard Nimoy: Identifying specifically as a Jew I talked to you on the book about the experience I had in Germany. I had been invited several times and I did not enjoy it in the sixties. And then I was repeatedly asked to come because there are a lot of Star Trek fans in Germany and I went to my wife's cousin, a Rabbi, and asked: 'What should I do?", I have this invitation to go and I have been reminiscent, it was said it is a very excited audience there. He said: 'Do they know that you are Jewish? Your fans, do they know that you are Jewish?' I said: 'Maybe some do, but there are probably a lot who don't.' He said: 'You should go and identify yourself as a Jew. And let them know, let them see this person that they admire is a Jewish person.'
And once he said that I was locked. There was no way I could not go. I thought that's a brilliant idea, 'Thank you, Rabbi.' and we went. My wife and I went. And it was one of the most extraordinary experience I had in my life. I told them the story where this (indicating the Vulcan Salute) and when it was over they would not stop cheering and applauding. I was choked up, terribly moved, it was a very profound experience. This group of thousands of Star Trek fans seemed to be saying: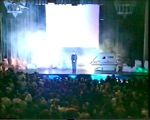 'Thank you for letting us have this experience with you, we are a new generation and we don't want to be burdened with carrying what happened the generations before us. Thank you for coming in and letting this share us with you.' It was a profound experience, it changed my life.
[Leonard shares this experience in more detail in his article he wrote: 'So Human']
(The place started applauding and they would not stop.)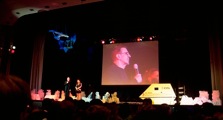 [ Here I (Margitta) would like to add a personal experience: Did you ever applaud for so long that your hands are aching and you simply go on? You can do this for some minutes. And then … ? We just went on. We ignored the pain in the hands. The one or other stopped for a short moment because you wonder whether you can feel your hands any more while the whole hall of about 5.000 people went on clapping. And then we applauded and applauded again not paying attention to our hands any more.

That way a whole hall can go on endlessly. After 15 minutes applauding there was no end and we all hoped we could go on and on though Leonard had indicated we should stop. You know that this is a chance to bring a message across and you do try your best. Never before and never again in my life I have ever experienced, seen or heard such a long applause, a seemingly endless applause. After a long, long time Leonard made another gesture to say: "Stop". Thousands of people saw a chance, maybe their once in a lifetime chance to say: "We love you, we know you are Jewish and this is why we especially value your coming to Germany in spite of our history.", and went on. After a while Leonard again tried to stop us. But how can you stop in such a moment (?), trying to say: "We know you are Jewish and we love you." Hardly anybody would ever again have the chance to bring this message across to Leonard Nimoy. So, we went on applauding. But after a while Leonard determinately indicated we should stop. Sadly the masses obeyed. Everybody would have loved to go on and on. ]

…..

LN: I don't have much patience with people who tell other people whether they are a good Jew or not. (applause from the audience)
I have had, during the last couple of years, experiences with people who felt that their kind of Judaism was much more valid than mine or that of others. I don't have any patience with that. I believe in the values of Judaism, I believe I live a very strong and public Jewish life, I feel very good about the way I live my life, I scrap a lot of that from the ethics my family passed onto me and those around me and people I learned from.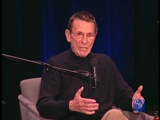 I think the ethics is a very, very important part for me. My wife and I had a very interesting experience in temple in Yom Kippur. The rabbi stood up and said he wanted to take a very informal poll and he asked how many people in the congregation out of about 1000 people in the room believed in God. A very small number of hands went up. Very surprising. I was shocked. I was shocked.
I wouldn't say more than 75 or a hundred hands went up of a congregation of about 1000 people. When he asked how many people of you feel you are living a spiritual Jewish life almost no hands went up. How many of you have had a personal experience with God? Maybe 5 or 6 hands went up. How many would like to? A lot of hands went up.
You know, about 20, 25 or 30 years ago there was a notion that God was dead. It was advertised, it was publicized, it was written about God was dead. We seemed to be living in a godless time.
…
It is a very individual choice. The question is are you dealing with others as you want others to deal with you?
…  
That you maintain your dignity and your sense of self worth and the importance you play in your community.
...
and I come back to the original thought: I don't have any patience with people who say to me: You should do this or that or you're not a good Jew.   
(Applause from the audience)
AP thanks the guest - These are truly some of the stars of David