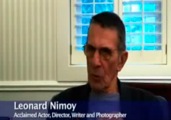 2009 
Confluence                              Scroll down for the video 

Leonard Nimoy: There's always competition. There are always other people who are doing work, some of yours. And sometimes doing it very well.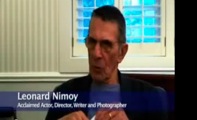 But I was told a lojng time ago - and this was very helpful to me to keep in mind - : 'There is always room for one more good one.
It is terribly important I think to come to work with more than simply presenting yourself. I think someone has to bring something important to the work.  One must come to work with an open mind, with ideas, with a creative attitude, looking for opportunities to add something to the work that is to be done. 
Comment by Laura: Leonard Nimoy speaks not only about his experience bringing to life "Spock," but also about how he made ends meet pre-Star Trek (stints in Bonanza and taxi driving), advice he received from his father and never followed ("learn to play the accordian"), and what virtue motives him the most ("virtue"). Simply unforgettable!
Summary of the lecture:  
Leonard Nimoy's life is one of seemingly small opportunities seen, seized, and turned into huge payoffs. But it is also a life guided by several powerful principles. The sense of honor he gained from his two years in the military. The appreciation for how the little things, the small moments – like a chance exchange with John F. Kennedy after an even more serendipitous cab ride together – can have an outsized impact and literally change your life. The realization that we all have some bit of creativity within us – we just need to take the path of discovery, and learn how to tap our creativity and where best to apply it.
For only by finding our creativity and successfully applying it can we truly "live long and prosper."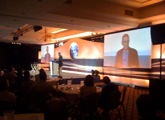 Quotations: "Then my father gave me some advice, the only piece of advice he ever gave me. He said 'Learn to play the accordion. You can always make a living if you can play the accordion.'"
"In search of honor, I got on a train and went to that citadel of honor: Hollywood."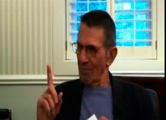 Leonard acts the moment he had John F Kennedy in his cab when he was a cab-driver in LA: "Your business is a lot like mine. But keep in mind: There's always room for another good one.'
And that made a big impression on me."

http://www.infosysblogs.com/confluence/2009/09/leonard_nimoy_the_most_quotabl.html