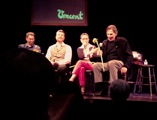 3013 June 14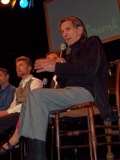 Leonard Nimoy Thalia Theater at Symphony Space in New York City. 
Leonard Nimoy's "Vincent" included an outstanding performance by actor Jean-Michel Richaud in this one man show.

By Grace Lenihan for this website, (Photo above by pakoonis, top right by Bobbie, right (below) by Melinda and all other photos by Grace)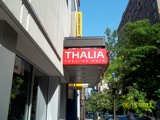 (Thanks to Grace for sharing the playbills, too!)
The play 'Vincent' was performed at the Leonard Nimoy Thalia Theater in New York  City in 2013, June 14 at 7:30 pm and June 15 3 pm and 8:30 pm.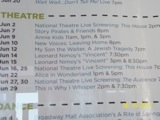 Each performance was followed by a conversation with Leonard Nimoy, moderated by Symphony Space Artistic Director Laura Kaminsky.
See the summary of the play 'Vincent' with Leonard Nimoy - with many photos including "How it all began" by Leonard Nimoy
Summary of the Q and A following the performance-
Participants:
Writer: Leonard Nimoy, director: Paul Stein, actor: Jean Michel Richaud and artistic director: Laura Kaminsky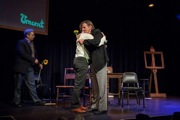 When asked why he wrote "Vincent", Mr. Nimoy replied that while on the lecture circuit he was tired of talking about " this TV show I had been in…" ( laughter from audience) and at the same time another lecturer had been speaking about the letters written by Vincent van Gogh to his brother Theo. Mr. Nimoy became interested in these letters and eventually bought the rights to the play "Van Gogh" by Phillip Stevens. It took about a year to write the new play "Vincent" and during this time Mr. Nimoy visited France to see the rooming house where Van Gogh died as well as his grave ( Auver ) and several of the sites where he painted, ( Arles and Saint Rémy). Mr. Nimoy was quite adamant that he has no intentions however of writing another play.
Interestingly over the years, Mr. Nimoy performed this play over 150 times. However, tonight was the first time it had ever been performed in New York City. Jean Michel Richaud added that he had been fascinated by Van Gogh's letters so he asked Mr. Nimoy for the rights to the play and eventually asked to perform one small part of it in French. After playing this past winter in LA, he asked Mr. Nimoy if he knew of a theater in New York City where he could perform it ( again audience laughter). Obviously Mr. Nimoy did and thus the play came to the Leonard Nimoy Thalia Theater.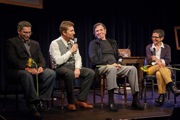 Mr. Nimoy stated that he felt Van Gogh's brilliance and art were not a result of his so called "madness" but instead his genius. Twice Vincent van Gogh was formerly diagnosed with epilepsy. During these attacks Van Gogh was seriously ill and did not paint. Thus any speculation about the origin of his artistic vision should be put to rest. Mr. Nimoy feels that suggestions that Van Gogh suffered from tinnitus or cataracts or the speculation aired on a "60 Minutes" last year that Van Gogh did not shoot himself but was shot by a bunch of school boys have no basis and that the facts as presented in his play based on Van Gogh's letters are the true facts.
Mr. Nimoy then quoted a poem that many times he has quoted before:
(He explained that it was the process through which Vincent went to create his art that most enamored him of the man.)
I heard the solemn whisper of the god of all arts:
I shall give you hunger and pain and sleepless nights,
also beauty and satisfaction known to few and glimpses of the heavenly light.
None of these shall you have continually,
they are coming and going. You shall not be foretold.
And that pretty much sums up the creative life of an artist.
Finally it was explained that Theo died only six months after Vincent. It was left to Johanna, (Theo's wife) to collect and catalogue the many works of art that Vincent had left scattered everywhere. Many of the works had been left as collateral for unpaid rent. It was Johanna who for many years prohibited the publication of Vincent's letters despite her need for the money. She did this so that Vincent van Gogh would be known as an artist rather than a writer about art.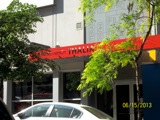 After the play the Nimoys and Zachary Quinto gathered with friends in the Bar Thalia for a private little party on the upper level. I decided to join the rest of the public on the lower level and have a soda. Upon leaving I offered my chair to Paul Stein, Director of "Vincent" who was standing nearby. I suggested that he consider taking the play to Washington DC and presenting it at the newly renovated Arena Stage Complex. The Fichandler Theater is very much like the Guthrie Theater in Minneapolis where Leonard had starred in Vincent during the 1980's. He agreed to discuss this with Jean Paul-Richaud and I have followed up via e-mail. Maybe Washington DC will get lucky and have Mr. Nimoy do a Q and A here too!

Grace

PS again The music accompanying the play is not the same music that Leonard used. It was written by a relatively unknown composer whose many works were found upon his death in the walls of the apt he had lived in. But I couldn't remember the name. Mr Stein explained that they decided to use this music because it very much reflected Van Gogh's life ( not being truly discovered till after his death).