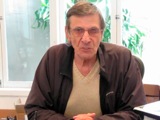 2012 May 03
http://www.facebook.com/photo.php?v=165474596914254
Leonard Nimoy: We just got back a couple of days ago from New York, we had a wonderful couple of weeks seeing friends, seeing theater and going to museums and galleries to look at contemporary art which we love to do because we are collecting contemporary art.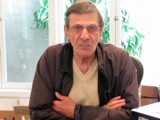 And last Thursday I was watching television news and it was reported that the 747 carries the space shuttle Enterprise was gonna fly over New York city and then land at JFK airport and eventually this summer be moved to the intrepid aircraft carrier and installed there as a permanent exhibition.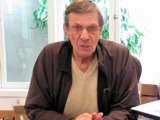 This is the space shuttle that's named after our star ship Enterprise on Star Trek. So, since I had a little history with that ship -- we were there in 1976 when it first rolled out of the hangar -- and it was gonna be the testing ship for teaching astronauts how to land the space shuttle.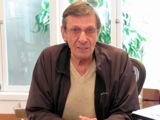 I contacted the Intrepid people and asked them if we could get on the Intrepid to watch the fly-by of the Enterprise being carried to JFK.
And they came right back and said: "Why don't you come right out to JFK when it's gonna be landing and, by the way if you like to, we'd love to have you say a few words." So I said okay. It happened very fast. The next morning they picked us up in a car, Susan and I went out there. They said when we got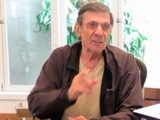 there it has just taken off from Washington DC, it's on its way, it will be here in about 45 minutes and sure enough they got us out in the stand and here it came, it was drifting right by,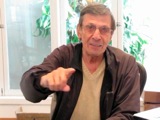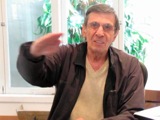 about 500 feet in a pass, right in front of us. It was the most thrilling and amazing sight of the Enterprise being carried right on the top of the 747.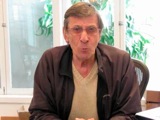 And it went and circled over Manhattan as it was supposed to and it came back around and landed on the runway right in front of us and then it was time for speeches. And senator Schumer from New York spoke and some other people and then they introduced me.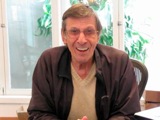 And we've got a link on here to show what CNN coverage showed of the trip of the Enterprise and the speech that I did that day. It was a great event. It was cold and windy. We were freezing, but it was exciting, really exciting to be there, I was thrilled. It really worked out and I hope you'll take a look and enjoy this.

Scroll down on this page for the video:
http://www.leonardnimoy.de/index.php?option=com_content&view=article&id=1458:shuttle-enterprises-final-journey&catid=4:other-appearances&Itemid=3
direct link to the CNN coverage:
http://videos.nj.com/star-ledger/2012/04/star_trek_actor_leonard_nimoy.html