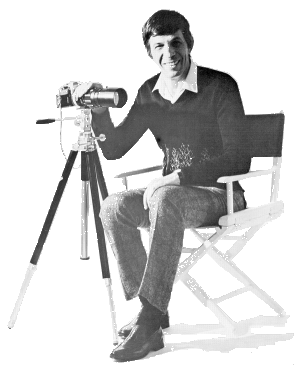 Leonard Nimoy's Photography Website 
on  R. Michelson Galleries

In Sotheby's "Master's of the Medium" Photography auction this week, Nimoy's work was included among the greats: Ansel Adams, Man Ray, Robert Mapplethorpe, Edward Weston, Lewis Hine, Richard Avedon and Irving Penn, among others.
"I became involved in photography when I was about thirteen years old. A neighborhood friend showed me how it was possible to go to a camera shop and pick up chemicals for pennies... literally... and develop your own film and make prints."
In this collection I am concerned with artful voyeurism. The model is given license to explore a personal experience which is often quite moving, although the photographer's presence inescapably alters the moment. To reclaim their deepest human emotions, the subjects must turn back to the internal space and free themselves of the contact with me or my camera. It is the instant between the private and the seen, that brief affirmation of the self which I find deeply affecting and the one that I strive to capture and pass along to the viewer.
— Leonard Nimoy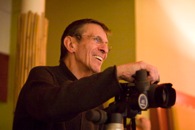 "For me it is all about personal vision. Is there something about a subject that uniquely speaks to me? … I'm attracted to images that come from a personal exploration of a subject matter. When they have a personal stamp to them, then I think it becomes identifiable."

"I think at first, photographers are so preoccupied with 'how' to take a picture. I think it's helpful to get past that as soon as possible, because far more difficult to find out is 'why' you're shooting pictures..."
"My photography is conceptual. What am I trying to discover, explore, reveal with each photograph ? What will make this image special ? What comment does it make on our lives?" (s: Home/Interviews/Leonard Nimoy answers Margitta's questions)
 

"The artistic process for me I have described as stepping into a totally darkened room, there are holes in the floor and the job is to find the light-switch to turn on the light." (s: Interviews/Callie Crossley Show)


 

Leonard Nimoy studied photography under Robert Heineken at UCLA in the 70s. His work is on display at the Massachusetts Museum of Contemporary Art, and according to R. Michelson Galleries, Nimoy's work can be seen at The Museum of Fine Arts, Houston, The Judah L. Magnes Museum, The LA County Museum of Art, the Jewish Museum of NY, The New Orleans Museum of Fine Art and The Hammer Museum.
Visit
Leonard Nimoy's Photography Website on  R. Michelson Galleries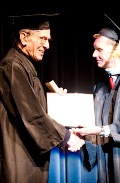 and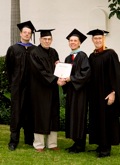 Secret Selves : T- shirts


Honorary Master of Fine Arts degree in photography
from Brooks Institute: 
 
We congratulate Leonard for his achievements in photography and are glad that his very special work is being honored this way.
His graduation speech was inspirational and gave the graduates and attendees insight into his vision of what he sees through the lens.
Link
 
Working with people posing for "Secret Selves",
first working title: "Who Do You Think You Are?":
Link to Secret Selves videos + summary
 
Leonard Nimoy: Shot this in Spain
while filming "Catlow" with Yul Brynner. LLAP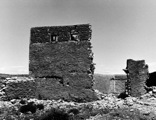 See Epix Fan interview : 
 @ BrubakerID: Do you still use film in your photography these days or have you made the digital transition? Which do you prefer? 
Leonard Nimoy: My most recent photography work has been digital. I did my own black&white photography work for many years on film, I processed my own film, made all my own prints. I don't spend time in the darkroom any more, I call my digital printing person and tell them: 'Make me a print' and it works out as well. I get to spend more time with my family. 

(from R. Michelson Galeries:)
Leonard Nimoy first experienced the magic of making photographic images as a teen-ager in the early 1940s. His darkroom was the family bathroom in their small Boston apartment. His subjects were family and friends. He studied at UCLA under Robert Heineken in the early 1970s and later received an "artist in residence" appointment at the American Academy in Rome.
Besides his rising stature as a major contemporary American photographer, in his spare time Mr. Nimoy moonlights as an actor, director, philanthropist, and as one of the world's best loved and respected personalities, Mr. Spock.
Mr. Nimoy's photography is included in many museum collections, including The Museum of Fine Arts, Houston, The Judah L. Magnes Museum, The LA County Museum of Art, the Jewish Museum of NY, The New Orleans Museum of Fine Art and The Hammer Museum. His most recent show at MassMOCA was one of ArtNet's 10 Best exhibitions of 2010.
Go here for the making of, photos and more of Secret Selves on the "thanks to Leonard Nimyo page" 
The following statements are all taken from R. Michelson Galeries:
Secret Selves

Do you have a Secret Self?
According to Greek mythology, humans were once four legged and four armed.
When they became too arrogant and powerful Zeus split them in two.
Since then mankind is in constant search for our other half in order to feel complete.
Do you have another half? Do you have a self never revealed? Who do you think you are?
In November 2008, Leonard Nimoy was at R. Michelson Galleries in Northampton, Massachusetts, to begin his latest photographic journey: Secret Selves. We gathered 100 subjects from all walks of life: artists, clergy, politicians, business owners, and asked them the question, Who do you think you are? Each subject was recorded as Mr. Nimoy interviewed them and created a portrait of their "alternate identity." The results will be revealed in a major exhibition beginning in the summer of 2010.
As Mr. Nimoy wrote: I am hoping to be surprised and delighted by what shows up in front of me. Anything from full costume to nudity, and I would encourage all of it. The "Secret Self" is the most provocative idea. Do you have a secret self?
Read Richard Michelson's essay on the Secret Selves project included in the book. (PDF, 62kb)
An 80 page catalog has been published in conjunction with the exhibition Secret Selves and includes a foreword by Joseph Thompson, Director of MASS MoCA; an introduction by Leonard Nimoy; a behind-the-scenes description of the project by Richard Michelson, and an essay by John Stomberg, Chief Curator of the Williams College Museum of Art. The publication is fully illustrated with full page plates of the 25 photographs featured in the exhibition as well as over 80 additional images from the series.
Who are these women? Why are they in these pictures? What are their lives about? How do they feel about themselves? These are some of the questions I wanted to raise through the images in this collection.
This current body of work is a departure for me. For a number of years, I have been producing images using the female figure. I have worked with numerous models who were professional people earning their living by posing, acting, dancing, or any combination thereof. But, as has been pointed out to me in discussions at exhibitions of my work, the people in these pictures always fell under the umbrella of a certain body type. I'll call it a "classic" look. Always within range of the current social consensus of what is "beautiful." In fact, that was the adjective I most often heard when my work was exhibited. The women as they appeared in my images were allotted no individual identity. They were hired and directed to help me express an idea—sometimes about sexuality, sometimes about spirituality—and usually about feminine power. But the pictures were not about them. They were illustrating a theme, a story I hoped to convey.
These women are interested in "fat liberation." They hold jobs in the theater, the film industry and in business—and together they perform in a burlesque presentation called "Fat Bottom Revue." The nature and degree of costuming and nudity in their performances is determined by the venue and the audience, which can range from children's birthday parties, to stag parties. I wanted these pictures to be more about them. These women are projecting an image that is their own. And one that also stems fro m their own story rather than mine. Their self-esteem is strong. One of them has a degree in anthropology and will tell you that ideas of beauty and sexuality are "culture bound"—that these ideas are not universal or fixed, and that they vary and fluctuate depending on place and time. They will tell you that too many people suffer because the body they live in is not the body you find in the fashion magazines.
My process was simple, yet different than how I had worked in the past. I was initially interested in revisiting two works of female subjects by Herb Ritts and Helmut Newton: specifically Ritts' image of a group of supermodels, who were posed nude and clustered together on the floor, and a Newton diptych wherein the two images are identical in pose, except one image showed the models clothed, and the other showed them unclothed. The models were shown the images by Herb Ritts and Helmut Newton and they were quite prepared to present themselves in response to the poses that those images suggested. I asked them to be proud, which was a condition they took to easily, quite naturally. Having completed the compositions that were initially planned, I then asked them to play some music that they had brought with them, and they quickly responded to the rhythms, dancing in a free-form circular movement with in the space. It was clear that they were comfortable with the situation, with each other, and were enjoying themselves.
With these new images, I am now hearing different words. Sometimes "beautiful," but with a different sub-text. I hear comments, which lead to questions. The questions lead to discussions—about beauty, social acceptability, plastic surgery, our culture and health. In these pictures these women are proudly wearing their own skin. They respect themselves and I hope that my images convey that to others. 
When Leonard Nimoy's book of photography, Shekhina, was published in 2002, it created a ruckus. His depiction of alluringly glamorous women — some wearing tefillin in all their naked glory — as the essence of the feminine manifestation of God struck some as revolutionary and others as salacious. The book sold well, and even inspired a ballet aptly named, Shekhina by a New York choreographer.
A feminine word in Hebrew, Shekhina is the Talmudic term for the visible and audible manifestations of the Deity's presence on Earth. Over time, Shekhina came to represent much more — a softer, empathetic feminine counterpart to God who could argue for humanity's sake, comfort the poor and sick, and stand as the mother of Israel. Nimoy's first encounter with the mystique of Shekhina began in synagogue at the age of 8. "The men were chanting, shouting and praying in an Orthodox service. It was very passionate, very theatrical," said Nimoy. His father told him not to look, as the worshippers averted their eyes during blessings recited by the kohanim, or descendants of the priestly class. "I was chilled by the whole thing," he said. Years later Nimoy's rabbi explained to him that the entry of Shekhina into the sanctuary to bless the congregation could cast a fatally blinding light. Such a powerful memory inspired the actor/photographer to explore the feminine aspect of God in human form, including the issues of sensuality and sexuality.
To Nimoy, sexuality and spirituality are not segregated. "There are signs throughout the writings and history of Judaism that sexuality has always been a strong part of the teaching and culture of religious practice," said Nimoy, citing the examples of the Friday night bath to cleanse before sex and the teachings of the Kabbalists.
 
In this collection I am concerned with artful voyeurism. The model is given license to explore a personal experience which is often quite moving, although the photographer's presence inescapably alters the moment. To reclaim their deepest human emotions, the subjects must turn back to the internal space and free themselves of the contact with me or my camera. It is the instant between the private and the seen, that brief affirmation of the self which I find deeply affecting and the one that I strive to capture and pass along to the viewer.
— Leonard Nimoy