1970
By Michele Jacques
This is a time of change … of new things … creating … and giving
Things have changed for Leonard Nimoy.
His appearance for "Mission Impossible" has gravely altered the staid Mr. Spock. He's now "groovey". This is the reaction of many to the Leonard Nimoy who plays Paris in his new role.
 His attitude has changed. He has reached a place where life is good. And he enjoys it.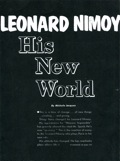 His new album is called "The New World Of Leonard Nimoy.' and that's just what it is.
He has developed new hobbies, new business enterprises, and new relaxations far from those that occupied him in previous years.
And best of all he is loving every minute of it.
There's nothing so gratifying as seeing someone enjoy his life and his goods. Leonard does just that and more. He shares it with his family and his friends.
Recently, Sandi was given a gift by Leonard of an electric kiln. Something she has always wanted and never had the room for. Now that they've moved into their new home, and found space and a perfect setup for it, Sandi has been making ceramics her hobby. Last year she attended classes, and was fascinated by the mechanics and creativity involved in making these items. Best of all Leonard became interested, and now they both share the workings of each piece. Leonard says they appreciate its value because now they can give gifts that are made and have great thought behind them instead of as he calls it, "giving plastic kinds of things to people which really have no meaning."
Leonard makes the different glazes, mixing the colors and such for the finishes on the pieces, and Sandi does the actual molding of the objects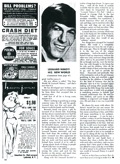 Along with this Leonard decided to realize a long-time dream. To open a pet shop … with all the kinds of animals available that he often wished he see in other shops he frequented. So now Leonard Nimoy's Pet Pad," which is located in Canoga Park in the San Fernando Valley, stocks chipmunks, monkies, crocodiles, boa constrictors, a South American Otter and, of course, cats and dogs, just to mention a few. But the cats and dogs are not just the ordinary variety we find anywhere. They are all sorts of exotic and rare types.
Leonard also has a tortoise which runs free in his backyard, His children love it, and take excellent care of it. Probably better care than they would of any "ordinary" animal.
Yes, things have changed for Leonard Nimoy. His world is a completely different one now from the one of just a few years ago. Then he thought making it to the top was of the utmost importance. And so he made it, and he found it had no importance without the other very vital, necessary things that life offers. And so he proceeded to live his life as though each day were the last for him, but with thought to the future for his wife and his children. After all, he couldn't think of them as having one day to go, and he had to provide for them  ... financially and spiritually. Part of his enterprises such as the pet shop are gratifying to him and establish a good business for his children to benefit by. It's the kind of business that has an altruistic view to it too. Leonard enjoys making and seeing other people happy, enjoying the little things that make each day a good one. A child with an animal is something precious to behold. And Leonard understands this. He sees his own children and wants to see other children as engrossed and happy as his own. His pet shop is one way to provide this.

He shares his music with others. He doesn't record for just one reason. He checks and analyzes the lyrics to be sure they mean something to him, and if they will mean something to his audience. Not just a message. . . it can be just a comfort, a solace or just for listening, but the songs must have meaning. He feels a great responsibility to his fans. And one that he would never knowingly violate. He knows that people look to and for their favorite stars for emulation, and he tries to provide as best as an example as he can by doing all the way he feels is best for him, his family and his fans.
Now that he and Sandi have a business they share a hobby they share with each other and others, and a success pattern that's been good to them, they can afford to enjoy each day to its fullest for all its meant to be and know that this new world of Leonard Nimoy.