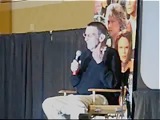 2008 April
Scroll down for the video
In the beginning Leonard Nimoy is introducing the guest panel with news and a summary of events  ...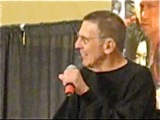 LN: So I am really happy to be here.  I want to tell you a political story: My wife and I were at a political gathering about a year ago and one of the three candidates that are now still in the race were at the dinner that day to speak.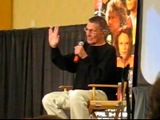 He came through the room where we were standing - it was just a small group of people standing together, about 75 only.
And we were standing there and this candidate came and said: "I heard you are here," and did this (indicating the Vulcan greeting)  .... he goes on asking the people at the con who they think it was.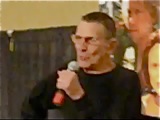 LN: How many think it was Barack Obama?
(The crowd shouts and they raise their hands)
LN: That's who it was: It was Barack Obama