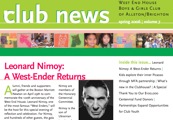 2006 spring
westendhouse.org/newsletter/WEHnewletter-spring06.pdf
Alumni, friends and supporters will gather at the Boston Marriott Newton on April 29th to commemorate the 100th anniversary of the West End House. Leonard Nimoy, one of the most famous "West Enders," will be the host for this special evening of reflection and celebration. 
For Nimoy, and hundreds of other guests, the gala is a chance to reconnect with their past and ensure that the West End House legacy continues for future generations.

Mr. Nimoy is a distinguished alumnus and both he and his wife Susan Bay-Nimoy are members of the Honorary Centennial Committee. Nimoy is the son of Ukrainian immigrants and lived on Chambers Street in Boston's West End, where his father, Max Nimoy, ran a barber shop.

Speaking of his experiences at theWest End House, Nimoy said "It was a healthy, thriving place to go. The Club offered me an opportunity to be well-rounded. I played basketball and I was on a long distance running team. I also got experience in public speaking there." His first year in the annual declamation contest he came in fourth place, but the second timehe entered he won first prize. "This was something I was particularly inclined to do. The experience helped me in my career because it taught me how to select appropriate material and then perform in front of an audience," says Nimoy.
°°°°°°°°°°°°°°°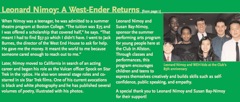 When Nimoy was a teenager, he was admitted to a summer theatre program at Boston College. "The tuition was $75 and I was offered a scholarship that covered half," he says. "That meant I had to find $37.50 which I didn't have. I went to Jack Burnes, the director of the West End House to ask for help. He gave me the money. It meant the world to me because someone cared enough to reach out to me."
Later, Nimoy moved to California in search of an acting career and began his role as the Vulcan officer Spock on Star Trek in the 1960s. He also won several stage roles and costarred in six Star Trek films. One of his current avocations is black and white photography and he has published several volumes of poetry, illustrated with his photos.
Leonard Nimoy and Susan Bay-Nimoy, sponsor the summer performing arts program for young people here at the Club in Allston. Through classes and performances, this program encourages children and teens to express themselves creatively and builds skills such as selfconfidence, public speaking, and empathy.
A special thank you to Leonard Nimoy and Susan Bay-Nimoy for their support!
Leonard Nimoy and WEH kids at the Club's
85th anniversary