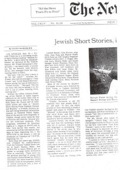 2010 
New York Times  
Fyvush Finkel sat in a recording studio in Santa Monica reading "Matzoh for the Rich," a short story by Abraham Reisen. An alumnus of the Yiddish theater, Mr. Finkel declaimed it theatrically -— too theatrically, it turned out, for the director Joan Micklin Silver, who emerged from the engineering booth to kibitz.
 "She said, 'Can you tone it down a bit for the radio' " recalled Mr. Finkel, who starred onstage in "Cafe Crown" and "Little Shop of Horrors" before joining the east of television's "Picket Fences." "She said, 'Tell me the story like you're telling it to me over a cup of coffee. Nothing more, nothing less.'
Without the coffee, without breaking prune Danish at some bygone cafeteria on the Lower East Side of Manhattan, but in time for the High Holy Days, Mr. Finkel and 25 other noted actors tell tales in "Jewish Short Stories From Eastern Europe and Beyond," a 13-week, 32-story series now being broadcast around the country on National Public Radio. Most of the stories were originally in Yiddish, though some came by way of Russian and Hebrew. Several others are American originals. (The programs, scheduled on Saturday nights at 11, began on WNYC-AM in New York earlier this month; the entire series will be rebroadcast Sundays at noon, beginning Oct. 1. On WFUV-FM in the Bronx. it will be broadcast on Tuesdays at 7:30 P.M.. beginning Oct. 3.)

More than two years ago, shadkhnim (Yiddish for matchmakers) from the National Yiddish Book Center of South Hadley, Mass., and KCRW-FM in Santa Monica got together to arrange some shidukhim (that is, matches). These were not the perilous pairings of young men and women immortalized by Sholom Aleichem. but more sure-fire unions between some of the greatest names in Jewish literature and a host of prominent performers.
Lauren Bacail, Julie Kavner, Alan Alda. Man King and Mayim Bialik were fixed up with largely forgotten Yiddish writers like I.J. Singer, Sholom Asch, Moishe Nadir and Isaiah Spiegel. Walter Matthau, Peter Riegert and .Jerry Stiller were fixed up with Aleichem. Jet! Goldblum and Ron Rifkin with Isaac Babel. Mr. Goldblum with Woody Allen. Carol Kane with I.L. Peretz. Eli Wallach with Isaac Bashevis Singer. Elliott Gould with Philip Roth. Claire Bloom with Cynthia Ozick. Rhea Periman with Grace Paley.
Most of the stories by Eastern European writers were selected by Ruth Wisse, a Yiddish literature scholar at Harvard University, and Leonard Glick of Hampshire College. To Professor Wisse, these were stories "that come out of the depth of the Jewish experience."
"Yiddish literature is not the toothless relic that people think it is," she said. "In fact, the whole process of Jews becoming a modern people took place in Yiddish," The "Beyond" in the series was to show that while Hitler and Stalin murdered Yiddish culture, the Yiddish sensibility thrives elsewhere.
Leonard Nimoy, the series' host, has said that the seemingly disparate list of authors, literary styles and languages is misleading. "The stories in the series may at first seem rather diverse, if not incongruous," he states in his introduction to the series. ' But as you listen, I think you'll agree that all have this in common: whether through humor, tragedy — or as is more often the case. equal measures of both — they struggle with a common question:
What does it mean — what can it possibly mean — to live as a Jew in the modern world?"
In an interview, Mr. Nimoy, a native Yiddish speaker during his Boston boyhood, said that working on the project "felt like a submersion in a nice warm bath.'
For Ms. Bacall, who reads M. Spiegel's "Ghetto Dog,' the series was an opportunity to return to radio for the first time since "Lux Radio Theater," early in her career. It was also a chance to discover an entire body of literature through a singing story, about the conjoined fates of a wealthy old woman, her dog and a prostitute in the Lodz ghetto.
"t started to read it and got completely caught up in it.' she said in an interview. "It was incredibly moving — a wonderful, sad and tragic story And there was no self-pity or any of that in it. I didn't know these stories existed, and that they were of the quality they were.'
For Ms. Perlman. Ms. Paley's stones offered a chance to get beyond the Hollywood stereotypes to which she had grown accustomed. "Some of the Jewish characters I've seen in the past are moany. whiny," said Ms. Perlman. who practiced reading the stories to her children before she recorded them. "These are not. These are people. real people."
The series is the brainchild of Ruth Seymour, KCRW's general manager, and Aaron Lansky, founder and president of the Yiddish Book Center. For each, the project was an extension of past endeavors; for Ms. Seymour. who had already produced series on Japanese and Mexican short stones for her polyglot Southern California audience, 'it was only a hop, skip and a jump to Yiddish short stories." It was also a return to her roots, to the Sholom Aleichem schools in the Bronx and to City College, where she studied under Max Weinreich, the great Yiddishist
"I asked him once, 'Why am I studying this language? This language doesn't have a future,'" Ms. Seymour recalled. "And he said to me, 'Yiddish is magic. It will outlive history.' I've always taken that as a kind of touchstone."
Mr. Lansky, whose institution had 70,000 volumes when it opened in 1979 and has 1.3 million today — another thousand arrive each week — saw the series as a chance to bring an underappreciated body of literature, notable for what he called its "aggressive humanity," to a new audience. "If collecting books was the first part, and distributing them was the second," he said, "there was a third and far more challenging task, and that was to open those books up and let the world know what was inside."
Producing the series were Lori McGlinchey and Johanna Cooper of the book center. Ms, Silver, whose films — "Hester Street," "Crossing Delancey" -depicted the world that Tevye's children and grandchildren encountered in New York, was named to direct. They recruited Mr. Nimoy and most of the actors. Although the pay was poor ($11.30 an hour), it was not a hard sell, certainly not as hard as pronouncing the names of the shtetls of another era. "If you put out good material, the actors will come to it," Mr. Nimoy said.
The readings were recorded in the studios of KCRW and, for East Coast actors, Carnegie Hall. Later on, Hankus Netsky of Boston, founder of the Klezmer Conservatory Band, filled in with original music for each story.
Selling various radio stations was initially a bit harder. "There was a real hesitancy among program directors because of their sense that the series might be 'too Jewish," Ms. Seymour said, "You can take that as a code word for many things. Whatever it is, it stilt exists." But ultimately, more than 70 stations opted to run the series. The program manager of WMUK-FM in Kalamazoo, Mich., called the local rabbi to make sure the series did not conflict with Rosh ha-Shanah and Yom Kippur.
The reviews have been good — except for kvetches about omissions. "This is a Jewish short-story series, so of course everyone is an expert and everyone thinks we didn't include their favorite story," Ms. Seymour said. Several authors — Men-dele Mocher Sfonim. Bernard. Malamud, Chaim Grade — will have to wait for a successor series. But some things, Mr. Lansky said, are beyond the powers of the organizers. "Saul Bellow will have to write something shorter," he said.

Guest book entry by Marsha ( 2012 January 04) :
I recently heard Mr. Nimoy's reading of Raymond Carver's story on NPR: "What We Talk About When We Talk About Love." His reading was truly extraordinary. I've heard many actors read outstanding stories on NPR but nothing came close to his. I was able to "see" the characters and the story unfold before me. It was truly an artist's rendition and an act of love for the story. Thank you!
Thank you, Marsha, for sharing this.