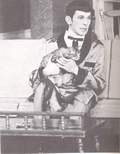 1968
Author: Gore Vidal
Prod.: Aruba productions - Ltd. and Carl Stohn, Jr.
Dir.: and designer: David Morrison

Kreton: Leonard Nimoy  
Roger Spelding: Bill Morey
General Tom Powers: Ralph Foody
 Reba Spelding: Geraldine Kay
Ellen Spelding: Rebecca Phillips
Conrad Mayberry: Dan Conway
Aide: Stan Catlett
TV Sound Technican: Mel Oiler
TV Camera Technican: Chuck McLaughlin
Delton 4: Orlando White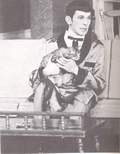 Kreton is an alien very fond of life on Earth. He comes on Earth and settles in a human family, trying to melt among human beings. But things aren't so simple as he had figured.

Leonard Nimoy about the play:
I don't have much time to do a lot of things outside of Star Trek, however this last spring I did do a production of "Visit to a Small Planet" of the Pleasentrun Playhouse in Illinois.

Host Gene Klavan: "Leonard, are you saying you are typecast?"

(laughing) Yeah, I guess so. The character is really quite different from Spock. The character Kreton in that play is a … something of a nut who comes to earth to play games with the humans so to speak. And it was a good change of pace for me. But it was limited in. I only had three weeks of time, but I did enjoy it very much.