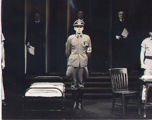 1971
Author: Robert Shaw
Dir.: Ben Shaktman
Arthur Goldman: Leonard Nimoy
Sam: Joe P: Harris
Jack: Raymond Roberts
Charlie Cohn: Robert B. Hays
Mrs. Rosen: Minerva Marquis
Rudin: Gerald Nawrocki


Arthur Goldman is a 52 years old Jewish widower. He came to the USA as a refugee. In 20 years Goldman has become a wealthy and respected man. He appears powerful, arrogant and self assured, but he has an obsession ... Knowing that Israeli secret agents mistake him for Adolf Dorff, an S.S. colonel, torturer and killer he plans to make a statement in a  unique way. Indeed, they arrest him and bring him to Israel.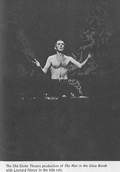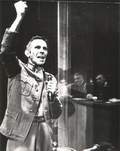 Goldman doesn't go for innocence. He stands trial as if he really was the Nazi officer and proudly talks about his inhuman crimes.
Standing in a bullet-proof glass booth, wearing a Nazi uniform, he harangues the audience and the world and deliberately offends them, shakes them. But the Israelis have the wrong man. He is a Jew. He is Goldman. And he wants to be a martyr to show that hate does no solution to overcome what has happened.

-----------------

Leonard gives a summary in an interview:
The character's name is Goldman - alienated of course. It's a great piece of writing by Robert Shaw. The actor/author and me did it at the globe Theater in San Diego for, I guess, about a five week run. One of the most overwhelming experiences I have been through. The character is... in quite a special emotional condition, psychological condition, and ends up forcing the Israelis to capture him and take him to Israel and put him on trial as a war criminal which he actually wasn't. He was a prisoner in a concentration camp but he forces them to put him, he leads them to believe he was a commandant in a concentration camp. And they put him on trial. And he goes through this tremendous emotional scene which finally evolves into a catatonic breakdown - in the glass both. That's there for the title.