2009 June 25
The interview was conducted via e-mail
Hi, Leonard,
Thank you so very much for your willingness to grant an interview. And thank you for your time. I value your spontaneous readiness, knowing your answers will be appreciated by the readers, too.
Are you aware of the fact that you have portrayed more than 248 characters and hosted more than 417 episodes? :)
That's an amazing statistic. I guess I've been busy.
I do not know any actor or actress having worked in such a huge variety of areas (I mean: Audio works, directing, cameo appearances, hosting, narrating, photography, producing, singing, teaching, writing and others) and having explored that many characters; do you?
I've had the blessing of being given so many opportunities. Doors have been open to me and I have enjoyed it all.
No question. I'd like to compliment you on the recent Lifetime Achievement Award and this year's Master of Arts. Congratulations!
Many thanks!!
Do you collect parts of your work? If "Yes", is there anything you are still looking for? Is there anything missing in our page you'd like to find?
Leonard Nimoy: I have several files of mementos which I will pass on to my heirs. I hope they will enjoy them. It's a lovely way to be remembered.
Have you had experiences like coping in emergencies or handling situations well because of having learned from characters you explored? If yes, please, share an experience with us that has never been talked about in the interviews or books.
I do believe that my time as Spock has helped me to be rational and clear thinking in times of stress. I was more inclined to be less rational before Spock.
When signing you meet thousands of people a day. Immediately you know from where the people are and what is important to them. I am amazed by your immense ability to remember people, especially when tending to a huge crowd. Did your love for people back up your acting achievements and did exploring characters in return help to achieve such an amazing feeling for knowing people?
When I was a young boy I remember waiting outside theatres to get an autograph from a celebrity. It meant a lot to me when the person would take a moment to make contact. I try to give people that moment since it is such a meaningful event in their lives.
You are interested in the inner self in characters and in people like it shows again in "Who do you think you really are?" Can I say: "In the essence of a person"? Each character you portrayed showed a personality besides the group of people he represented. I believe this makes your acting so very special. Do you agree?
The internal life of the character is the most exciting territory to explore. It is what I taught young actors to work on and it is my favorite part of the process. It makes the character unique.
In your photography is so much empathy and you always go beyond the directly visible. (For the reader: "Thanks to Leonard Nimoy" – "Photography" or http://www.rmichelson.com/Artist_Pages/Nimoy/pages/Leonard-Nimoy-Gallery.html) When you speak about a personal exploration of a subject matter which questions do you choose to help you decide on which pictures to take? ("Not how but why do I take the picture?" you said for example.) What can we learn for our own photography from your experience?
My photography is conceptual. What am I trying to discover, explore, reveal with each photograph ? What will make this image special ? What comment does it make on our lives?
In your poetry you share about yourself, in Shekhina or interviews you share aspects of your relationship with God. Both are extremely personal. It is courageous, too. I feel pain when I think of the rejection you once experienced with Shekhina. How do you cope when encountering lack of acceptance? When you say "Don't give it a second thought" or "I don't dwell on it", it sounds good. But how do you do this? How do you deal with bothering thoughts?
I can be injured by rejection or insult just like anyone else. I simply try to stay focused on the work I'm doing and to trust my instincts to stay on the correct path. Being inner-directed rather than outer-directed.
You always hear reports of how you influenced people's lives. Do you feel this is a projection from fans onto you? Or do you feel that through your profession you were able to make a contribution to the good? Is it both? What do you think?
I am very deeply touched by people who tell me that my work has had a positive effect. I think the arts can do that and therefore I try to support art whenever I can. I consider myself lucky to be an artist.
I always wondered about: What did you experience in Vincent's room?
A very moving experience. I felt so close to the spirit of the man who struggled so much to give his art to the world.
What would Prime Leonard tell Leonard?
(If you had the chance to meet your about 20 year old self.)
I think the advice that Prime Spock gave to young Spock is good. Do what's right to the best of your ability to know it.
What would you like your fans to do to say "Thank you"? I'd think of the end of Spock versus Q part I; but what would you say fans could do to "give something back"?
Support the arts in your community.
Thank you again for answering my questions. I hope that some of them were new and maybe even interesting for you.
You are the best actor we (Ibolya, Irene, Anna and Margitta) know, your depth, kindness and warmth is felt through your work and you are simply a wonderful person.
May you both be blessed and live long and prosper.
The webpage team
         


Anna 
          Ibolya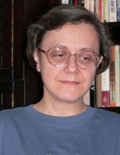 Margitta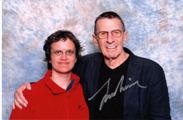 Irene