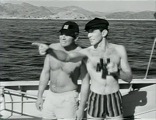 1959 August 09
Sea Hunt # 65                                  
Scroll down for videos  
Writer: Lee Erwin
Prod: Ivan Tors
Dir.: Herman Hoffman
ZIV Production
Underwater photography: Lamar Boren
Mike Nelson : Lloyd Bridges
Skipper: : Leonard Nimoy
Ann Barry: Lisa Gaye
Jim Barry: Anthony George
Chief of Police: Ken Drake

Diving in the Red Sea Mike Nelson helps a friend, Jim Barry, in his endeavors to find an ancient temple under water. Suddenly Ann calls them to come up.
Nelson remembers that the chief officer of police has asked him for a favor: Somebody had stolen a tank with 10.000 liters of explosives. The police does not care whether it is retrieved or destroyed, but it shall not fall into the hands of wrong people.
Nelson is asked to let the chief of police know if he comes across anything suspicious while diving with the archeologists. Nelson also remembers that the crew he wanted to hire chickened off because they believe there is a sea serpent in the area where operate in.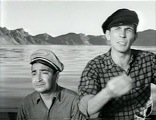 When they cme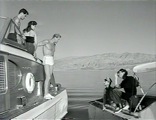 up they learn that Ann had detected something suspicious: The sea serpent. First they think that kind of a sea serpent shaped monster chases a boat. Mike Nelson shoots at the giant serpent and it disappears. Quickly one of the men on board indicates one other to go downstairs and fetch a gun.
They stop the boat and talk to the skipper. He tells them that they were being followed by a huge monster with a big head and small eyes.

Ann suggests to leave the area and the men urge them to do so.
Mike has noticed a torn rope and the man with the riffle. He decides to dive at the spot the sea serpent because he realized: They had not been chased, but they had pulled something. They leave but only to leave the scene. Soon Nelson dives to the ground and finds a long tube covered with nylon and canvas: The explosives.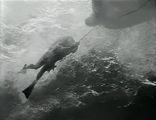 He hides behind a rock right in time so see two men coming down and retrieve the rope.
Nelson hitches a ride clinging onto the canvas. Close to the shore they cut the rope and leave the canvas sinking down to the ground. The boat leaves and a submarine approaches. Mike Nelson thinks of the only way to stop the explosives getting into the wrong hands: He lights an underwater flare as a fuse and hurries to get ashore before the explosion takes place.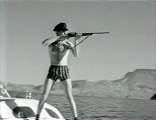 From the boat the skipper spots Nelson. Fearing intervention in their deal they turn back and shoot at Nelson who is heading for a rock to take cover. When the explosion takes place they are directly above the spot.

Nelson awakes much later. The explosion has rendered him unconscious. He sees the Barrys approaching in their boat looking for him.