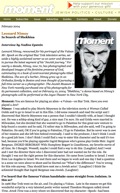 2004 February 

Interview by Nadine Epstein
For: Moment; Jewish culture, politics and religion

Leonard Nimoy, renowned for his portrayal of the Vulcan Mr. Spock on the original Star Trek television series, set aside a highly acclaimed career as an actor and director to pursue the latest segment of his "Jewish journey." For nearly a decade, Nimoy, now 70, has photographed and developed images of the feminine presence of God, culminating in a book of controversial photographs titled Shekhina. 
The son of a barber, Nimoy grew up in an Orthodox family in Boston and once thought of pursuing a full-time career as a photographer. The Jewish Museum in New York recently purchased one of his photographs for its permanent collection, and on February 10, 2004, "Shekhina," a dance based on Nimoy's photographs will be performed at the Joyce Theater in New York City.

Moment: You are famous for playing an alien—a Vulcan—on Star Trek. Have you ever played a Jew?
Nimoy:  I was asked to play Morris Meyerson in the television movie A Woman Called Golda and to go to Israel to act in this film. I did some research and read the script and I discovered that Morris Meyerson was a person that I couldn't identify with, at least I thought not. He was a schlep-along kind of guy, a nice man I'm sure. He and Golda were married in Milwaukee, but she decided that she wanted to go to Palestine for this great new venture to help found a country and he said, I'd rather stay in Milwaukee, and she said, well I'm going to Palestine. He said, OK if you're going to Palestine, I'll go to Palestine. But he never was in awe of her mission and she left him behind eventually. I said to the producer, I don't think I could do a good job here. I don't think I could find a way to enter this character and he said it's too bad, because you'd be playing opposite Ingrid Bergman who's gonna play Golda Meir. Ingrid Bergman. INGRID BERGMAN! With Humphrey Bogart in Casablanca, my favorite movie of all time. So I thought. Weeeell, maybe I could find a way to do this. (Laughter) And I went and I met the director there who I discovered later had not wanted me for the role. He thought I was not the right person for this character. He came from London to Israel. I went from Los Angeles to Israel. We met there and we began to work and one day I had a question in a scene we were about to shoot and he blurted out "What's the difference?  You're wrong for this role anyway. They should have sent me a Jewish actor.' (Laughter) I think the schlemiel thought that Ingrid Bergman was Jewish. (Laughter)

I've heard that the famous Vulcan handshake came straight from Judaism. Is this so?
In 1966 Star Trek went on the air, and I'm playing a Vulcan. Late in the season we get this wonderful script by a very talented poetic writer named Theodore Sturgeon called Amok Time. Amok Time was a story where we discovered that my character—Spock—had been betrothed as a child and had to go back to his home planet of Vulcan to fulfill the marriage [contract]. We go to the planet, the three of us—William Shatner as Captain Kirk, De Forest Kelley as Dr. McCoy and myself. We are met by a procession led by several men who are carrying a very regal lady in a sedan chair who is the matriarch of the planet. She's played by a wonderful Viennese actor named Celia Lofsky who was married to Peter Lorre. …She says something like "Welcome home, Spock" and I'm supposed to say whatever I said, "Nice to be here." (Laughter)
Anyway, I was looking for opportunities to build something into the mythology of the Vulcan people. We're seeing other Vulcan people for the first time on the show. We've never seen them interact with each other before. So I said to the director, 'Wouldn't it be good if I do something special that Vulcans do when they greet?' And he said,  "Well, what do you have in mind?' And I said 'Humans shake hands when they meet and military people salute each other and Asian people bow to each other." And he said 'Well, OK, what do Vulcans do?'

So I reached back into my Orthodox childhood and I remembered an experience that I had when I was eight years old. Sitting in shul, in the Orthodox Shul with my family, the women sitting upstairs, the men downstairs doing the serious work of praying, my grandfather, my father and my older brother and myself. There comes a moment in the service when the kohanim—the descendants of Aaron, the members of the priestly tribe, get up to bless the congregation. They said a prayer which translates into, "May the Lord bless you and keep you. May the Lord cause his countenance to shine upon you.  May the Lord turn his graciousness unto you and grant you peace. Yevarechechah Adonai veyishmerechah, ya'eyr Adonai panav eylechah vichunekah, yisa Adonai panav eylechah veyaseym lecha shalom, vesamu et shim, al beney Yisrael, va'ani avaracheym.

My father said to me "Don't look." In fact the congregation had their heads covered with their talit.  Or their hands covered their eyes…I was an obedient kid, but I peeked. And I'm going to try to give you some sense of what I saw. Gentlemen were passionate, they were ecstatic, they were theatrical. There were about five or six and they were standing right in front of me, their heads covered with talit. Their fingers are splayed...I'll never forget that. I was awestruck. I had no idea what they were doing.  But it made an enormous impression on me. It was so deeply felt. I didn't know why you were supposed to cover your eyes, not to look.  I learned later that this is the shape of the letter shin in the Hebrew alphabet. The letter shin is the first letter in the word shadai which is the name of the almighty, so the scene is they're using a symbol for the Almighty's name when they bless the congregation.

So I said to the director, "How about if Vulcans do that? He said "OK." As I approached Celia Lofsky, I raised my hand. She had some trouble with it, she hadn't had as much practice as I had ….
We had to help her. What she did was, she held her right hand in position with her left, hidden from the camera, so when I raised my hand she was ready and she raised hers and that's how we got it into the show. And it worked. In an artistic, creative sense it worked. People didn't necessarily know what it was, but they were intrigued with it. In fact, about three days after that episode aired, I was traveling in Cleveland. We stopped at a traffic light and a young lady pulled up beside me and she recognized me and she [made the Vulcan sign.]. I was delighted. I was delighted to see it come back at me so fast. So I rolled down the window and I said to her, "Can you do it with your left hand." (Laughter) People do it these days to me on the street—cab drivers, truck drivers, kids on the street. The other night my wife and I were in a restaurant in New York and on our way out several of the waiters had lined up like that. It's great. They don't necessarily know what it is, but it's a wonderful thing.

So why do we cover our eyes?
About eight or nine years ago our rabbi explained to me that the belief is that during that benediction the Shekhina comes into the sanctuary to bless the congregation, and the sight of the Shekhina would be dangerous because the awesome light of God she radiates could be damaging or fatal to a human.  So you protect yourself by covering your eyes. And when I heard that story,  it motivated me to begin to try to do a photographic essay on the subject…I began to study it, read about it, ask questions about it, research it, and do some work with it …. the first thing I did was to take a symbol of the shin and introduce it into some of the work that I already had shot of the female figure.

When did you first start taking photos?
Photography has been an important part of my life since I was thirteen years old, when a neighborhood friend showed me how you could go to a local camera shop and with very little money, for a few cents, you could buy the chemicals that were necessary to develop your own film, make your own prints. And I became enamored with the idea of being able to do that for yourself.  To go to a dark place, literally a dark room. In my case it was the family bathroom. I've been doing it ever since.

Have you ever felt as if you have seen the Shekhina physically or spiritually?
You asked me a very interesting question. My Shekhina in my book is an artistic vision, my artistic interpretation. But I'm not claiming to actually see or be in the physical presence of Shekhina. I have a spiritual sense of what a Shekhina is all about for me. And I have experienced that at times, at various times in my life.

What does it feel like to spiritually know or experience the Shekhina?
I think—I hope that most people at one time or another in their lives have a feeling of being in a state of grace for a moment or two, feeling that all has come together for them, that, they're in a sense of harmony, a sense of inner peace, a sense of successful, combining of instinct and will and the coincidence of events that makes one feel that you're in the right place at the right time and doing the right thing.

Many Jews seem unaware of the Shekhina. Did you hope that your photographs will make  them more aware?
I think it is true that a lot of Jews are not familiar with the idea, the concept. It is after all a kabbalistic concept... It was the kabbalists in the 1600's who taught in what is now Sfat in Israel who were very energetic about their belief in mysticism and Shekhina….Not a lot of people are reading or studying kabbalah. It's a narrow field. The word Shekhina does pop up in the texts here and there, particularly in Reform and Conservative texts. It's a very interesting issue to me because it grew out of an Orthodox experience, and yet it is a feminist idea that is not particularly welcome to Orthodox people … I find it, right or wrong, a very interesting and strange mixture of spirituality, religion and contemporary culture.

Tell us why you photographed women wearing tefillin.
Tefillin are typically associated with men… Now, this is not the first time that this thought has been presented. There is reason to believe that King Saul's daughters laid on tefillin to pray.  Rashi's daughter wore tefillin to pray … My sense is that Shekhina can wear tefillin if she wants.  (Laughter) … I wonder if you're at all aware that in Israel there's a law that says that a woman standing at the Western Wall to pray in Jerusalem and wearing tefillin is subject to criminal prosecution and can be jailed up to seven years.

What about the veils the women in your photographs wear?
The word veil to me means mystery. It means something not quite visible. It means something between the viewer and the object that can be sometimes seen through. Sometimes removed, sometimes obscured. It has to do with the mystery of the Shekhina.

How have your photographs been accepted?
You know, when this book first came out, the very first signing that I did was at a book and photo fair in San Francisco. I was sitting at a table signing books and a lady came through with six copies. I was intrigued. I asked her why she was buying six copies. And she said that she was with the JCC in San Francisco. And she said we're always looking for gifts for our volunteers, and these will make great gifts. And of course I was delighted, I thought that's a lovely idea.  Then about two weeks later I was dis-invited from an event where I was supposed to speak and talk about Shekhina and show my slides at a Jewish federation dinner in Seattle. So within a two week period, I had the extremes of acceptance and rejection for this whole concept of the book.

What do you mean you were dis-invited?
The Federation dinner, I was going to show slides from the book and talk about the book…They were concerned that their audience was going to be a cross section of Orthodox, Conservative and Reform Jews, and that the Orthodox in the audience might take exception to what I was showing. They didn't want to expose them to the images or the book. And they asked me not to come. Shortly after it was announced in the newspapers that I was not coming, I got a call from the local Reform rabbi who invited me to come and do my presentation at his temple for his congregation, open to the public. And an audience of about six or seven hundred people showed up.

Now in Detroit, I was scheduled to appear at a Jewish Community Center at one of the largest Jewish book fairs in the country. Again, I was dis-invited. In this particular case, there was very, very unfortunate pressure brought to bear by an Orthodox rabbi who said that if I was allowed to come and show this work at this Jewish Community Center—where they had a kosher restaurant—the kosher certification would be withdrawn.
There have been a number of Orthodox people who welcome the book, who have seen the work and welcome it and are willing to discuss it on the basis of the spiritual aspect of the book, rather than concerns about the feminist or cultural aspects.  The book is a spiritual statement.

To take the point one step further, I received a wonderful e-mail from an Orthodox rabbi who said, I'm paraphrasing now, I can understand why your images might be disturbing to some in the Orthodox sector of our people. But he said there's a legend that when two students study Talmud, the Shekhina  comes and sits between them. And he said, having seen your images, perhaps more young men would be encouraged to study Talmud in the hopes that your Shekhina would come and sit between them.
So we have some interesting cases to talk about here, some interesting attitudes to talk about. These are all Jews. They all come under the umbrella of Judaism, but there's a very strong conflict of ideas about what is acceptable and what is not…These are personal issues. I understand that completely. What is troublesome is when people set up rules about what other people can see.  That's censorship.

To what do you attribute the negative reaction?
My feeling finally is that it is a male dominance issue. I'm quite convinced that it is because the book elevates women in the hierarchy of Judaism, that certain Jewish males are disturbed by it. Or let me put it the other way: those who are disturbed by it are disturbed by the fact that it elevates women in the hierarchy of Judaism.

Have people said your photos are too sexual?
My approach to this project for the last eight years is totally reverential. I feel deeply about my Judaism. I have not invented sexuality in Judaism. It has been there for centuries. There's a wonderful Kabbalistic/mythological story that tells us that Moses in the later years if his life lived apart from his wife in order to be pure in case the Shekhina should come to him. And that in fact she did and they lived together as husband and wife until he died and that when he died it was a kiss from her lips to his that released his soul to heaven and she then bore him onto her wings to his final burial place. Very beautiful, very touching story….And there has long been an understanding that it is a mitzvah for Jewish couples to meet sexually to usher in the Sabbath. "Come let us meet the Sabbath Bride," this theme of the Sabbath bride is found in the writing of the Kabbalists, that God and his mate come together sexually to usher in the Sabbath Friday night…. These are elements of sexuality that were there long before I came on the scene, and I decided that I was going not  to hide the fact that Shekhina  was a woman, but to make a point of the fact that Shekhina is a woman.

I think I had a reaction to a photograph that I saw sometime ago, I don't remember what the context was, but it was a group of women being ordained as rabbis. And they were covered from neck to toe in robes and tallit and hair done up in such a way as to de-feminize themselves. And I found it kind of sad. I thought this is an interesting cultural issue here. We seem to be worried about the idea that people will realize that these rabbis are women. They took pains to disguise their sex, to disguise their gender, as though they would be less acceptable if people saw them as fully female. I was disturbed by that. I think probably some of that found its way into my work.

How has this project affected your Judaism?
I tell you very frankly, my Judaism had gone flat before I discovered this Shekhina story and began to explore it. By that I mean that I have always been affiliated with a temple or a synagogue….But a lot of my Judaism had to do with going through the motions that meant going to the service, knowing when to stand up, knowing when to sit down, I know what the prayers are all about. And I listen to the sermon and sometimes it's terrific and sometimes it's not great. We've all had that experience. You come away thinking, did I really get what I was supposed to get out of that experience? And maybe you did and maybe you didn't. You certainly got some quiet time you're away from the phones and the faxes and the e-mails and so forth but did you really get what you were supposed out get from that experience. Often I would ask myself that question and the answer was not always yes. I realized that a lot of the time I was going to these services because I should.  I'm connected to my Judaism, I'm connected to my community. I believe very strongly in the congregation as an act of social force in the community. And I'm a good role model for my children and for my grandchildren. It's good that they see Dad and Grandpa going to services.

How does the Shekinah relate to your creative work?
I don't go about my creative work thinking I'll bring the Shekhina out of the closet here and have her stand beside me….I just happen to believe that there is a feminine aspect to creativity that is very important to me. I'm sure that there would be people who would decry any sense of feminine aspect in their work, people who are great artists and great creators. That's probably true.  It's just that for me, the feminine aspect is useful, helpful and important.

Do you think that your book will help elevate the role of women in Judaism?
I can't honestly tell you that I did the book in order to further a cause. It's my personal experiences, my personal vision. If it is helpful in broadening the idea, or helping people, that's important to me. If it creates conversation and discussion, that's important to me. I think anytime anybody working in the arts can create conversation and illumination, that's a blessing. That's what we try to do in the arts, to create illumination, to throw light on a subject.
.
Do you think that women are more naturally spiritual than men?  And if so, what makes them more spiritual?
(Laughs)
A loaded question?
That's a good one. (Laughs)  Well, you know, I'm laughing because that's the claim of the Orthodox. If you ask some Orthodox people why the women sit separate from the men, they'll tell you that it is because the men are too easily distracted by the presence of the women, and that they need to be able to focus exclusively on the work at hand, which is the praying. They'll say that women are not so easily dissuaded from what they are doing, because they need less of the spiritual experience because it's innate in women, and that the men are more in need of the spiritual experience of the prayer. So, (Laughs) I've heard very interesting rationales for the reason that in the Orthodox synagogues, the women sat upstairs in the balcony while the men sat downstairs doing the serious job of praying. Which begs the question: Why then not reverse the order? If the women are more spiritual and are less distractible, why not have them come downstairs and do the praying, and let the men sit upstairs where they can be distracted? And the answer is "Well, that won't solve any of the problems." (Laughs) I find that hilarious." (Laughs)

So, are women more spiritual?
I think there's some credibility to the argument that women are more naturally spiritual. I don't take that as license to make them sit upstairs in the balcony. (Laughs) But I think there may be some truth to it. I personally am much more comfortable with the idea of relating to the feminine aspect of God, through the Shekhina, than to the wrathful God, the God of vengeance, the god of destruction, the God of fear and trembling…..As a kid, I was given the impression that God was something that you had to be afraid of. If you did the wrong thing, God'll get you. God is watching, and knows what you're doing, so be careful.  For me, the Shekhina is a nurturing, supportive entity, not a judgmental entity.

Do you feel that it is important to inject this feminine presence of the Shekhina into organized Judaism?
There is a very strong feminist movement in Judaism and I welcome it…My wife and I were married by a woman rabbi…On the other hand we are members of a temple, with a male rabbi; he happens to be my wife's cousin.

Do you think that making people more aware of the presence of the Shekhina is important because there is more evil in the world today?
Let me put it this way. The world today as I see it is in chaos. And I would like to think, in fact I believe, if there were more of a feminine aspect in the daily functions of various nations around the world, perhaps some of this chaos could be avoided or relieved. We are out of balance.  The world, the universe is out of balance. We are in the chaos of darkness. People all over the world, in various ways, are suffering as a result. And I have a strong belief that this lack of balance has to do with the preponderance of the power by the male in making the decisions about how to go about our business dealing with each other in this world. I have a strong belief that if there were more of a feminine presence, more of a feminine consciousness in these processes, we'd have a better chance of being in balance.