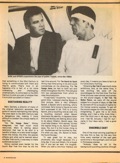 1987 spring 
- Leonard Nimoy directing Star Trek IV: The Voyage Home -
Leonard Nimoy looks tired. He's just been through a grueling two days of doing one "up close and personal" interview after another, undoubtedly answering the same questions again and again, and destined to do so for at least another day.
 Yet once Nimoy begins to talk, he seems to come to life, his words filling with vigor and his manner expressing the enthusiasm of a child with a new toy. In this case, the toy is Star Trek IV: The Voyage Home, latest, and quite possibly, best in the series inspired by Gene Roddenberry's cult television sensation of the 1960s.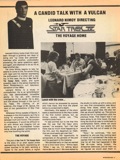 Leonard Nimoy is a study in contradiction. He is an actor/director who has demonstrated incredible ability in his art, with obvious intelligence in his words. He is also, and this shows through in the turn of his head, the cocking of an eyebrow ... the image of Mr. Spock, the hero of two generations of Star Trek fans.
Whenever Nimoy speaks of Spock, it is always in the third person, as if he is trying to emphasize the distinction between truth and fiction. The concern is unnecessary. It would be difficult to sit with Nimoy and imagine him as anything but a multifaceted human being whose greatest achievement is only now touching the world.
THE VOYAGE
The plot of Star Trek IV: The Voyage Home is the story of an alien space probe approaching the Eart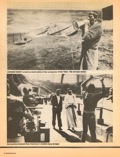 h, neutralizing all power sources in its path, sending a signal to the world below...a signal which cannot be answered by anyone who lives there. And thus the planet below is condemned to death.
Admittedly, this aspect of the story bears a resemblance to the Vejur probe of the first motion picture, but, as Nimoy quickly points out, "The similarity ends there.
"lt was pointed out to me that this was the way that the Vejur story opened," he explains, "but l felt that there was so much more happening in the film, and the departure so fresh, that we could easily get over that."
Nimoy seizes the opportunity to extrapolate on the genesis of the plot and his approach to the material.
"We decided early on that we wanted to do a time travel story," Nimoy says.
"When I say we, I'm talking about Harve Bennett and I. We were asked by the studio to come up with a story, and our very first conversation was about doing time travel, which we both agreed was a good idea. We also felt that we should lighten up. The picture should be fun in comparison with the previous three. That meant that if we were going to do time travel, the best thing we could do was to come back to contemporary Earth, where we could have some fun with our people who would be like fish out of water on the streets.
"Now," he continues, "the next question is, why are they coming back in time? Is it accidental? We knew we wanted them to come home and face trial for all that had happened In Star Trek Ill—rules being broken, the Enterprise destroyed, and all that—so we figured we would start them on their way home in this Klingon Bird of Prey. Does something go wrong? Do they find themselves going through a time travel experience accidentally, or is it intentional? For a number of reasons, we chose that it would be intentional. Next, of course, was this: if they're coming back to the 20th Century, what are they coming back for? Is it something they need or something they want? That led us to the idea that there's a problem in the 23rd Century, which can only be solved by something that's now gone; extinct. We experimented with a lot of different ideas on that subject, including the idea that certain crafts and techniques might be lost by the 23rd Century.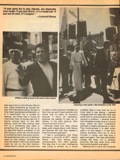 Maybe there's nobody who knows how to make a violin anymore. Probably by that time we won't have anybody who knows how to crack oil anymore, because it won't be necessary. Suppose we needed to start an oil refinery in the 23rd Century. Who would know how to do it?"

Although these and other similar ideas were tossed about, both Nimoy and Bennett felt that they needed a more humanistic approach.

"l had a conversation with Philip Morrison, a physicist at MIT," details Nimoy. "We were talking about communication with other species. The idea that if an alien intelligence was trying to contact us, it would probably take a long time for us to know what it was saying. I became intrigued with the idea that there was some lack of communication that was causing a problem. I became aware that humpback whales sing an unusual song, which we don't understand, although it means something to them. They communicate it to each other, pass it on and repeat it. It has form, lasting anywhere from six to thirty minutes in cycles, and they sing it again and again. Then they periodically change the song. It's a complex structure. We may never know what that communication is all about.
"Bearing this in mind, let's suppose that something in the 23rd Century is trying to communicate with them and they're gone. That's how it all happens—it's a hell of a lot more interesting and challenging, cinematically, to come back to the 20th Century to pick up a pair of whales than it is to pick up a plant or insects."
Marc Daniels, a director of many of the original television episodes, has gone on record maintaining that taking the crew back to the 20th Century was a dangerous risk, making it more difficult to sustain the unique reality of Star Trek.
"On The Voyage Home," Nimoy disagrees, "we had much more resources. Marc is talking about television that has to be shot in a handful of days, on a very small budget. Given the money, the time, the special effects and what we've learned about the Star Trek world, it was easy to make audiences accept it."
Nimoy worked even harder for the fourth Star Trek film than he did the last time around. For The Search for Spock Nimoy had little acting to do and could concentrate on his directing. For The Voyage Home, he had to both act and direct throughout the film. This did give him two perspectives from which to view the production.
"It was hard," he admits, "but l had a good time. l enjoyed playing Spock in this picture. He's a very different Spock, a Spock who's evolving, who's confused. He's trying to figure out who he's supposed to be. This is a funny Spock, and a touching one as well. It's a touching moment when Spock discovers his identity. It happens when Kirk and McCoy are talking about what to do about Chekov. Spock says, 'We must help Chekov.' Kirk replies, 'Is that the logical thing to do, Spock?' Spock says, 'No, but it is the human thing to do.' Audiences will be touched by that. lt's when you say, 'Ah, Spock is there. He found his way.'
"It was great fun to play, but physically very tough because it's a long day. If you just direct, it's a tough job. If you act as well, it's tougher. When you add a two-hour makeup job every day, it means you have to be in at 5 o'cIock every morning.
"Directing Star Trek IV was much more ambitious, and, at the same time, it was exciting. We were off the soundstages for the first time. The first three pictures were almost exclusively on the sound stages. In Star Trek: The Motion Picture, we were off the sound stages for a couple of days, on Star Trek lll, we were off for a couple of nights for the Vulcan exterior scenes. To get off the sound stages for this one was very Invigorating. It gave me a lot more energy, and I had a little more time. I shot the third one In 49 days, for this one I had 53. Actually I had 57, but I came in four days early. I had a good time."
ENSEMBLE CAST
One of the most winning qualities of the new film is that, for the very first time, every member of the cast gets some time in the spotlight, and not just in throwaway scenes.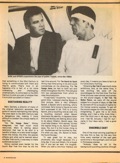 "Nobody likes to sit in the background punching buttons through a whole movie," the actor/director explains. "Believe me, it was very Important to me, and very intentional, that everybody had some function and Identity of their own. They're very real In this picture. They were very pleased about it, and the audience will be very pleased as well. I hope that this picture is more accessible for a non-Star Trek audience than the other films have been. People have told me that in the past they never quite understood what the audience saw in these characters, but with this picture they've begun to understand.
"l insisted that there be no bad guy. We had done two pictures in a row with black-hat heavies, and I didn't want a bad guy anywhere. Circumstances would cause the problem. Lack of awareness, lack of concern, ignorance...these would be the problems. Not a person. With this one we've gone full circle and come home, which is why, in a sense, we're calling it The Voyage Home. We're saying, 'Enjoy yourself, have a good time, and don't mind us as we drop off a few ideas along the way.'
 
"There's a hospital scene when Kirk and McCoy and Gillian go to help Chekov. Originally, Kirk judo-chopped the doctor, knocked him unconscious and put him on the side somewhere. I don't want Kirk hitting a doctor. What for? It's not necessary. I wanted a room he could put doctors into, and then he could melt the lock. It's more fun than seeing Kirk hit a doctor."
MORE VOYAGES
Although Star Trek IV was only just released, rumors are already circulating about the next film and the Star Trek, The New Generation television series set to debut in September of 1987. Nimoy is very succinct on both subjects.
"Bill is directing Star Trek V," he smiles. "l really am glad. He's got a lot of energy and a lot of imagination. I look forward to sleeping while he's worrying! Where would I like to see Star Trek go? I haven't given It a lot of thought because I've been so preoccupied with this one. I haven't had to concern myself with the next one. It's not my project. Bill Shatner's in town, and over the next couple of days he'll be talking about what he has in mind for Star Trek V. I would like to see Spock continue to evolve. That's the fun part of playing any character, taking him through changes. lf you keep playing with the same condition all the time, it would become boring."
Nimoy's feelings concerning Star Trek The Next Generation are "mixed."
"Anything is possible. On the other hand, as an actor in Star Trek feeling that actors are a very important part of the mix, you kind of take a step backwards and wonder if they can do it without you," he laughs. "It's a tough challenge, and there's going to be constant comparisons."
Nimoy was asked to produce the series. But he turned it down. "Not because I don't think it's a good idea," he adds, "or anything like that. l just don't want to be doing that for the next two or three years of my life. I'm going to be acting in and directing films." *