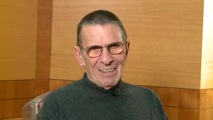 2010
Scroll down for the video
- How was it like to hand over the Star Trek Icon Spock?
 Leonard Nimoy: Yuh. I was so happy with the whole project and with Zachary Quinto. They sent me some footage before they started shooting and I called JJ immediately and I said: This guy is very good. And he looks enough like me to make it work.
And he is intelligent. You see his intelligence working when he acts. And he has an internal life. This is very important for the character.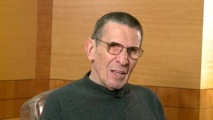 I am very flattered that the character will continue - something we created... we were on the air in 1966, forty years ago, it is very flattering that somebody is carrying that into the future.
- What would you tell young Leonard Nimoy if you would have a time machine and get to 1966?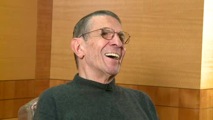 Leonard Nimoy (Laughing): I said, when I first met Zachary Quinto, that you have no idea what you are getting yourself into. It's an amazing ride, and he is in for a great ride, too. He is into another Star Trek movie - at least another Star Trek movie- maybe more.
I can't describe what the whole experience has been, except for that I have been a very, very lucky actor. Ever since Star Trek went on the air in 1966 I never had to worry about work, and that's a mayor thing for an actor to be able to support a family all those years without worrying about income.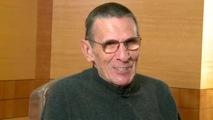 - Did you wrap your head around what your character means for the world?
Leonard Nimoy: Sometimes I think I got my head wrapped around it and then I am cut by surprise again. (laughing). This last year was interesting because I met a lot of comparison with Barack Obama. "Obama" is Spock-like" and the whole story erupting and took on a life on its own for a while. Its very flattering and very heart-warming. I guess the most important thing is that it is a positive character. It is a positive character. It is a positive role model for kids. And I get a lot of comments from people who tell me this had a positive influence on their lives. That's a good thing.
- The footage came out of the very first Star Trek convention.
Leonard Nimoy: Yeah, yeah, I saw that footage.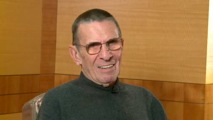 - 1970?
Leonard Nimoy: Early seventies, yuh.
- I'm just wondering. If you look back at that, and look at all the Star Trek conventions, ... what do you make of it?
Leonard Nimoy: Well, back in the seventies, it was crazy. I mean, it was really, really nuts. We had no idea .. how it was going to play out. There was a bunch of fans get together, and they rented a room and they wanted to get together and tell each other some Star Trek stories and watch some episodes. So, they expected a few dozens, or a couple of hundreds,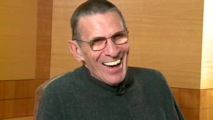 THOUSANDS showed up. And they had to get bigger and bigger rooms, ballrooms. And the hotels were closed down by the fire department because there were too many people. I mean, really, really. So, it was really getting crazy, but in an exciting way, a very positive way. And that was what kept us on the air because NBC, uh, poor NBC, can't get it right, they just didn't get the show. They did not understand what it was about what people wanted to see.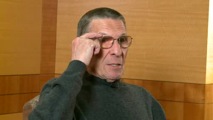 So, they did not promote it properly, they didn't give it a good time slot, they canceled us a couple of times, and we struggled through. But those fans, those thousands and thousands of people just kept showing up and showing up, and they gave us a life.
- What do you get out of it?
Leonard Nimoy: It's great! It like ... you walk out on stage and as soon as you walk out they are cheering. You don't even have to say a word yet. You're going to go to work, do something. But it's great. There is such a tremendous positive emotion. It's a great lift. I love these people, they are great. They are fun, they are great sense of humor. I once had an experience with a reporter, I don't remember the newspaper he was writing for, but we were about to open Star Trek IV which I had directed, the whale-story called "The Voyage Home". And we had some humor in that movie for the first time. There hasn't been a lot of humor in the movies, we were becoming grim, you know?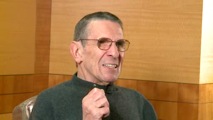 And this fellow had seen the movie, and it hadn't opened yet. And he said: "You are going to have trouble with this movie." And I said: "Why?" "It is played for humor, and I don't think the Star Trek fans are going to be comfortable with that." And I said: "You're wrong. You're wrong. One of the most important things the Star Trek fans left  onto was the funny moments." And he was wrong. The picture played very, very well, and the humor worked. And that's what happens at these conventions.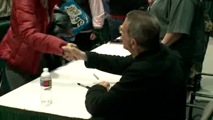 I am telling the stories and people laugh and roar and we have a good time with each other. It is like a great family experience.
- favorite moments?
Leonard Nimoy: One of my favorite moment ever was when we were finishing tan episode of the original series and we always would gather around the captain's chair to say a good-bye at the end of the episode and he, Bill Shatner, said something about Spock: "I think there is hope for you. You are becoming more human all the time." And Spock says to Kirk: "Captain, I see no reason to stand here and be insulted.", and walk away. One of my favorite all time moments, you know?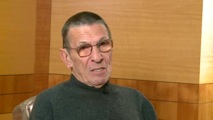 - the strangest request you heard at these conventions?
Leonard Nimoy: Well, they range from sometimes very funny to sometimes very poignant, you know? There are some people who once in a while get to thinking that Spock or I -as Spock- have certain kinds of special powers to do things. And they ask me for help in certain kinds of ways. And I have to remind people that I am an actor, I play roles. And the role at a certain time suggests that I have certain kinds of abilities which I don't really have. It is not reality, it is fiction. I have sometimes to deal with that. It's a poignant kind of thing. It's uncomfortable. On the other hand you get people to say: "Teach me how to neck-pinch because I want to neck-pinch my kids, (or my brother or my uncle) bothering me and I want to be able to knock them unconscious with a neck-pinch." ..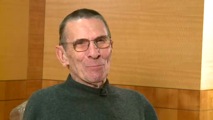 It's funny, it's funny stuff. I get people telling me: my grandmother thinks you are the greatest. (laughing) It used to be: "My kid thinks you are the greatest.", now it's: "My grandmother thinks you are the greatest." (laughing)
-....
For a long time people would say: "You should be directing." And I would think: "Am I at solo here? Is something wrong with my acting?"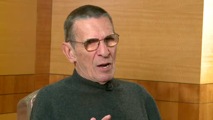 I mean, really, I thought: "Why are people telling me that?"
And then, after we did Star Trek II and Spock died and they called me, and I knew that they'd call me to see if there is some way of getting Spock back into Star Trek,  and I thought to myself: "This is a chance now, because they want me to come back, if I ever have an opportunity, this is it." I said: "I think its time for me to direct this movie." And they said: Okay.", and they gave it to me. And they had a pretty tight grip on me. They had people watching me and having me justify any move I made and all my choices. So, it was hard, but we got it done. We got a successful movie out of Star trek III.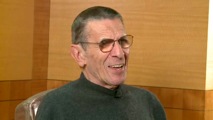 And then, even before it opened, they said: "We want you to do another one." And I said: "I can't have that kind of choke-hold on me.", and they said, Katzenberg said: "The training wheels are off. We want you to give us your vision of a Star Trek movie." And I said: "Okay", so, we did Star Trek IV The Voyage Home. It was successful. Mr. Katzenberg and Mr. Eisner had left Paramount and went to Disney. And when Star Trek opened, they said: "We want you to do Three Men and a Baby." So, I did that and that was successful, and suddenly I am a director. I did a couple of more movies that didn't work, and I thought: "Okay, I did it, thanks." My personal life was being more important than being away for weeks and months and on locations, I didn't want to do that any more.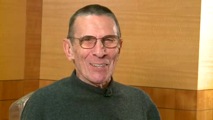 - Getting back into movies or films?
LN: I don't think so, I really don't think so. I had a great, great ride. And I have a wonderful family life. And I find myself on locations and I said: "Why am I here?", it is interesting and it is fun, but I don't need it. I don't have an emotional need for it, I don't have a financial need like I used to. I used to need to do it. And I don't have that need any more, that burning need to do it. I am much more happy when I am with my family at home.
- Thank you so much for talking with you. It was great.
LN: Thank you, thank you.